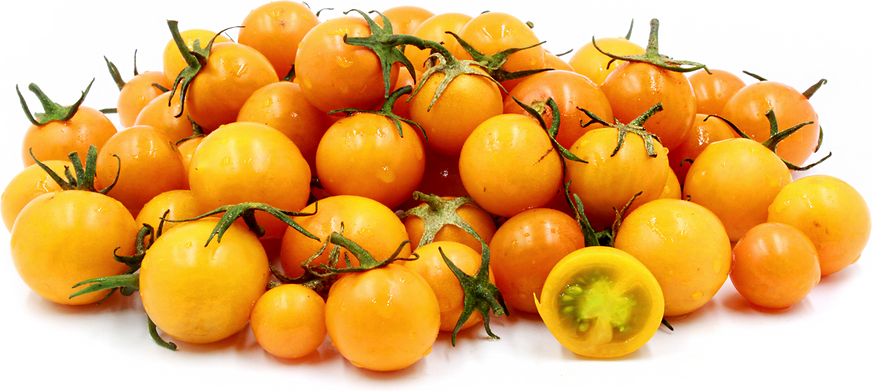 Sungold Cherry Tomatoes
Inventory, bskt : 0
Description/Taste

Sungold cherry tomatoes are exceptionally sweet, golden-orange tomatoes around one inch in size. They ripen early and stay firm longer than other cherry tomatoes, and they have an inherently lower level of acid compared to other yellow varieties. Hence, if the Sungold cherry tomato plant successfully converts the maximum amount of sunlight into sugar and flavor components, the result is the unique, candy-sweet tomato the color of the sun. The ideal Sungold cherry tomato is tender-firm with thin skin and nearly invisible, flesh-bearing seeds. Its flavor is a balance of citrusy tart and sweet savors, with grape and floral notes. The hearty, indeterminate tomato plants start yielding early and bear right through the season, and are recommended for staking or caging as this cultivar has been known to grow to great heights. Sungold cherry tomatoes are a popular choice for all climates because the plant can produce in warm or cold conditions.


Seasons/Availability

Sungold Cherry tomatoes are available in the summer months.


Current Facts

Sungold cherry tomatoes are a hybrid cultivar, created by manually crossing parent plants to generate disease resistance, infuse color, and produce the intensely sweet flavor. Sungold cherry tomatoes contain the mutant gene found in all yellow tomatoes varieties, which causes flavonoids in the skin, increases the level of yellow carotenoids, or carotene, and results in the yellow complexion. Tomatoes are botanically known as Lycopersicon esculentum, although some horticulturists have reverted to the original classification of Solanum Lycopersicum due to modern molecular evidence in its favor. Tomatoes are further cataloged in subgroups that signify distinctions within the tomato species. Cherry tomatoes, in particular, are then more specifically called Lycopersicon esculentum var. cerasiforme.