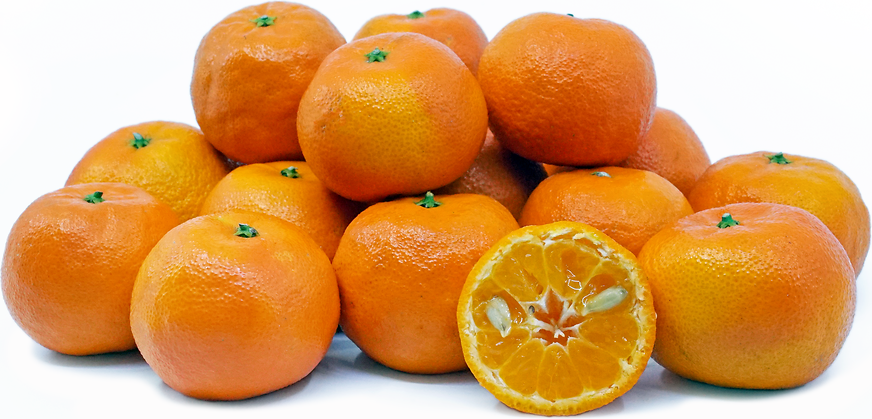 Algerian Tangerines
Inventory, lb : 0
Description/Taste

Algerian tangerines are a small varietal, averaging 5 to 6 centimeters in diameter, and have a round, oblate, to pyriform shape, sometimes bearing a short neck or having no neck with a broad, curved center. The tangerines often have some flat spots giving the fruits a slanted or bumpy appearance, and the relatively thin rind is smooth, glossy, leathery, and pebbled with tiny oil glands. The rind showcases shades of yellow-orange, orange, to dark orange-red when ripe and is moderately adherent to the flesh, still easily peeled. Underneath the surface, the saturated orange flesh is divided into 8 to 12 segments by thin membranes and is tender, semi-firm, and aqueous with a succulent melting quality. The flesh is also seedless or encases a few tapered, oval, ivory seeds. Algerian tangerines contain high levels of essential oils secreted through the glands on the rind's surface, creating a fragrant, fruity, and bright, aromatic scent. The fruits have low acidity, contributing to a sweet, mild, refreshing taste with subtly tangy, fruity, and floral undertones.


Seasons/Availability

Algerian tangerines are available in the mid-fall through winter.


Current Facts

Algerian tangerines, botanically classified as Citrus clementina, are a hybrid variety belonging to the Rutaceae family. The small fruits were discovered growing as a chance seedling in North Africa in the early 20th century and were selected for commercial cultivation for their sweet taste, easy-to-peel skin, and petite nature. Algerian tangerines grow amongst dense evergreen foliage on almost thornless trees that can reach seven meters in height. There are also dwarf varieties for home gardens that grow to about eight meters in height. The variety is also known as Clementine, and there are three main types from North Africa, including Seedless, Standard, and Monreal. Seedless fruits contain zero seeds, Standard fruits contain up to ten seeds, while Monreal has more than ten. It is important to note that Clementine is a broad term used to encompass many different varieties in the modern day. Algerian tangerines were the original Clementine and are an early-season cultivar that produces small but full-sized, mature fruits. Algerian tangerines hang well on the tree, providing growers with an extended season, and the fruits are primarily consumed fresh or utilized in cooked preparations.


Nutritional Value

Algerian tangerines are a source of vitamin C to strengthen the immune system while reducing inflammation, vitamin A to maintain healthy organ functioning, and antioxidants to protect the cells against damage caused by free radicals. The tangerines also provide folate to develop DNA and RNA, fiber to regulate the digestive tract, potassium to balance fluid levels within the body, and other nutrients, including phosphorus, magnesium, B vitamins, iron, copper, and manganese.


Applications

Algerian tangerines have a sweet, subtly tangy taste suited for fresh and cooked preparations. The variety is primarily consumed straight out of hand, as the rind is easy-to-peel, and the flesh separates to create an on-the-go, quick snack. Algerian tangerines are also served during holiday meals as a refreshing reprieve from heavier main dishes and desserts. The small fruits can be segmented and used as an edible decoration on cakes, tarts, and puddings, or they can be tossed into salads, mixed into fruit medleys, and stirred into grain bowls. Try segmenting Algerian tangerines and layering them into parfait or chopping them into salsa or relish. The tangerines can also be served on appetizer platters with soft cheeses, dipped in chocolate as a sweet treat, or added to granola, pancakes, and other breakfast dishes. In addition to fresh preparations, Algerian tangerines can be simmered into jams, jellies, and gelatins or cooked into sauces and glazes. The rinds are sometimes candied as a sugary snack, and the juice can be infused into a syrup and drizzled over ice cream. Algerian tangerines can also be baked into crisps, muffins, bread, and cakes or zested into crème brulee, whipped cream, frostings, cookies, and macaroon filling. Beyond sweet dishes, the tangerines complement savory meat dishes and are served with poultry, pork, beef, or seafood. The fruits can also be zested, juiced, or segmented and tossed into cocktails, orange blossom water, sangria, or other beverages. Algerian tangerines pair well with herbs such as mint, parsley, cilantro, and basil, nuts including pistachios, pine, walnuts, and almonds, and cheeses such as brie, goat, and feta. Whole, unpeeled Algerian tangerines will keep for 1 to 2 days at room temperature away from direct sunlight, but they will quickly begin to lose moisture each day. The tangerines can also be stored for 1 to 2 weeks in the refrigerator's crisper drawer.


Ethnic/Cultural Info

In North Africa, Algerian tangerines are traditionally used in sweet and savory dishes as an aroma enhancer. The sweet oranges are commonly infused into le mouskoutchou tchina, or an Algerian sponge cake. This light and perfumed dessert is made with citrus and olive oil as a variation of classic sponge cake and is served as a seasonal dessert during the winter season. In Morocco, another sponge cake variation is known as meskouta and is dusted with powdered sugar and fresh oranges slices as finishing elements. Meskouta is customarily consumed to break the fast during Ramadan, and tangerines add a sweet, fruity, and flavor taste to the cake. Tangerines are also cooked into savory rice and chicken-based dishes using tajines in Morocco. Tajines are conical, earthenware pots with a base and a lid, and this cooking vessel is considered both a pot and serving dish. There are separate tajines for cooking and serving, with the serving vessel more ornately decorated and the cooking vessel appearing plain and functional. Tajines were historically used by the nomads of North Africa to prepare food over the fire as they roamed. The portable vessel allows steam to rise into the cone and then condense, dripping back into the dish, keeping the dish moist and tender. Tangerines such as Algerian tangerines are incorporated into tajine-cooked dishes as the citrus imparts a lingering, refreshing aroma to the meat and grains, creating added complexity to the presentation and serving of the dish.


Geography/History

The origins of Algerian tangerines are shrouded in a muddled history. The most prominent theory traces the variety to a garden in the Peres de Saint-Esprit orphanage in the small village of Misserghin near the city of Oran in Algeria, Northern Africa. Father Marie-Clement Rodier tended to the garden, and in 1902, he discovered a new variety of small, easy-to-peel, and sweet orange. After its discovery, Louis Trabut, a botanist and member of the Algerian Botanic Garden, was impressed with the new variety and presented it to the Horticultural Society of Algiers. The society named the variety Clementine after the monk, a suggestion from Trabut. The second theory traces the fruits to mandarin varieties grown in the Guanxi or Guandong provinces of China. Some experts believe the variety may be related to the Canton mandarin and was carried into North Africa from China along the Silk Road. Regardless of its origins, Algerian tangerines, labeled as Clementines, were introduced to the United States through botanist Walter Swingle, an employee of the United States Department of Agriculture, and the budwood was planted in Florida in 1909. In 1914, the fruits were introduced into California through Howard S. Fawcett, a breeder and scientist at the University of California Riverside's Citrus Research Center. Around the same time as its Riverside introduction, Algerian tangerines were introduced to California growers through the Fancher Creek Nurseries catalog in Fresno, California. The nursery received its budwood from Louis Trabut and the Government Experiment Station in Algeria sometime between 1914 and 1915. Algerian tangerines were tested and deemed to be identical to the original Clementine. Algerian tangerines were commercially cultivated on a large scale by the 1950s, and the variety has remained a popular cultivar among both growers and home gardeners. Today Algerian tangerines are produced worldwide, especially in North Africa, the United States, Spain, China, and Chile, and are found through grocers, distributors, farmer's markets, and in home gardens.