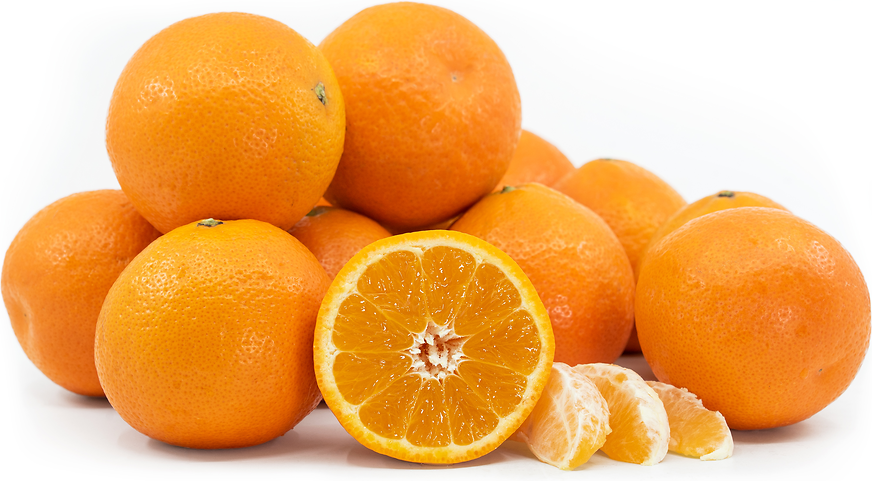 Seminole Tangelos
Inventory, lb : 0
Description/Taste

Seminole tangelos are small to medium in size, averaging 8 to 9 centimeters in diameter, and have a round to ovate shape with a flattened blossom end and curved stem end. The fruits generally weigh 150 to 200 grams and showcase a bright orange to red-orange coloring. The rind is thin, smooth, glossy, firm, and leathery, pocked with prominent oil glands, creating a pebbled texture. The rind is adhered to the flesh but is still easy to peel, being removed faster than a standard sweet orange. Underneath the surface, the vibrant orange to translucent flesh is divided into 11 to 13 segments by thin membranes and has an aqueous, tender, succulent, and melting consistency. The flesh is also heavily seeded or found seedless, depending on cultivation. When the fruits are seeded, the ivory seeds are clustered around the slightly hollow center. Seminole tangelos should feel heavy for their size and will have a brightly colored, glossy, and firm rind when ripe. They also release a refreshing, orange-like scent. Seminole tangelos can be consumed raw or cooked and have a bright, zesty, rich, sweet-tart taste. In Japan, Seminole tangelos are stored for a brief period after harvest to lessen the acidity in the flesh and generate a sweeter flavor.


Seasons/Availability

Seminole tangelos are available in the fall through winter in the United States and New Zealand. In Japan, Seminole tangelos are available in the spring, with a peak season from March through May.


Current Facts

Seminole tangelos, botanically a part of the Citrus genus, are hybrid fruits belonging to the Rutaceae family. Tangelos are a cross between a grapefruit or pomelo and a tangerine, and the name is a portmanteau of tangerine and pomelo. The fruits were developed in the United States in the early 20th century and were selected for commercial cultivation for their refreshing flavor, bright coloring, and juicy, melting flesh. Since their release, Seminole tangelos have not achieved large-scale commercial success and have remained a rare cultivar planted by specialty growers and home gardeners. Seminole tangelos grow on evergreen trees reaching 2 to 5 meters in height and are planted by growers for the variety's high yields, easy-to-grow nature, and disease resistance. The variety was also introduced to commercial markets in Japan and New Zealand, sold as a premium citrus cultivar. In the modern day, Seminole tangelos are primarily used as a fresh eating variety or for their juice and zest in savory and sweet dishes and mixology.


Nutritional Value

Seminole tangelos are a source of vitamin C to strengthen the immune system, calcium to build strong bones and teeth, fiber to regulate the digestive tract, and potassium to balance fluid levels within the body. The variety also provides copper to develop connective tissues, vitamin A to maintain optimal organ functioning, phosphorus to repair tissues, antioxidants to protect the cells against free radical damage, and other nutrients, including iron, magnesium, zinc, and manganese.


Applications

Seminole tangelos have a bright, sweet-tart taste suited for fresh and cooked preparations. The tangelos can be sliced or peeled and consumed straight of out hand, or they can be cut and served on charcuterie boards, used as a fresh topping over breakfast dishes, or tossed into salads. Seminole tangelos can also be chopped and added to salsa, candied and dipped into chocolate, or blended and frozen into sherbet, granita, and sorbet. The variety is known for its juicy nature, allowing it to be blended into smoothies, added to cocktails, or sliced and dropped into sparkling beverages. Seminole tangelos can also be juiced and used to make salad dressings, sauces, glazes, and syrups. Try simmering Seminole tangelos to create jams, jellies, and marmalades or incorporating the juice and zest into cakes, scones, bread pudding, tarts, and pies. Seminole tangelos pair well with aromatics such as ginger, garlic, onions, and shallots, herbs including parsley, mint, cilantro, and oregano, nuts such as pistachios, pine, and almonds, seafood including shrimp, fish, and scallops, and meats such as poultry, beef, and pork. Whole, unwashed Seminole tangelos will keep up to one week at room temperate and for 1 to 2 weeks when stored in a loose plastic bag and placed in the refrigerator's crisper drawer.


Ethnic/Cultural Info

According to New Citrus Hybrids, a circular written by botanists Walter T. Swingle, T. Ralph Robinson, and E.M. Savage in 1931, Seminole tangelos are named after the four-pooled fresh springs in Lake County, Florida. The United States Department of Agriculture distributed the circular and featured several varieties of tangelos, including Seminole's sibling varieties, Minneola and Orlando. Seminole is also the name of a Native American people group who migrated from Alabama and Georgia to Florida in the 1700s. The people group was initially known as the Creek Indians in Georgia, but as they moved to Florida to escape the pressure and dominance from other tribes, they became known as the Seminoles, a name meaning "runaway" or "wild people." Over time, the Seminoles added members from other tribes and escaped enslaved people, forming a diverse people group who nicknamed themselves the "unconquered peoples." The Seminoles still reside in Florida as a federally recognized tribe since 1957 and live on six reservations throughout the state.


Geography/History

Seminole tangelos are native to Florida and were developed in the early 20th century through the United States Department of Agriculture. The variety was bred through a cross between Duncan grapefruits and Dancy tangerines at a test station in Orlando, Florida. It is important to note that in early research, it is said Seminole tangelos were created from a cross between Bowen grapefruits and Dancy tangerines. In reality, it was later discovered that the Bowen grapefruits being used for breeding purposes were actually Duncan grapefruits, one of the oldest grapefruit cultivars in Florida, leading to some confusion among the variety's parentage. In the 1930s, Seminole tangelos were named and released to commercial markets. Despite their high yields, Seminole tangelos remained a somewhat obscure variety, being less popular in retail markets than its sibling cultivars, Minneola and Orlando tangelos. Seminole tangelos were also introduced to Japan in 1955 through the efforts of Dr. Chozaburo Tanaka of the University of California and were late planted in New Zealand by Dr. Harold Moaut. New Zealand quickly became a favored production spot of the variety, and the trees were also a popular landscape addition to home gardens. Today Seminole tangelos can be found through fresh markets, distributors, and select retailers in Japan, New Zealand, and the United States. The variety is also planted in home gardens as a novelty in citrus-growing regions worldwide. In Japan, commercial production of Seminole tangelos occurs in the Wakayama Prefecture, the Mie Prefecture, and the Oita Prefecture.