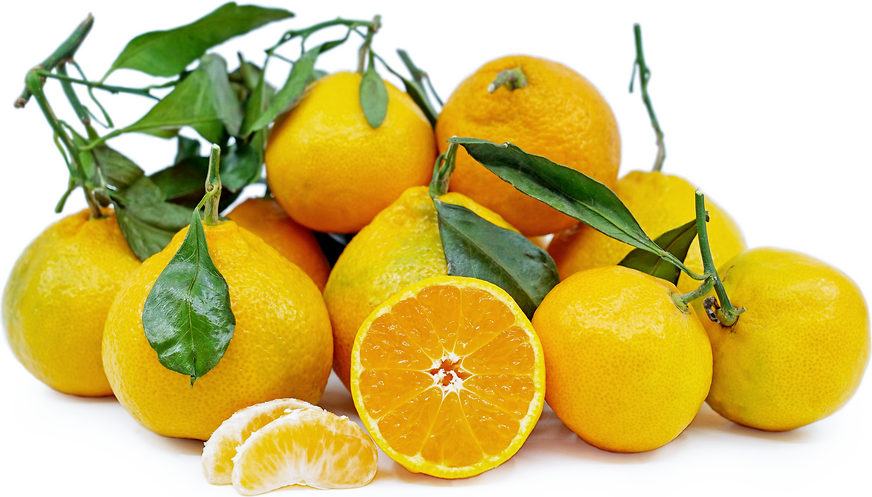 Satsuma Mandarins
Inventory, lb : 0
Description/Taste
Satsuma mandarins are a small to medium-sized varietal, averaging 6 to 10 centimeters in diameter, and have a round to oblate shape with a flattened top and bottom and a broad, curved middle. The fruit's rind is thin and easy to peel, having a delicate nature and being prone to bruising, scars, and tears. The rind also showcases a pale orange, bright orange, to orange-red coloring and has a leathery, smooth, semi-glossy, and taut appearance, covered in prominent oil glands giving the surface a pebbled texture. Underneath the rind, there is an almost nonexistent layer of the white, spongy pith, enveloping orange flesh that is divided into 10 to 12 segments by thin membranes with a hollow center. The flesh is firm but tender with an aqueous, succulent, and almost melting consistency. The flesh is also either seedless or contains a few ivory seeds, depending on the specific variety. When peeled, Satsuma mandarins release fragrant essential oils into the air, creating a bright, refreshing, citrusy aroma. The flesh varies in sugar and acidity levels, giving the fruits a mild, sweet, and subtly tangy flavor with honeyed nuances.
Seasons/Availability
Satsuma mandarins have a peak season in the early fall through winter when grown in outdoor orchards. The fruits are also cultivated in greenhouses for year-round production.
Current Facts
Satsuma mandarins, botanically classified as Citrus unshiu, are a category of citrus belonging to the Rutaceae family. There are over one hundred varieties generally classified as Satsuma mandarins worldwide, and the name Satsuma can often be confusing due to its broad definition. Satsuma is a term used in the United States and Europe. Though the word Satsuma has roots in Japan, it is not used within the country and was a moniker coined in the United States in the 19th century. Most of the varieties labeled as Satsuma in the United States are known as Unshu mandarins, Mikan, or Wenzhou mandarins in Japan. Consumers favor satsuma mandarins for their easy-to-peel rind, balanced sweet-tart taste, and tender, mostly seedless nature. The mandarin varieties are generally very similar, but some may be slightly different in appearance, taste, and texture, depending on the cultivar, and a few of the more notable varieties include Owari, Kimbrough, Okitsu, Silverhill, Aoshima unshu, Obawase, Jutaro unshu, Early St. Ann, Brown Select, Miho, Xie Shan, Seto, and Qingdao Wenzhou. There are also sub-categories within the species, dividing the varieties by very early, early, normal, to late season fruits. Satsuma mandarins are distinct from other mandarin species as they are cold-tolerant and can grow in environments where other citrus species cannot survive. They are also the mandarins most commonly used for canned oranges. In the present day, Satsuma mandarins are commercially cultivated worldwide and are prized for fresh eating, cooking, and processed preparations.
Nutritional Value
Satsuma mandarins are a source of fiber to regulate the digestive tract, calcium to build strong bones and teeth, vitamin A to maintain healthy organ functioning, and potassium to balance fluid levels within the body. The oranges also provide vitamin C to strengthen the immune system, vitamin E to protect the cells against the damage caused by free radicals and inflammation, magnesium to control optimal nerve functioning, and other nutrients, including folate, iron, and copper.
Applications
Satsuma mandarins have a balanced, sweet-tart taste suited for fresh and cooked preparations. The fruits are traditionally consumed straight out of hand and are valued for their easy-to-peel rind and tender, succulent consistency. Satsuma mandarins can be segmented and tossed into green salads, folded into creamy side dishes, stirred into fruit medleys, or dipped in chocolate and served as bite-sized treats. The oranges can also be chopped into salsa, added to ceviche, layered into parfaits, or used as a fresh topping over meats and various breakfast dishes. Beyond their ability to be served in segments, Satsuma mandarins can be blended into smoothies, juiced for cocktails and sparkling beverages, or blended and frozen into granitas and popsicles. Try adding Satsumas into dessert preparations such as tarts, muffins, cakes, and cookies or candy the peel as a chewy, sweet snack. Satsuma mandarins can also be simmered into jellies, jams, and preserves or cooked into a glaze and sauce for coating roasted meats. The sweet-tart segments complement both savory and sweet preparations and are popularly added to rice bowls, paella, noodle dishes, and stir-fries. Satsuma mandarins pair well with herbs such as cilantro, mint, and parsley, nuts such as walnuts, almonds, pecans, pine, peanuts, and hazelnuts, cheeses including blue, feta, and goat, meats such as poultry, beef, and pork, seafood, and fruits such as strawberries, bananas, and mangoes. Whole, unpeeled Satsuma mandarins will keep for a few days at room temperature and for 1 to 2 weeks when stored in the refrigerator.
Ethnic/Cultural Info
Seedless mandarins such as Satsumas were once considered unlucky in Japan. During the Edo Period from 1603 to 1867 CE, it was believed that seeds within fruits symbolized children, and it was a superstition that the more seeds found within a fruit, the larger and healthier a family would be. Eating seedless fruits was considered bad luck and an omen that the family line may end. This superstition prevented several varieties of Satsuma mandarins from becoming popular within Japanese commercial markets for several years, but eventually, in the Meiji Era, from 1868 to 1912 CE, public perceptions changed, and seedless mandarins became a desired trait. In the modern day, Satsuma mandarins, known as Unshu in Japan, are a favorite fruit shared with family during the winter. When temperatures drop, it is customary for families to gather at the kotatsu, a wooden table covered by a heavy blanket. An electric heater is typically under the table, warming the air under the blanket, providing a cozy location for families to spend time together. Mandarins are traditionally peeled and eaten at the table, and the fruits are viewed as a nutritional snack for prevention against winter sicknesses.
Geography/History
Satsuma mandarins are descendants of varieties native to China that have been growing in the city of Wenzhou in the Zhejiang Province since ancient times. The oranges were eventually carried from Wenzhou to Japan, where they were planted in the town of Nagashima in the Kagoshima Prefecture on Kyushu Island. Once planted, a mandarin tree was later discovered growing with a favorable natural mutation, and those fruits were chosen for selective breeding, creating one of the first Satsuma varieties, more commonly known as Unshu in Japan. The name Unshu is thought to be a corruption of the Chinese name Wenzhou. Unshu mandarins reached full-scale commercial production in Japan by the 18th century, and in the 19th century, in 1876, they were sent to the United States and Europe for expanded cultivation. The mandarins were first planted in Florida by George R. Hall and received their Satsuma moniker in the United States. It is unknown exactly how Satsuma mandarins acquired their title, but the leading theories include the variety being named by the American Minister of Japan, General Robert B. Van Valkenburgh. Legend has it that the high-ranking official sent trees from the Satsuma District in Kagoshima Prefecture in Japan to the United States. When the boxes arrived in America, they were labeled Satsuma as a descriptor of where the mandarins were sourced, but the box-labeled name was instead mistaken for the name of the fruits. Satsuma was officially given as a name to the mandarins in the 1880s, with the first recorded documentation occurring in 1882. In the early 1900s, Satsuma mandarins increased in commercial popularity and were planted throughout the Gulf Coast of the United States, especially in Florida, Texas, and Louisiana. Satsuma mandarins were also introduced to California, where they found commercial success in the Central Valley. Today Satsuma mandarins are commercially produced and grown in home gardens worldwide, and the mandarins are sold fresh or canned. In Japan, the mandarins are grown in the Wakayama, Ehime, Kagoshima, Saga, Nagasaki, and Shizuoka Prefectures. When in season, Mikan oranges are sold through farmer's markets, specialty grocers, and distributors.
Recipe Ideas
Recipes that include Satsuma Mandarins. One

is easiest, three is harder.
the other 5...