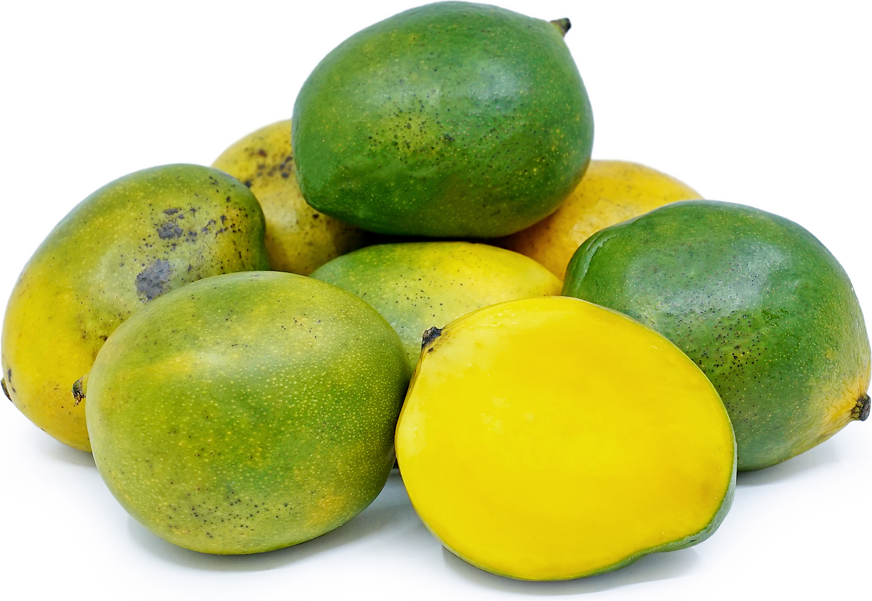 Keitt Mangoes
Inventory, lb : 0
This item was last sold on : 11/10/21
Description/Taste
Keitt mangoes are a medium to large varietal, averaging 15 to 17 centimeters in diameter, and have an oblong to ovoid shape with curved, blunt ends. The variety lacks the characteristic point, also known as the beak, on one end, and the fruits generally weigh 0.6 to 1 kilogram, sometimes reaching 1.8 to 2 kilograms in weight. The bulbous fruits have semi-thin, smooth, and taut skin with a faint sheen, and their coloring is primarily shades of dark to light green. The mango's skin also showcases small white lenticels and patches of yellow-red blush, depending on sun exposure. Underneath the surface, Keitt mangoes have a solid, dense golden-yellow to yellow-orange flesh. The flesh is low in fiber, lacking the long strings that typically travel through the flesh of other mango varieties, and has an aqueous, smooth, succulent, and semi-firm texture. The flesh also encases a small, single, flat seed in the center of the fruit. Keitt mangoes remain primarily green when ripe. Color is not an indication of maturity. To test if the fruits are ripe, they should be gently squeezed, and if they have a slight give, they are ready for consumption. Keitt mangoes have a subtle, fresh scent, and when ripe, the flesh is sweet and subtly tart with a citrusy tang and a lingering, honeyed aftertaste.
Seasons/Availability
Keitt mangoes are available for a short season from the late summer through early fall.
Current Facts
Keitt mangoes, botanically classified as Mangifera indica, are an American variety belonging to the Anacardiaceae family. The late-season cultivar grows on evergreen trees reaching 3 to 18 meters in height and was discovered as a chance seedling in South Florida in the mid-20th century. Keitt mangoes are only available for a short season each year, around 4 to 6 weeks, and are favored by growers for their large size, low fiber content, and sweet and tangy flavor. Keitt mango trees are heavy bearers, producing fruits consistently throughout their season. Despite their productive nature, Keitt mangoes are only cultivated on a small scale as the trees have low disease resistance when young, making them challenging to grow on a large scale for commercial purposes. Some growers choose to produce and export the fruits, but the overall production of this variety is reserved for growers who sell the mangoes in local markets. Keitt mangoes are a specialty variety grown by mango enthusiasts worldwide, and the fleshy fruits are versatile, used in an array of fresh and cooked preparations.
Nutritional Value
Keitt mangoes have not been extensively studied for their nutritional properties. Like other mango varieties, the fruits are a source of vitamin C to strengthen the immune system, potassium to balance fluid levels within the body, calcium to build strong bones and teeth, fiber to regulate the digestive tract, and vitamin B6 to support overall brain health. The mangoes also provide vitamin A to maintain healthy organ functioning, vitamin E to act as an antioxidant to protect the cells from free radical damage, magnesium to regulate nerve functioning, and other nutrients, including vitamins, D, B6, and K, iron, folate, phosphorus, copper, and selenium.
Applications
Keitt mangoes have a sweet, subtly tangy flavor suited for fresh and cooked preparations. The mangoes are popularly eaten straight out of hand, and consumers often enjoy chilling the flesh just before eating to create a refreshing taste. Keitt mangoes can also be sliced into fruit salads, chopped into salsas, served on cheese boards, or pureed into baby food. The variety's low-fiber flesh allows it to be served as a fresh garnish over breakfast dishes such as parfaits and oatmeal, or it can be blended and frozen into sorbets and ice cream. Keitt mangoes can also be used before they soften and are added to slaws, infused into pesto, or pickled as a tangy condiment. Try incorporating Keitt mangoes into fresh spring rolls, sushi, or using them as a decorative, edible garnish on desserts. The flesh can also be mixed into bread, muffins, pies, and scones. In addition to sweet recipes, Keitt mangoes can be pureed into barbeque sauces, hot sauces, and salad dressing, grilled on skewers with meats, served with fish dishes, or mixed into rice-based recipes. The mangoes can also be simmered into chutney and jams. Beyond culinary dishes, Keitt mangoes are infused into cocktails, smoothies, and milkshakes. Keitt mangoes pair well with fruits such as watermelon, strawberries, apples, cranberries, stone fruit, and citrus, spices such as cinnamon, nutmeg, and cloves, and herbs such as basil, cilantro, and mint. Keitt mangoes should be ripened at room temperature, away from direct sunlight. They can also be placed in a paper bag to ripen faster. Once slightly soft to the touch, the fruits should be immediately consumed for the best quality and flavor. Sliced portions of the fruit's flesh can be kept in a sealed container in the refrigerator for a few days, or the flesh can be frozen for extended use.
Ethnic/Cultural Info
Mango trees are valued for more than just their sweet and tangy fruits. Mango trees are used for their dense, durable wood. The wood can last for many years and is viewed as a more affordable, hardy alternative to other wood types. Mango wood is also mostly sustainable as mango trees are often removed from commercial farms once the trees lessen in fruit production and new trees are planted in their place. Instead of discarding the entire tree, the wood is harvested for use in furniture construction, bowl-making, floor paneling, cutting boards, and as decorative wooden accents in homes. Mango wood showcases distinct patterns, textures, and graining throughout each piece, and the wood's coloring can change due to spalting, a condition where the wood varies in color depending on a fungus in the tree.
Geography/History
Keitt mangoes are native to South Florida. The variety was discovered as a chance seedling in the garden of Mrs. J.N. Keitt in 1939 in Homestead, Florida. It was initially thought that Keitt mangoes had Mulgoba mangoes in their parentage, but over time, it was determined that the Brooks mango was the most likely parent due to its late-ripening nature and large size. Keitt mangoes were named after their founder, and the variety was selected for commercial release in 1945. The cultivar was favored for its size, low fiber content, and flavor, but the fruit's lack of changing colors prevented it from fully becoming a widespread commercial mango. Consumers had trouble telling when the fruits were ripe due to the mango's predominately green skin. Despite some challenges in producing the variety on a large commercial scale, Keitt mangoes have expanded beyond Florida and are grown in select regions worldwide as a specialty cultivar. Keitt mangoes are grown in South and Central America, the Caribbean, Mexico, Spain, Israel, New Zealand, and Australia. In the United States, Keitt mangoes are popular throughout South Florida and are also grown in the Coachella Valley, California, and Hawaii. When in season, the variety is sold through farmer's markets, direct from growers, and select retailers.
Recipe Ideas
Recipes that include Keitt Mangoes. One

is easiest, three is harder.
Podcasts