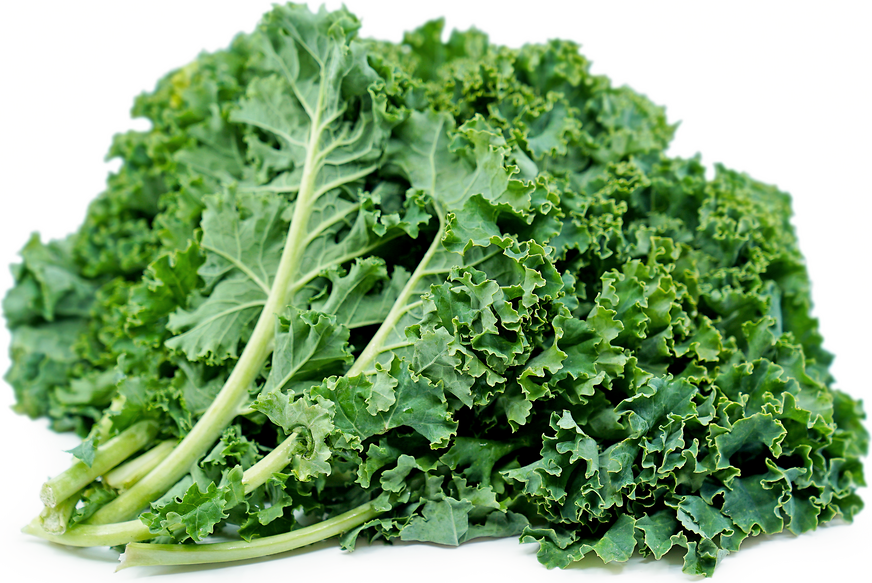 Kale
Inventory, 24 ct : 61.96
This item was last sold on : 12/05/23
Description/Taste
Kale is a non-heading, leafy form of wild cabbage that comes in a range of shapes, sizes, and colors, such as blue-green, yellow-green, white, red, or purple. Different cultivars are classified by differences in their stem length and their leaf structure, as some are flat and others are frilly. The standard Kale we usually find in the grocery store is pale to deep green with large, ruffle-edged leaves and long stems. It is hardy and fibrous when fully mature, and tender enough to be used as a raw salad green when young. The pale green stems are tough and typically removed, while the tightly curled leaves are chewy yet succulent. Depending on the variety, Kale can sometimes be spicy, other times a bit sweet, and usually slightly bitter. In general, Kale offers an earthy flavor with a nutty sweetness that is accentuated when cooked.
Seasons/Availability
Kale is available year-round with a peak season in winter.
Current Facts
Kale is a member of the Mustard family, also called the Cabbage family. It's a variety of Brassica oleracea known as acephala, meaning "without a head", and is essentially a form of primitive cabbage. Over the last few thousand years, this one plant – wild cabbage, also called wild mustard plant – was selectively bred based on specific morphologic traits in order to create entirely different crops: Kale, head cabbage, cauliflower, broccoli, Brussels sprouts, and kohlrabi. Kale was produced from selections of wild cabbage plants with larger leaves, and today there are many unique Kale cultivars including Scottish curly Kale, the most commonly found variety, Black Kale, an Italian variety known for the dinosaur-like scales on its leaves, and Siberian Kale, known to be one of the most cold hardy. However, it is important to note that Siberian Kale is actually a different species than most other varieties that are derived from Brassica oleracea. Instead, Siberian Kale is classified as Brassica napus, which is still in the same family, although it is more closely related to rutabagas than other Kales.
Nutritional Value
Kale is rich in antioxidants, and packed with vitamins A, E, K, and B, especially folate. It has a fair amount of protein and iron, and has more vitamin C than other leafy greens. It's also high in fiber, and has more calcium, gram for gram, than a cup of milk. Researchers have even found that the phytochemicals in Kale may inhibit cancer cell growth. It is important to note that you shouldn't overdo it with raw Kale because, like other cruciferous vegetables, it contains small amounts of substances that can affect the function of our thyroid gland. These substances become inactive with cooking, so if you have existing thyroid problems, then it's safest to stick to cooked Kale. Most of us are fine if we stick to modest amounts of raw Kale, such as a handful, even on a daily basis.
Applications
Considering its many forms and stages of harvest, Kale is an incredibly versatile green in the kitchen, and can be used raw or cooked. Young Kale leaves add an earthy flavor to raw salad green mixes, and fully mature Kale is one of the few leafy greens that doesn't shrink much when it's cooked. It's great sautéed, roasted, stewed, and even baked into Kale chips. Just be careful not to over-cook it, as it can develop a more bitter taste. Kale is also often added raw to smoothies, juices, and salads. To prep Kale for use, whether raw or cooked, first remove the tough and fibrous stems. A quick and dirty way to do it is to hold the stem in one hand and strip leaves along the stem away from you. You can also cut the leaves into thin, confetti-like ribbons. A quick massage can help the process of breaking up the cellulose structure of Kale. You can drizzle it with olive oil, salt, and lemon juice, and rub the leaves together in your hands to get a slightly sweeter, much silkier Kale. This leafy green pairs well with garlic, onion, sesame, soy sauce, ginger, smoked or roasted meats, potatoes, grains, oregano, thyme, red pepper, cream, Parmesan cheese, and more. To store Kale, wrap the leaves in a loose bundle with a paper towel or a thin cotton kitchen towel, place them in a large, sealable bag, and refrigerate in the crisper drawer for up to a week.
Ethnic/Cultural Info
The name "Kale" is a Scottish word derived from "coles" or "caulis", terms used by the Greeks and Romans in reference to the whole cabbage-like group of plants. In Scotland, Kale is such an important part of their traditional diet that the word became synonymous with "food" in some Scottish dialects. For example, to be "off one's kale" is to feel too ill to eat.
Geography/History
Kale is one of the oldest forms of cabbage, native to the eastern Mediterranean or Asia Minor. It has been in cultivation for so long, dating back over 2000 years, and has been so spread across prehistoric traders and migrating tribes, that it's hard to pinpoint the exact region of origin. Ancient Greeks and Romans grew both curly-leafed and flat-leafed varieties by the fourth century BCE, and these forms, which were referred to by the Romans as sabellian Kale, are considered to be the ancestors of modern Kale varieties. By the Middle Ages, Kale had spread through Europe and Asia, and was one of the most widely eaten green vegetables throughout Europe. While many believe English settlers brought Kale with them to the New World as early as the 17th century, it was David Fairchild, agricultural explorer for the USDA in the late 19th and early 20th centuries, who was specifically credited with introducing American farmers to Kale, along with mangoes, avocados, dates, nectarines, soybeans, and pistachios. Kale is very easy to grow, and it can handle cold temperatures. In fact, a good fall frost or mild, cool winter can actually impart a high sugar content and fine flavor into the Kale plant.
Featured Restaurants
Restaurants currently purchasing this product as an ingredient for their menu.
the other 87...
Recipe Ideas
Recipes that include Kale. One

is easiest, three is harder.
the other 91...
| | | |
| --- | --- | --- |
| Simply So Healthy | | Low-Carb Quesadillas |
| Eat Good 4 LIfe | | Walnut Apple Kale Salad |
| Running In A Skirt | | Rainbow Green Smoothie Bowl |
| A Calculated Whisk | | Kale and Bacon Quiches with Hash Brown Crust |
| Salt and Lavender | | Shredded Kale and Brussels Sprout Salad |
| Cooking LSL | | Cauliflower Kale Soup |
| Barefeet in the Kitchen | | Warm Peacock Kale and Purple Cauliflower Salad |
| The Intentional Minimalist | | Stewed Kale and Poached Eggs with Fromage Blanc |
| Young and Raw | | Honey Hemp Kale Pear Salad |
| Marisa Moore Nutrition | | Kale, Tangerine, Pepita Salad |
| Running In A Skirt | | Vegetarian Crustless Mushroom, Kale, & Feta Quiche |
| Lauren's Latest | | Garlic Chicken & Kale Spaghetti |
| Emily Kyle Nutrition | | Kale & Red Pepper Shaksuka |
| This Savory Vegan | | Vegan Kale Pesto |
| Running In A Skirt | | Kale and Berry Smoothie |
| My New Roots | | Poppy Seed-Crusted Butternut Squash with Kale and Pomegranates |
| Taste and Tell | | Cheesy Bacon Kale Crostini |
| Brooklyn Farmgirl | | Kale Rainbow Salad |
| Frugal Mama | | Kale Salad with Nasturtium Flowers |
| Natasha's Kitchen | | Kale Salad with Honey Lemon Dressing |
| The Kitchn | | Kale Salad with Quick-Pickled Watermelon Radish |
| Dianasaur Dishes | | Kale and Parmesan Casserole |
| Earth Eats | | Warm Mushroom Kale Dip |
| Yay For Food | | Teriyaki Chicken Rice Bowls with Garlicky Kale |
| The Seaside Baker | | Walnut Kale Basil Pesto |
| Produce on Parade | | Veggie Kale Soup with 'Sausage' |
| Feasting at Home | | GARLICKY CRUCIFEROUS PASTA |
| Diethood...The Eating Effect | | Smoked Sausage, Kale, & Potato Soup |
| White on Rice Couple | | Baked Kale Chips with Sea Salt and Black Pepper |
| High Heels & Grills | | Corn, Potato, & Kale Chowder |
| Yes, More Please | | Sweet Potato Kale and Quinoa Fritters |
| Healthy Happy Life | | Sassy Sweet Green Whole Food Smoothie |
| Yay For Food | | One Pot Orzo Pasta with Italian Sausage and Kale |
| The Bungalow Kitchen | | Garlicky Braised Kale with Sun-Dried Tomatoes |
| The Endless Meal | | Roasted Beet and Kale Salad with Maple Candied Walnuts |
| My New Roots | | Roasted Kale and Beets with Honey-Horseradish Vinaigrette |
| Mother Thyme | | Roasted Balsamic Kale Chips |
| The Harvest Kitchen | | Beet & Kale Quinoa Salad |
| Love & Lemons | | Roasted Delicata Squash Tacos |
| Dolly and Oatmeal | | Fruity Shredded Kale Salad |
| Simply Stacie | | Very Veggie Chicken and Rice Soup |
| From A Chef's Kitchen | | Brown Rice Cheddar Kale Casserole |
| Veggie Desserts | | Kale and Apple Cake with Apple Icing |
| Taste and See | | Chicken Kale Energy Bowl with Italian Sun-Dried Tomato Sauce |
| Fooduzzi | | Guacamole Tacos |
| Becky's Best Bites | | Albacore Tuna Kale Salad with a Simple Lemon Dijon Vinaigrette |
| How Sweet Eats | | Crunchy Taco Kale Salad |
| This Savory Vegan | | White Bean, Rice & Kale Vegan Burritos |
| Foodie Crush | | Kale Caesar Pasta Salad |
| Simply So Healthy | | Low-Carb Cauliflower and Kale Curry Soup |
| Ambitious Kitchen | | Chopped Thai Kale Salad with Peanut Ginger Dressing |
| Heather Christo | | Grilled Peach Kale Salad with Honey Almond Clusters and Crispy Prosciutto |
| Community Table | | Tuna & Kale Tacos with Citrus salsa |
| Running In A Skirt | | Sauteed Kale and Butternut Squash |
| Just a Taste | | Raw Kale Salad with Warm Bacon Vinaigrette |
| Eat The Gains | | Blender Green Juice Chia Pudding |
| Little Leopard Book | | Kale Pesto |
| Vegalicious Recipes | | Vegan Pea and Kale Patties |
| The Harvest Kitchen | | Garlic Chicken Chow Mein with Kale |
| Get Rawcous | | Creamy Kale Salad with Wild Horseradish Leaf |
| The Weary Chef | | Sausage Alfredo with Spaghetti Squash |
| The Pretty Bee | | Vegan Cheesy Kale Chips |
| Served From Scratch | | Garlic Kale |
| From A Chef's Kitchen | | Massaged Kale Antipasto Salad |
| Pinch of Yum | | Garlic Kale and Brown Rice Salad with Lemon Dressing |
| The Endless Meal | | Creamy Kale Salad with Maple Tahini Dressing |
| The Kitchen is My Playground | | Kale & Apple Salad with Honey |
| Nyssa's Kitchen | | Vibrant Kale Salad with Chili Flecked Lemon Tahini Dressing |
| Amy Glaze's Pommes D'amour | | Kale and Fuyu Persimmon Salad with Buddhas Hand Vinaigrette |
| Sweet Peas and Saffron | | Kale Pesto with Sunflower Seeds and Pepitas |
| Diethood...The Eating Effect | | Kale and Feta One Pot Pasta |
| The Balanced Berry | | Pina Kale-ADA Smoothie |
| The Endless Meal | | Sweet and Spicy Sauteed Kale Stems |
| Fooduzzi | | Warm Taco Bliss Salad |
| I Am A Food Blog | | Kale and Ricotta Stuffed Shells |
| Taste and Tell | | Pineapple Banana Kale Smoothie |
| Little Bits Of | | Caramelized Onion & Kale Twice Baked Sweet Potatoes |
| Lexi's Clean Kitchen | | Turkey Kale Soup |
| Becky's Best Bites | | Lemony Kale Pesto |
| Honest Fare | | Lazy Kale Mash Up |
| Making Thyme for Health | | Guac-Kale-Mole |
| Just One Cookbook | | Massaged Kale Salad with Mango |
| Green Kitchen | | Kale Chip |
| Wall Flower Kitchen | | Dairy Free Mashed Potatoes with Greens |
| Emily Kyle Nutrition | | Veggie Lovers Crustless Quiche |
| Minimalist Baker | | White Bean Kale Salad with Tahini Dressing |
| Taste and See | | Kale Orange Cranberry Salad |
| Taste and See | | Cheesy Kale Mashed Potatoes |
| Beauty Everyday | | Kohlrabi and Kale Cakes |
| SolLuna | | Hearty Lentil and Kale Soup |
| Yay For Food | | 5 Minute Kale Walnut Pesto |
Podcast