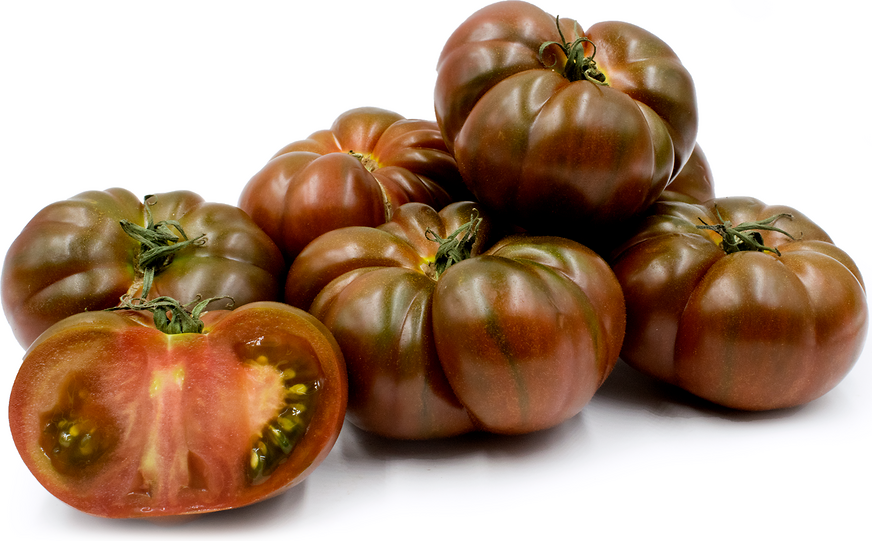 Black Beef Tomatoes
Inventory, 10 lbs : 0
Description/Taste

Black beefsteak tomatoes are medium-sized with a flattened globe shape, weighing between 8-12 ounces. The outer skin is dark maroon, although with sufficient sunlight and heat they can turn almost black, with greenish-brown shoulders. The flavor is intense, with a sweetness that is balanced by notes of acidity, giving it a distinct, slightly salty taste. The heat-tolerant, indeterminate plants are exceptionally hardy, and can adapt well to adverse conditions in a wide range of climates. Healthy vines can reach six feet or more in height, and they typically require staking or caging to support the high yields of large, heavy fruit.


Seasons/Availability

Black beefsteak tomatoes are available year-round with a peak season in the summer months.


Current Facts

Botanically, the tomato is a fruit, but in 1883 the U.S. Supreme Court ruled that the tomato was legally a vegetable because of the way it was commonly used; tomatoes are among the most common plants grown in home gardens. The botanical classification of the tomato has had an interesting history, and debate over the scientific name continues today. The tomato was first placed in the genus Solanum, and identified as Solanum lycopersicum under the methodology of Carl Linnaeus, who developed the binomial system of naming plants and outlined it in his 1753 publication, "Species Plantarum." This designation was then changed to Lycopersicon esculentum, the term Lycopersicon deriving from the Greek word meaning "wolf peach," and esculentum simply meaning edible. However, current phylogenetic methods have shown the tomato to be situated firmly within the genus Solanum, and after years of preference for the name Lycopersicon esculentum, strong molecular DNA evidence is promoting the return to Linnaeus' original classification, Solanum lycopersicum.