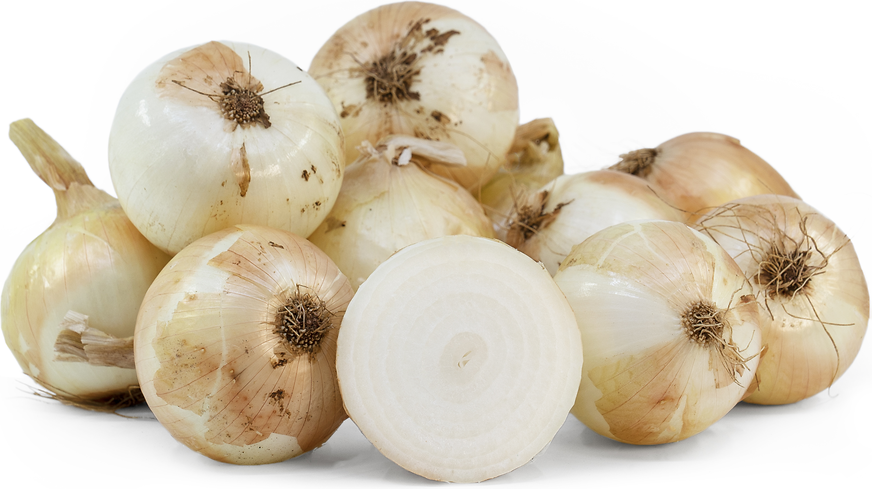 Candy Onions
Inventory, 10 lbs : 0
Description/Taste
Candy onions are variable in size, ranging from 7 to 15 centimeters in diameter, and have a globular to slightly flattened appearance with curved edges tapering into a small, short neck. The bulbs produce dark green, fleshy stems and leaves, extending 30 to 45 centimeters in height, and these tops are generally removed before the bulbs are left to cure for storage. The onion's surface is enveloped in a few layers of thin, brittle, papery light brown to tan skin, and some bulbs will have pieces of this skin missing. Underneath the skin, the white flesh is firm, dense, and aqueous with a crisp, succulent consistency. The concentric rings within the flesh are thick and uniform, surrounding a single center, and when sliced, the onions release a spicy but not overpowering scent. Candy onions contain low sulfur and high sugar and water, creating a rich, pungent, sweet, but still sharp flavor. When cooked, the flesh develops a mild and mellow, savory-sweet complexity.
Seasons/Availability
Candy onions are available year-round in some climates. In general, the onions have a peak season in the spring and summer.
Current Facts
Candy onions, botanically classified as Allium cepa, are a hybrid variety belonging to the Amaryllidaceae family. The bulb onions are a type of day-neutral or intermediate-day variety, a relatively new category of onions that can be grown in a wide range of climates, except for extreme northern and southern latitudes. Candy onions were created to possess the favored qualities of short-day and long-day onions into a single variety that is easy to grow, productive, and resistant to disease. The sweet and sharp bulbs quickly develop a strong root system in 12 to 14 hours of sunlight and are fast-growing, producing flavorful bulbs in 90 to 100 days after sowing. Candy onions are also earlier ripening than other onion varieties, sometimes appearing in gardens in the late summer. In milder climates, the cultivar can be produced year-round. Candy onions are not commercially produced and are primarily found through specialty growers or in home gardens. Onion enthusiasts value Candy onions for their mild, sweet, and sharp flavor, extended storage capabilities, and versatility in culinary preparations incorporated raw or cooked to add a layer of richness and complexity.
Nutritional Value
Candy onions are a source of fiber to regulate the digestive tract, vitamin C to strengthen the immune system, and manganese to assist in metabolism and bone formation. The onions also provide folate to develop DNA, vitamin B6 to maintain the nervous system, potassium to balance fluid levels within the body, and other nutrients, including phosphorus, iron, calcium, copper, selenium, and zinc.
Applications
Candy onions have a sweet, subtly sharp flavor suited for fresh and cooked preparations. The bulbs should be peeled to remove the outer layers, and once trimmed and prepped, the flesh can be sliced and layered into sandwiches, chopped into salads and slaws, or minced into salsas. Candy onions can also be incorporated into relishes, marinated in vinegar and fresh herbs, or combined into chutney. In addition to fresh preparations, Candy onions develop rich, savory-sweet notes when cooked and can be used in any recipe calling for sweet onions. The bulbs can be minced and simmered into caramelized glazes, baked into stuffing and casseroles, grilled for burgers, or roasted alongside meats as a main dish. Candy onions can also be sauteed with other vegetables, battered and fried, tossed into stir-fries, or simmered into soups and curries. Try cooking Candy onions into a sweet jam or combining them with heavy cream, white wine, and parmesan to make creamed onions. The bulbs can also be hollowed, stuffed, and baked as a rich side dish. Candy onions pair well with cheeses such as cheddar, parmesan, blue, and goat, mushrooms, asparagus, green beans, garlic, meats such as poultry, beef, and pork, and fruits including mangos, apples, and citrus. Whole Candy onions will keep for 1 to 3 months when stored in a cool, dry, and dark place.
Ethnic/Cultural Info
The word onion is derived from the Latin word "unio," meaning "oneness" or "unity." This descriptor was given to the bulbs for their round appearance and concentric rings within the flesh, circling to a central point. It was also thought the name came from Anglo-French, as "unione" and "oignon" were French words taken from the Latin moniker. Both French words alluded to an idea of oneness and indivisibility, and if the object was separated layer by layer, it was destroyed. The rings within the onion's flesh cannot be separated without destroying the onion, contributing to its name as a unified object. Over time, the letter "u" was dropped, and an "o" was added to create the word onion, and legend has it that the letter "o" was chosen as it was round and looked similar to the shape of an onion. Later in the 20th century, onions also became an idiomatic expression to describe knowledge surrounding a subject. The phrase "know your onions" was developed in the 1920s to reference and be familiar with the different types of onions cultivated commercially. The phrase was eventually used as an expression to be more well-rounded in a specific subject and was used in general conversations beyond onions.
Geography/History
Candy onions were developed as a versatile variety that could be planted in almost all climates, allowing growers in various regions to produce sweet, low-sulfur bulbs. Prior to their release, many onion types only grew in specific areas with the required amounts of sunlight and were categorized as short-day or long-day onions. Candy onions are one of the few varieties that can be grown year-round in some regions. Despite their popularity, the origins of Candy onions are mostly unknown. Candy onions are a hybrid and fall in between the common onion and sweet onion categories. They are sweeter and less sulfuric than conventional onions, but some Candy onions are still considered more pungent than typical sweet cultivars. Varieties of sweeter onions were initially bred throughout Europe as scientists studied the sulfuric content within the bulbs, creating new types that contained high sugar and water levels. Several sweet onion varieties also arose in the United States in the early 20th century, contributing to the milder onion's popularity among home gardeners. Over time, new onion cultivars were specifically developed with improved growth characteristics, including Candy onions, leading growers to plant the onions in varying climates. Today Candy onions are found throughout the United States and are primarily a home garden variety. The onions are also produced through a few specialty growers and are sold through farmer's markets and select distributors, such as Specialty Produce.
Recipe Ideas
Recipes that include Candy Onions. One

is easiest, three is harder.