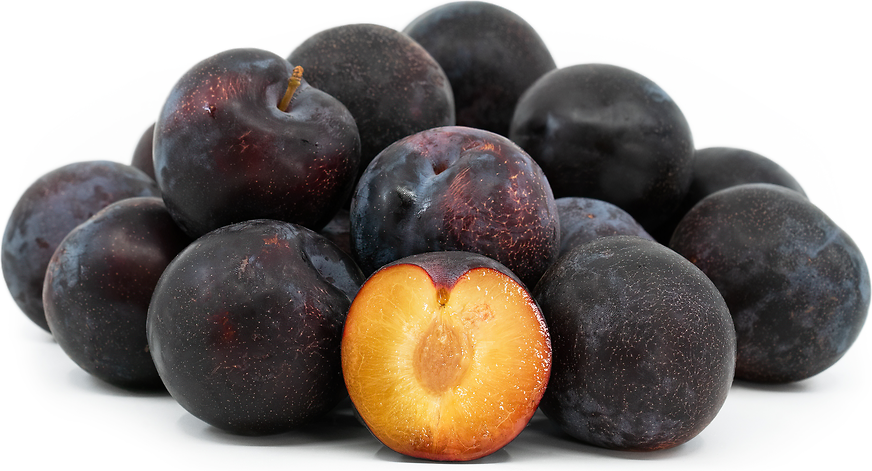 Plums
Inventory, cs : 0
Description/Taste
Plums are small to medium-sized stone fruits, averaging 2 to 7 centimeters in diameter, and have a round, oval, ovate, to cordate shape with a prominent suture line extending from the stem's cavity to the Plum's base. The fruit's skin is thin, taut, smooth, and delicate, bruising easily, and ranges in color from dark purple, almost black, ruby red, bright green to golden amber, depending on the variety. Some Plum cultivars are also covered in a waxy, pale blue to grey bloom that encases the entire surface of the fruit, locking in moisture and acting as a protective barrier. Underneath the skin, the flesh is semi-firm, aqueous, and dense with a tender and succulent consistency. Each variety of Plum will exhibit varying flesh tones, including orange, yellow, purple, red, pink, to green hues, and there is a brown pit that is either tightly adhered or easily separated from the center of the flesh. Plums, depending on the variety, will have a sweet and subacid, sweet-tart, or sour flavor with fruity, tropical, rich, and sometimes sugary nuances.
Seasons/Availability
Plums are available in the summer through early fall.
Current Facts
Plums, botanically a part of the Prunus genus, are flavorful stone fruits belonging to the Rosaceae family. Experts believe there are two main species, known as Japanese plums, or Prunus salicina, and European plums, Prunus domestica. Both species are the main types utilized for commercial production, and species such as American plums, Prunus americana are considered minor, more localized types. There are many different varieties of Plums within each of these species that vary in flavor, appearance, and texture. Plums grow on trees that can reach 5 to 12 meters in height, and common cultivars include Santa Rosa, Greengage, Mirabelle, Moyer, Friar, Damson, El Dorado, and Elephant Heart. Plums are believed to be one of the earliest cultivated fruits in history and have been favored since antiquity for their sweet, subtly tangy flavor and firm but tender flesh.
Nutritional Value
Plums are rich in antioxidants that protect the cells against free radical damage and are a good source of vitamin C to strengthen the immune system, calcium to build bones and teeth, fiber to regulate the digestive tract, and potassium to balance fluid levels in the body. The fruits are also a source of vitamin K to faster wound healing, vitamin A to maintain healthy organ functioning, and contain lower amounts of copper, iron, manganese, phosphorus, and magnesium.
Applications
Plums are a versatile culinary ingredient well suited for fresh, cooked, and preserved preparations. The fruits can be eaten straight, out of hand, and the thin skin can be left intact or peeled before consumption. Plums have a sweet-tart flavor that complements both sweet and savory dishes, and the flesh can be sliced into green salads, layered onto toast, chopped into grain bowls, or used as a fresh topping over pancakes, waffles, crepes, and ice cream. The fruits can also be combined into bread or blended into smoothies, shakes, and fruit juices. In Eastern Europe, Plums are popularly fermented into plum wine and are also mashed and used to make a brandy known as Slivovitz, a beverage commonly consumed during Passover. In addition to fresh preparations, Plums are frequently incorporated into desserts, including cakes, tarts, pies, and crumbles, simmered into jams, jellies, and chutney, or cooked as a natural sweetener in sauces such as barbeque and teriyaki. Plums are also stewed and roasted, and dark purple fruits will contribute a dark red-purple hue to dishes. The fruits can be poached in syrup as a healthy dessert or are grilled and served with soft cheeses as a savory appetizer. Plums pair well with meats such as lamb, poultry, or pork, fruits including peaches, nectarines, citrus, cherries, and figs, aged and fresh cheeses, cinnamon, anise, chocolate, almonds, and pistachios. Whole, unwashed Plums should be stored at room temperature to ripen. Once ripe, the fruits can be stored for one week when wrapped in plastic and kept in the refrigerator. Plums can also be frozen for 6 to 12 months or dried for extended use.
Ethnic/Cultural Info
Historically, Plums have been dried to extend their shelf life, turning into a chewy, wrinkled, sticky food known as prunes. The dried fruit is traditionally made from European Plums, especially the Agen variety, and is consumed as a nutritional snack, natural sweetener, or thickener for baked goods. Prunes are not a new food, but over the past century, they have developed a reputation of being a dried fruit only consumed by the elderly for digestive laxation. To help combat this reputation, there has been a movement to rename prunes to dried plums. In the United States, over 99% of the prunes sold in the country are grown and produced in California. Within the state, there is even a California Dried Plum Board to protect prune production. The board partnered with the American government to officially recognize the name dried plum as a viable commercial title in hopes that the name change will encourage consumers to view the dried fruits differently. Marketing for dried plums has targeted a younger, health-conscious clientele, and the fruits are being touted for their nutritional properties. Today there are approximately 46,000 acres of orchards and over 800 growers cultivating Plums for dried fruit production.
Geography/History
Plums are native to several regions worldwide and have been cultivated for thousands of years. Japanese plums have origins in China but were first domesticated in Japan, while European plums evolved as a hybrid from wild fruits present in the Caucasus mountains and near the Caspian Sea. Over time, each species was extensively cultivated, creating a hybridization of thousands of plum subspecies and varieties, descendants of the wild fruits. European plums were also transported to the New World in the 17th century, and Japanese plums were introduced in the late 19th century, further expanding the fruit's diversity through worldwide cultivation. Today China, Romania, Serbia, and the United States are the top producers of Plums, and the fruits, when in season, can be found through farmer's markets, specialty distributors, grocers, and supermarkets in temperate regions.
Recipe Ideas
Recipes that include Plums. One

is easiest, three is harder.
the other 26...
Podcasts