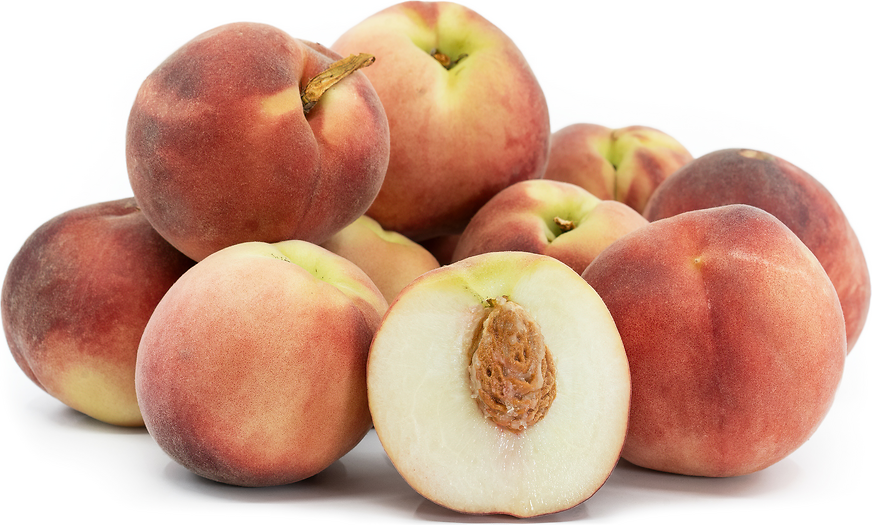 White Peaches
Inventory, 8 lbs : 0
Description/Taste
White peaches are small to medium-sized stone fruits, averaging 6 to 10 centimeters in diameter, and generally have a round, oval, to ovate shape, depending on the variety. The fruit's skin is semi-thin, taut, and easily bruised, displaying an ivory base coloring covered in red and pink blush and a layer of velvety fuzz. Underneath the surface, the flesh is soft, tender, and aqueous, encasing a central, light brown pit that can either be a freestone, easily separated from the flesh or a clingstone, tightly adhered into the flesh. The flesh also bears white hues and may showcase splashes of red around the pit or just under the skin. White peaches emit an aromatic floral scent when ripe and will give slightly under pressure. The flesh contains low acidity, contributing to a mild, sweet, and subtly floral flavor.
Seasons/Availability
White peaches are available in the late spring through summer.
Current Facts
White peaches, botanically classified as Prunus persica, are a general descriptor used for many different sweet, white-fleshed stone fruits belonging to the Rosaceae family. In commercial markets, White peach cultivars are favored for their delicate flavoring and sub-acid nature. White peaches are native to Asia and were historically cultivated in China, revered for their beauty, flavor, and soft texture. Despite their close association with the divine in Asia, the fruits were often overshadowed by yellow peach varieties in Western markets. Yellow peaches were traditionally heartier and able to be transported without excessive bruising, unlike the easily damaged White peach. Over time, White peaches were bred for improved transportability, leading the pale-fleshed fruits to become an in-demand, seasonal peach. Yellow and White peach varieties are similar in their capacity to be consumed fresh or lightly cooked, but yellow peaches hold their shape well when cooked and have a higher acidity, creating a tangier, tarter flavor. In the present day, there are many heirloom and hybrid White peach cultivars grown worldwide, including varieties such as Babcock, Springtime, Tropic Snow, Elegant Lady, Belle of Georgia, Polly White, O-Henry, Roddenberry, Stump of the Earth, Snow Angel, Sauzee, and Galaxy White. White peaches can be consumed soft or semi-firm and will retain a sweet, floral flavor regardless of the fruit's texture.
Nutritional Value
White peaches are an excellent source of vitamin C to strengthen the immune system, boost collagen production within the skin, and reduce inflammation. The fruits also contain fiber to regulate the digestive tract, potassium to balance fluid levels within the body, vitamin E to protect the cells against free radical damage, and other amounts of magnesium, vitamin K, copper, zinc, and folate.
Applications
White peaches have a delicate, sweet, and floral flavor well suited for fresh preparations. The fruits can be consumed straight, out of hand, with or without the skin, or they can impart a floral scent to green salads, fruit bowls, and appetizer plates. White peaches can also be sliced and stirred into yogurt and cereal, used as a fresh topping over desserts, or chopped into salsa. In addition to fresh preparations, White peaches can be lightly sauteed, roasted, or grilled to develop a caramelized, smokey depth of flavor, but their subtle flavoring can be easily overpowered when paired with robust flavorings. Cooked White peaches are often served over whipped cream, ice cream, waffles, or pancakes. White peaches can also be incorporated into baked goods such as cakes, tarts, cobblers, or pies, but their flesh softens quickly, developing a smoother, paste-like texture. White peaches pair well with herbs such as thyme, rosemary, and basil, spices including ginger, cinnamon, nutmeg, and cardamom, bourbon, vanilla, nuts such as pecans, almonds, and hazelnuts, blueberries, blackberries, and raspberries. Whole, unwashed White peaches should be ripened at room temperature, and once ripe, they can be stored for a couple of days in the refrigerator. White peaches can also be frozen and used for smoothies, ice cream, or as edible garnishes in cocktails. It is not recommended to can White peaches as their naturally low pH levels may cause bacteria not to be destroyed in hot water baths or steam canning, causing severe life-threatening illnesses.
Ethnic/Cultural Info
White peaches are revered in China as a symbol of longevity, health, and immortality. It has been reported that approximately 80% of the peaches grown in China are White peach cultivars, and the fruits are favored for their sweet, delicate flesh. In Taoism, the ancient Chinese philosophy, a peach tree grows in the garden of goddess Xiwangmu, also known as the Queen Mother of the West, on the mythical mountain of Kunlun. The tree is considered to be a tree of life, producing immortality peaches every 3,000 years. Legend has it that when the peaches are ripe, Xiwangmu and the other immortals consume the peaches to retain their immortality. This ancient story has led peaches to remain a symbol of longevity and the divine throughout Chinese history, and the fruits have often been depicted in fine art, pottery, and literature. Peaches are also featured in representations of Shouxing, the God of Long Life. Shouxing is one of the Three-Star gods and is often seen in art and sculpture holding a peach in his hand. During birthday celebrations, White peaches are given as gifts or are used as decoration on cards and cakes as a blessing for long life. Traditional longevity buns are also served, which are made in the shape of peaches. The sweet buns are comprised of a soft dough filled with custard or lotus seed paste.
Geography/History
White peaches are native to China, specifically to regions along the Yangzi River, and have been cultivated for thousands of years. The first record of peach cultivation was documented in Chinese manuscripts as early as the 10th century BCE, and over time, peaches were extensively bred throughout China for improved flavor, appearance, and texture. White peaches were later transported along the Silk Road into the Middle East and were eventually introduced into Europe. In the 16th century, peaches were brought by Spanish explorers to the New World and were planted in California sometime before the 17th century. English colonists also planted peach trees along the East Coast, but over time, White peach varieties faded from commercial popularity. Throughout the 19th century, White peaches were often considered inferior to yellow peaches in America and were fed to livestock. It wasn't until the 1980s that White peaches began to rise in demand, favored for their sweeter, less tangy flesh. New varieties were also developed in the late 20th century that improved the fruit's sweet taste and transportability for commercial markets. Today White peaches are grown worldwide in Asia, Europe, Australia, South America, and North America, with major production sites in China, the United States, and Italy. When in season, the fruits are found in local markets, grocers, and specialty distributors.
Recipe Ideas
Recipes that include White Peaches. One

is easiest, three is harder.
the other 12...