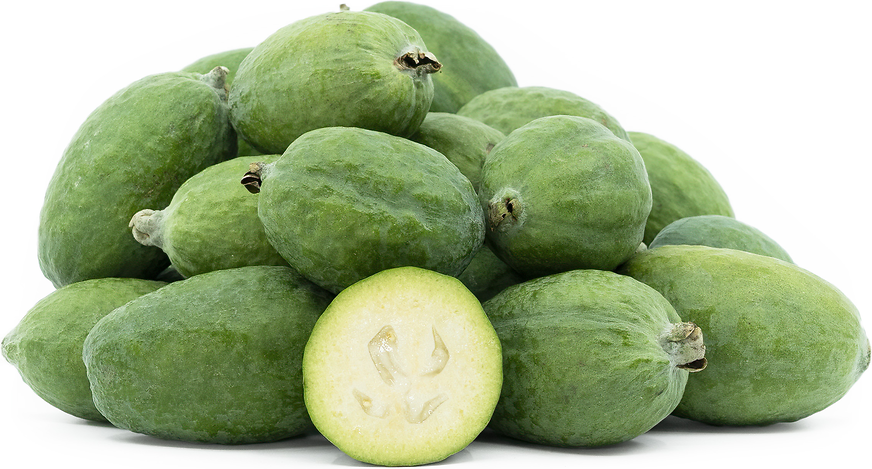 Pineapple Guavas
Inventory, lb : 0
Description/Taste
Pineapple guavas are small in size, averaging 4 to 6 centimeters in length and 2 to 5 centimeters in diameter, and have an oval, oblong, to slightly pyriform shape. The skin is semi-thin, waxy, easily bruised but tough, and has a smooth, taut, and lightly ridged texture. The skin also has a dull green to yellow-green coloring, sometimes blushed with red-orange patches, and is covered in a pale grey-white bloom. Underneath the skin, the white flesh is thick, watery, and granular, encasing a central cavity of translucent pulp suspending anywhere from 20 to 40 tiny edible seeds. The flesh is also generally semi-firm and crisper than true guava varieties, but it can be left at room temperature to soften. Pineapple guavas release a robust, tropical aroma even before they are fully ripe. When grown at home, it is easy to tell when Pineapple guavas are ripe as they will fall from the tree. In most markets, Pineapple guavas are typically sold ripe, but they can also be left for a few days to mature. The fruits will not change color when ripe, but they will soften slightly and develop an aromatic scent. Pineapple guavas have a sweet-tart, tropical, and floral taste with nuances of strawberries, pineapples, kiwis, apples, and mint.
Seasons/Availability
Pineapple guavas are available in the late summer through fall.
Current Facts
Pineapple guavas, botanically classified as Acca sellowiana, are subtropical, aromatic fruits belonging to the Myrtaceae family. The species is native to South America and has been growing wild since ancient times, eventually selected for cultivation for the tree's ornamental and edible nature. Despite their name, Pineapple guavas are not true guavas, but they belong to the same botanical family, consumed in similar preparations to standard tropical guavas. Pineapple guavas grow on evergreen shrubs to small trees reaching 3 to 6 meters in height, and the trees begin bearing fruits approximately 3 to 4 years after planting. The name Pineapple guava is a general descriptor used for multiple varieties of fruits, and the species is also known as Guavasteen, Feijoa guava, Brazilian guava, Fig guava, and Guayabo Del Pais. There are many different varieties within the species, including self-fertile cultivars such as Coolidge, Nazematz, Pineapple Gem, Apollo, Mammoth, Robert, Takaka, Unique, and Andre, and other varieties such as Superba, Variegata, Nikita, Trask, Choiceana, Edenvale, Gemini, Moore, Triumph, Besson, Chapman, David, Roundjon, Magnifica, Robert, and Hirschvogel. Pineapple guavas are not commercially cultivated on a large scale due to their easily bruised skin and short shelf life, but the species is favored for home gardens as the trees are disease resistant, can be grown in containers and small spaces, and are highly ornamental. Another unique feature of Pineapple guava trees is their edible showy flowers. The springtime blooms attract pollinators and showcase brilliant pink, white, red, and yellow hues. Each flower has four fleshy oval petals with a floral, subtly minty taste.
Nutritional Value
Pineapple guavas are a source of vitamin C to strengthen the immune system while reducing inflammation and potassium to balance fluid levels within the body. The fruits also provide fiber to regulate the digestive tract, vitamin A to maintain healthy organ functioning, and other nutrients, including B vitamins and folate.
Applications
Pineapple guavas have a tropical, fruity, and floral taste suited for fresh and cooked preparations. The small fruits can be eaten straight out of hand and have a semi-firm to soft consistency, depending on maturity. Pineapple guavas can be eaten with or without the skin, and the seeds are also edible. The fruits can be sliced into fruit bowls, tossed into salads, used as a fresh topping over granola, or thinly sliced and used as decorative, edible garnish. It is important to note that Pineapple guavas should be dipped into fresh lemon juice or a saltwater solution to prevent the flesh from oxidizing and turning brown in some fresh preparations. The fruits also add bright flavors to desserts, such as muffins, pastries, cakes, fritters, and dumplings, or they can be infused into custards, puddings, and popsicles. Pineapple guavas can also be baked, caramelized, sauteed into sweet or savory dishes, or they can be frozen into sorbets, ice cream, or gelatos. Try simmering Pineapple guavas into jams, jellies, other preserves, and chutney. The fruits can also be preserved in syrup for extended use, peeled and frozen for smoothies, muddled into cocktails, or blended, thinly spread over a cookie sheet, and dehydrated into natural fruit leather. Beyond the fruits, the seasonal flowers are edible and have a fruity, tangy, and subtly minty taste. The petals can be plucked and tossed into salads, sprinkled over grain bowls, porridges, or soups, or used as a decorative garnish for cocktails, iced teas, and smoothies. Pineapple guavas pair well with cheeses such as aged cheddar, feta, and brie, fruits including citrus, papaya, strawberries, and pears, and meats such as pork, duck, and poultry. Pineapple guavas should be left at room temperature until desired consistency. Once ripe, the fruits should be stored in the refrigerator and consumed within one month. Most fruits only last 3 to 7 days when kept in warm environments outside the refrigerator.
Ethnic/Cultural Info
In Tibasosa, Colombia, an annual festival honors Pineapple guavas, known locally as Feijoas. The small mountain town is approximately three hours from Bogota and is considered the Feijoa capital of Colombia. Feijoas are extensively grown in the region, and the town's economy is mainly centered around the sale of the aromatic fruits. Each June, a weekend Feijoa festival is held to celebrate the town's most important fruit, and the event attracts visitors from throughout Colombia. During the festival, stages are erected in the town's square for live music, dancing, and Traditional Andean performances. Fresh Feijoas are also sold along with Feijoa-infused treats such as cakes, ice cream, cookies, milkshakes, and jams. One of the more unique offerings is a spirit created from coffee and fruits, known as Green Feijoa Sabajon. In the afternoons, local chefs gather crowds to cook Feijoa-centric dishes and hand out samples, gathering the community to feast on the fruits that help keep the town alive.
Geography/History
Pineapple guavas are native to South America, specifically regions of western Paraguay, northern Argentina, Uruguay, and southern Brazil, and have been growing wild since ancient times. The fruits were naturally spread throughout South America through animals and migrating peoples, and in 1815, German explorer Fredrich Sellow was one of the first European scientists to collect the fruits. In the mid to late 19th century, botanist M. de Wette in Switzerland acquired the fruit and began growing the species in Europe. In 1890, horticulturist Dr. Edouard Andre planted Pineapple guavas on the French Riviera. Dr. Andre sourced the plants from La Plata, Brazil, and grew the trees in his garden, first bearing fruit in 1897. Nurserymen later purchased seedlings of the plant in the 1890s, leading Pineapple guavas to be sown across the Riviera in Spain, France, and Italy. Later in 1901, Dr. F. Franceschi of Santa Barbara, California, acquired seedlings from Dr. Andre's plants and planted the trees throughout California. He also gathered more varieties from other French growers, which can be seen throughout the state. Pineapple guava seedlings were sent from California to Florida around 1903, and the species was introduced to New Zealand in the early 1900s. Pineapple guavas did not see immediate success in New Zealand until they were advertised as an ornamental plant in 1930. In 1983, the New Zealand Feijoa Growers Association was formed to regulate the cultivation of fruits. Beyond ornamental and culinary use, Pineapple guavas were also planted in New Zealand as a protective windbreak to other sensitive trees. Today Pineapple guavas thrive in subtropical climates worldwide and are grown in various quantities in New Zealand, Australia, Africa, Asia, Europe, the United States, the Caribbean, and Central and South America.
Recipe Ideas
Recipes that include Pineapple Guavas. One

is easiest, three is harder.