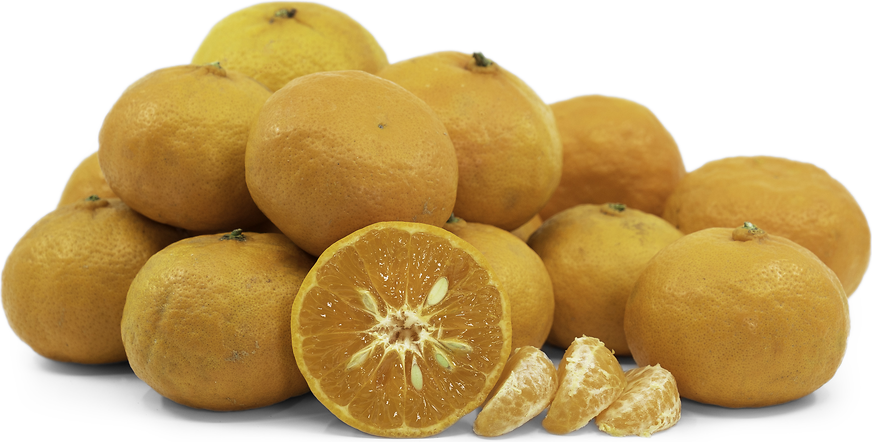 Encore Mandarins
Inventory, cs : 0
Description/Taste

Encore mandarins are a small to medium-sized varietal, averaging 5 to 7 centimeters in diameter, and have a round to oblate shape with a flat top and bottom and broad, curved middle. The mandarins grow in groupings of 2 to 3 fruits rather than large clusters on the tree, and the rind is thin, smooth, and pliable, covered in tiny oil glands giving the surface a faintly pebbled, textured appearance. The pale yellow-orange rind is also darker on the blossom end than the stem end and occasionally features dark brown or black spots, a natural occurrence developed during cultivation. The rind is easily peeled, the fruits have little to no white pith, and the dark orange flesh is firm, aqueous, and tender with a succulent consistency. The flesh is divided into 10 to 11 segments by thin membranes around a hollow core, and each segment contains small juice vesicles embedded with a few to many seeds. Some fruits can have up to twenty-five ivory, tapered seeds, depending on pollination. Encore mandarins have high sugar and moderate to low acidity, creating a primarily sweet taste with subtle tart undertones. At the beginning of the season, the mandarins may showcase more tart notes, but as the fruits ripen into midsummer, they become rich, sweet, and bright.


Seasons/Availability

Encore mandarins are available in the spring through late summer.


Current Facts

Encore mandarins, botanically classified as Citrus reticulata, are a hybrid variety belonging to the Rutaceae family. The small, pale orange fruits were developed in the mid-20th century through a breeding program in Riverside, California, and were selected for cultivation for their ripening time and rich, sweet flavor. Encore mandarins are one of the latest ripening varieties, a trait inherited by its parent cultivar, King tangors, and are harvested in mid-March, reaching peak flavor in May through July. The variety is unique as it is typically in season when other mandarin types have ended their harvests. Growers favor Encore mandarins for their self-pollinating nature, almost thornless tree, and somewhat heavy crops. Despite these favorable characteristics, Encore mandarins are not commercially produced and are primarily grown in home gardens as a landscape and ornamental tree. The variety struggled commercially due to its alternate bearing, the fruit's thin, easily damaged skin, seedy flesh, and the black spots naturally occurring on the mandarin's surface. In the modern day, Encore mandarins are a specialty variety seasonally sold for their flavor and juice. The variety is mainly consumed fresh but also used in some cooked preparations.


Nutritional Value

Encore mandarins are a source of fiber to regulate the digestive tract, vitamin A to maintain healthy organ functioning, and calcium to build strong bones and teeth. The mandarins also provide some vitamin C to strengthen the immune system and reduce inflammation, potassium to balance fluid levels within the body, folate to assist in DNA and RNA production, and other nutrients, including copper, phosphorus, iron, niacin, manganese, riboflavin, and thiamine.


Applications

Encore mandarins have a sweet, refreshing nature suited for raw or cooked preparations. The variety is primarily consumed peeled, segmented, and out of hand, or the segments can be tossed into fruit medleys, salads, and grain bowls. Encore mandarins can also be chopped into salsas, relishes, and creamy dips, layered into parfaits, stirred into granola as a breakfast dish, or the segments can be dipped whole into chocolate as a sweet treat. Fresh Encore mandarins can sometimes be seedy, so some chefs choose to extract the juice and mix it into dressings, marinades, sauces, and syrups. In addition to fresh preparations, Encore mandarins can be utilized in baked goods such as cakes, cookies, muffins, crisps, and scones. The juice and zest can also be added to pastry fillings, mixed into frostings, soft cheeses, and whipped cream, or used to flavor puddings, crème brulee, and panna cotta. Try using the mandarins as a garnish over seafood for a sweet addition, add to stir-fries before serving, or simmer into a glaze or jam to serve with roasted meats such as pork. Encore mandarin juice can also be a flavoring in smoothies, cocktails, tea, and fruit-based beverages. Encore mandarins pair well with rhubarb, blueberries, strawberries, ginger, edamame, red cabbage, nuts such as almonds, pine, and walnuts, and herbs including cilantro, mint, basil, and parsley. Whole, unpeeled Encore mandarins will keep for a couple of days at room temperature and 1 to 2 weeks when stored in the refrigerator.


Ethnic/Cultural Info

Howard Brett Frost was a known and well-respected citrus breeder and geneticist. Frost grew up on a farm in Dairyland, New York, and received a Ph.D. in 1913 from Cornell University. During his schooling, Frost extensively studied the genetics of garden stock, especially Matthiola, and continued to research the field despite genetics being regarded as a new subject at the time. Frost joined the University of California Riverside's Citrus Experiment Station in 1913 as a plant breeder and continued his genetics studies, being the first scientist to determine the accurate basic citrus chromosome number. Frost also intercrossed many citrus species to create improved cultivars and recorded detailed notes regarding citrus genetic behavior. These notes are still used by breeders at the research center in the modern day. In conjunction with his renowned research, Frost also wrote two chapters in The Citrus Industry Volume One, one of the most referenced citrus publications used worldwide. Frost worked at the Citrus Research Center from 1913 to 1948, and even after his official retirement, he continued working until the late 1950s. The American Pomological Society awarded him the Wilder Medal in 1966 for his contributions to citrus breeding, and several citrus varieties, including Encore mandarins, are still used in breeding programs and grown in gardens worldwide.


Geography/History

Encore mandarins were developed at the University of California Riverside's Citrus Research Center in Riverside, California. The variety was created from a cross between King tangors and Willowleaf mandarins, also known as Mediterranean mandarins, and was traditionally bred using natural techniques. Encore mandarins were bred sometime in the early to mid-20th century, but the budline wasn't extensively studied and progressed until around 1954. Citrus breeder and geneticist Howard B. Frost selected King tangors, Citrus nobilis, for their late-maturing nature and Willowleaf mandarins, Citrus reticulata, for their flavor, aroma, and other distinct characteristics. Encore mandarins were eventually selected for commercial production by Frost's colleagues after his retirement. Breeders J.W. Cameron and R.K. Soost released Encore mandarins to growers for cultivation in 1965. Today Encore mandarins are not produced commercially in the United States due to their speckled, pale coloring, easily damaged rind, and alternate-bearing nature. The variety is mainly grown as a specialty cultivar or home garden tree in Southern California and is sold through farmer's markets and distributors. Encore mandarins are also used in citrus breeding programs to create improved hybrid varieties. Outside of the United States, Encore mandarins are commercially grown in New Zealand and Australia and are notably sold by the Fresh Fruit company. The New Zealand-based grower and distributor offers Encore mandarins under their brands First®, launched in 1989, and Giz'os™, established in 2003. Encore mandarins were also introduced to Puerto Rico in 1966 and have been planted in regions of Portugal and Japan for their flavor.