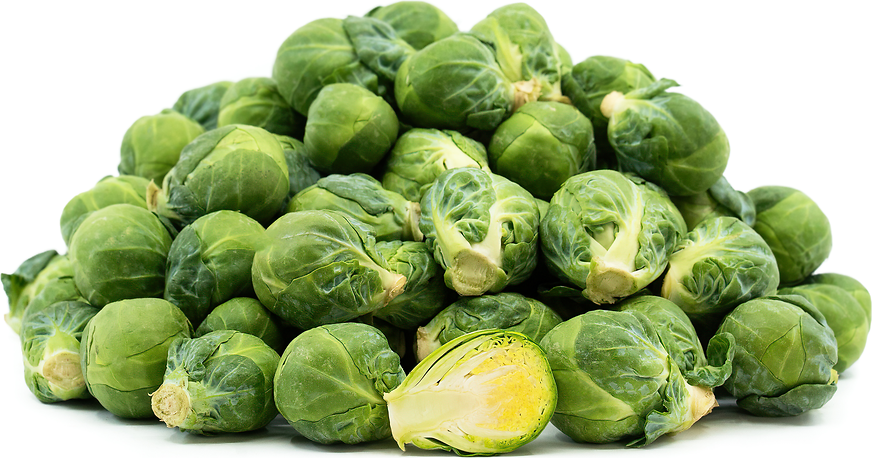 Brussels Sprouts
Inventory, 20 lbs : 63.56
This item was last sold on : 12/08/23
Description/Taste
Brussel sprouts grow on upright, thick, and fibrous green stalks with a cylindrical nature. The buds are often nestled between the leafy branches and grow directly from the stalk, giving the plant a distinct, knobby appearance. Each sprout averages 1.5 to 4 centimeters in diameter and has an oval to round, curved, compact shape with slight tapering toward the stem end. The sprouts are comprised of layers of tightly packed leaves, forming a dense bud with little to no air pockets. The outer leaves range in color from light green to dark green with a white base and have a smooth and pliable consistency. The interior leaves vary in pale yellow, white, to pale green hues. Raw Brussels sprouts have a crisp, crunchy, and firm texture and should be fresh, tight, and springy when selected for culinary use. The sprouts can be eaten raw and have an earthy, vegetal, subtly sweet, and slightly bitter taste. When cooked, the sprouts develop mellow, savory, sweet, and nutty undertones.
Seasons/Availability
Brussels sprouts are available year-round, with a peak season in the fall through early spring
Current Facts
Brussels sprouts, botanically classified as Brassica oleracea, are the edible buds of a biennial plant belonging to the Brassicaceae family. The sprouts grow along upright, sturdy stems, reaching 60 to 90 centimeters in height, and are defined as a type of axillary bud, forming where the leaf meets the stalk. Throughout history, Brussels sprouts have acquired several polarizing reputations, from being unfavored and avoided to being enjoyed and savored. The sprouts received their Brussels moniker in the 18th century after the Brussels-Capital region in Belgium, where the plants were first commercially cultivated. One Brussels sprout plant can produce as many as 100 sprouts in a single season, and the harvest period lasts from 6 to 8 weeks. Brussels sprouts are ready for harvest approximately 90 to 180 days after planting, and the sprouts are often picked by hand, or the entire stalk is cut for culinary use. The sprouts are commercially produced worldwide and grown in home gardens for fresh and cooked preparations. It is important to note that while there are many cultivars of Brussels sprouts, including varieties such as Rowena, Valiant, Rampart, Oliver, and Content, Brussels sprouts are primarily sold in commercial markets under their general name, as most varieties have a similar flavor profile, appearance, and texture.
Nutritional Value
Brussels sprouts are a source of fiber to regulate the digestive tract, potassium to balance fluid levels within the body, vitamin A to maintain healthy organ functioning, and vitamin C to strengthen the immune system while reducing inflammation. The sprouts also provide calcium to build strong bones and teeth, vitamin K for faster wound healing, and other nutrients, including copper, folate, selenium, iron, magnesium, phosphorus, and manganese. In addition to vitamins and minerals, Brussels sprouts contain glucosinolate, a phytochemical that contains sulfur. When the sprouts are overcooked, they release this organic compound, giving off an unpleasant, sulfur-like odor.
Applications
Brussels sprouts have an earthy, vegetal, nutty, and subtly bitter flavor suited for fresh or cooked preparations. The sprouts should be washed thoroughly before use, and the outer leaves discarded. Once prepped, the sprouts can be sliced in half, chopped into pieces, shaved, or shredded. Brussels sprouts are popularly added to slaws, shredded and tossed into salads, or thinly sliced and incorporated into appetizers as a crisp addition. The sprouts can also be cooked to develop a softer consistency and are commonly braised, lightly steamed, or sauteed in oils, butter, and sauces. Halved Brussels sprouts are tossed into stir-fries, or the sprouts can be roasted or grilled as an accompaniment to meats. Dry heat cooking methods are recommended to prevent the sprouts from becoming overcooked and mushy. Try roasting Brussels sprouts with a balsamic glaze and tossing them with freshly shaved parmesan or pan-frying in butter for a rich side dish. Brussels sprouts can also be added to soups and stews. Brussels sprouts pair well with mushrooms, bell peppers, spices such as nutmeg, paprika, and caraway, maple, herbs including thyme, mint, rosemary, and parsley, nuts such as pine, buttered pecans, and walnuts, cheeses such as pecorino, taleggio, and alpine, and meats such as pork, beef, and poultry. Whole, unwashed Brussels sprouts will keep up to one week when stored in a loosely ventilated container in the refrigerator's crisper drawer. The sprouts can also be blanched, shocked in cold water, dried, and frozen in a sealed container for extended use.
Ethnic/Cultural Info
In Medieval Europe, especially in Great Britain, Brussels sprouts were once believed to cause possession. Legend has it that Medieval Europeans thought that demons lurked in the fields of Brussels sprouts, hiding inside of the sprouts and within their leaves. Europeans also thought that flatulence was often a sign of a demon living inside of a body, thus leading them to believe that the gassiness that Brussels sprouts caused stemmed from demonic possession. Many Europeans refused to consume Brussels sprouts for fear of consuming a demon, and it was thought that eating a demon would cause sickness within the body, sometimes leading to illnesses or death. Despite their demonic reputation, Brussels sprouts were still consumed, and it was customary to carve a cross on the base of the stem before cooking the sprouts. Carving a cross was said to expel the demon from the sprout, making them safe to eat. There are several other theories as to why some cooks used to carve crosses into the base of Brussels sprouts. In Norse mythology, Brussels sprouts were carved with an ancient symbol known as a Gebo rune or Gyfu, a shape similar to an x. This shape symbolized Odin's sacrifice on the World Tree when he hung himself for nine days and nine nights to gain knowledge of other worlds. The stalk with the sprouts still attached was also later used as a representation of the World Tree, with each sprout representing a different world. The final theory points to the Celticists, who carved a Celtic cross into the sprout. It was believed that Sant Patrick was commonly depicted holding Brussels sprouts in portraits, and the sprouts were at one time mistaken for a shamrock.
Geography/History
Brussels sprouts are descendants of a wild cabbage-like species native to the Mediterranean. The cabbages grew wild for several years, and, over time, civilizations throughout the Mediterranean selected the cabbages for domestication and cultivation. Several improved selections of the wild plant were introduced to northern Europe sometime during the 5th century, and the selections eventually reached growers in Belgium, where the species was refined. Brussels sprouts were commercially cultivated in Belgium in the 13th century, where the plant took on its characteristic form that is similar to what is sold in markets in the modern day. By the 16th century, Brussels sprouts had expanded in popularity, increasing production, and had become a culinary staple throughout Europe. Brussels sprouts arrived in Great Britain by the end of the 19th century, and the sprouts were carried to the New World and were planted in Louisiana by French settlers, later offered to Americans through home seed catalogs. At the time, the Brassica was favored for its nutritional properties, and since its acceptance in the New World, Brussels sprouts have expanded in cultivation to be mainly grown in coastal California and New York within the United States. Today Brussels sprouts are grown in home gardens worldwide and are commercially produced in the United States, Mexico, and the Netherlands. The Netherlands is the largest commercial producer in Europe, followed by Germany and the United Kingdom. Mexico also grows and exports significant volumes of Brussels sprouts, allowing markets worldwide to have a year-round supply.
Featured Restaurants
Restaurants currently purchasing this product as an ingredient for their menu.
the other 175...
Recipe Ideas
Recipes that include Brussels Sprouts. One

is easiest, three is harder.
the other 81...