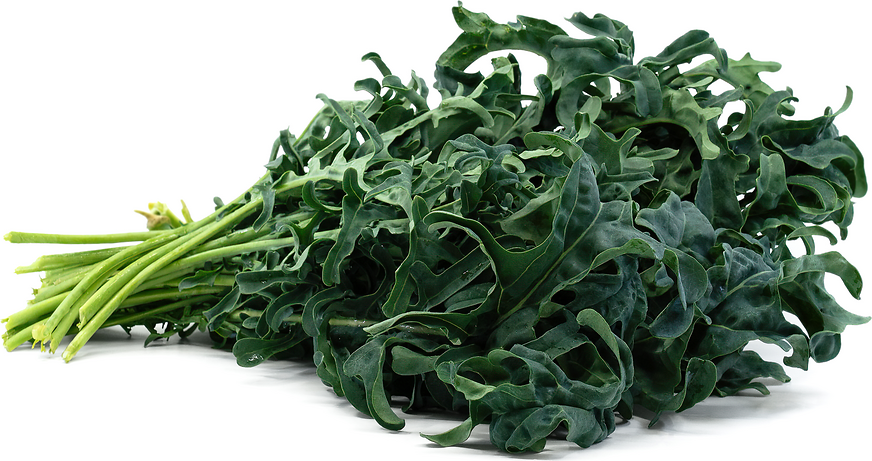 Broccoli Spigarello
Inventory, bunch : 0
This item was last sold on : 06/20/23
Description/Taste
Spigarello widely varies in appearance, depending on the variety, and can be found with wavy or flat, gray-green leaves attached to slender green stems. Wavy varieties have narrow, elongated leaves with rippled and curled edges giving it a twisted appearance, while flat varieties have broad and smooth surfaces with lightly serrated edges. In the spring, small white flowers may also appear. The stems are smooth, vegetal, and tender when young, sometimes developing a tough and fibrous consistency when fully grown. Mature stems are generally considered too bitter and unpalatable to consume. The leaves have a crisp, slightly firm, but tender texture. Spigarello has a full-bodied and subtly sweet flavor, mixed with grassy, vegetal notes and mild, bitter undertones.
Seasons/Availability
Spigarello is primarily available in the winter through spring. In some cold climates, the greens can also be found sporadically throughout the year.
Current Facts
Spigarello is an Italian heirloom green belonging to the Brassicaceae or broccoli family. There are many different varieties of Spigarello found in both smooth and curly forms, and the leafy green is considered to be the ancient parent of broccoli rabe. The name Spigarelllo is the American term for the plant, which is a corruption of the Italian name Spigariello, and the greens are also known as Cima di Rapa, Broccoli Spigarello, and Cavolo Broccolo a Getti di Napoli. Spigarello was primarily localized to Southern Italy until it was established in the United States in the late 20th century. Over time, the variety began to appear at farmer's markets, where it has widely increased in popularity in the last decade among chefs and foodies. Spigarello is a cut-and-come-again, cool-season crop that can withstand slight frost and will deliver multiple harvests. The green is highly favored for its sweet, subtly bitter flavor, sturdy texture, and exclusivity.
Nutritional Value
Spigarello is an excellent source of vitamins A and C, which are antioxidants that strengthen the immune system while reducing inflammation within the body. The dark greens are also a good source of vitamin K, which helps the body heal from wounds and provide some folate, calcium, manganese, potassium, and vitamin E.
Applications
Spigarello has a tender but sturdy texture that allows it to be used in both raw and cooked applications such as sautéing, braising, steaming, and blanching. Only the leaves and flowers are used from the plant, as the stems are often too fibrous to consume. Some chefs may choose to use the very young stems, but the leaves are viewed as the main ingredient. When raw, the leaves can be thinly sliced, shredded, or chopped and tossed into salads. Spigarello can also be sauteed with other vegetables as a side dish, mixed into grain bowls, stirred into pasta, or used to stuff roasted meats. In addition, Spigarello can be shredded into soups, baked into casseroles and gratins, or used as a substitute for kale in recipes. Spigarello pairs well with aromatics such as garlic, shallots, and onions, cheeses such as goat, cheddar, and parmesan, cream-based sauces such as béchamel and hollandaise, citrus, legumes, peppers, tomatoes, potatoes, winter squash, mushrooms, and meats such as beef, lamb, and poultry. Whole greens will keep 5 to 7 days when stored in a plastic bag in the refrigerator. Once cooked, the greens will keep 3 to 4 days when stored in a sealed container in the fridge.
Ethnic/Cultural Info
In Naples, Italy, Spigarello is often incorporated into minestra maritata, which is a traditional, vegetable-filled soup. The dish was originally eaten among poor households, combining various leftover meats, vegetables, and bitter greens that could be found growing locally. As the dish became more popular in Italy, many Italian households of the upper and middle class also began cooking the soup using locally sourced ingredients, such as Spigarello, transforming the dish into a beloved holiday meal. Minestra maritata roughly translates to "married soup," which is a descriptor used to exemplify the blending of flavors and ingredients. In the modern-day, the soup has widely grown in popularity outside of Italy and has been mistranslated into English as "Italian wedding soup," creating many different legends and stories surrounding this name. Beyond soup, Spigarello is also used as a kale substitute in Italy and is a favorite green to use as a topping over pizza.
Geography/History
The origins of Spigarello are mostly unknown, with some experts tracing it back to Asia while other experts deem Italy as its birthplace. Regardless of its ancient origins, Spigarello is closely associated with Southern Italy, specifically Napoli and Puglia, where it has been growing for centuries. In the late 20th century, the leafy greens were brought from Italy and were planted in a home garden of an Italian American family in Seattle. Bill Coleman of Coleman Family Farms received seeds from the Seattle gardener and began cultivating the green on his farm in Carpinteria, California. Coleman grew the variety for over fifteen years and sold it at the Santa Monica Farmers Market for ten years before it began to trend among Southern California chefs as an unusual, locally grown green. Today Spigarello is still sold through Coleman Family Farms and can be found through other specialty growers at farmer's markets across the United States and in Italy. The seeds of many different Spigarello varieties are also available through online retailers for home garden use.
Recipe Ideas
Recipes that include Broccoli Spigarello. One

is easiest, three is harder.