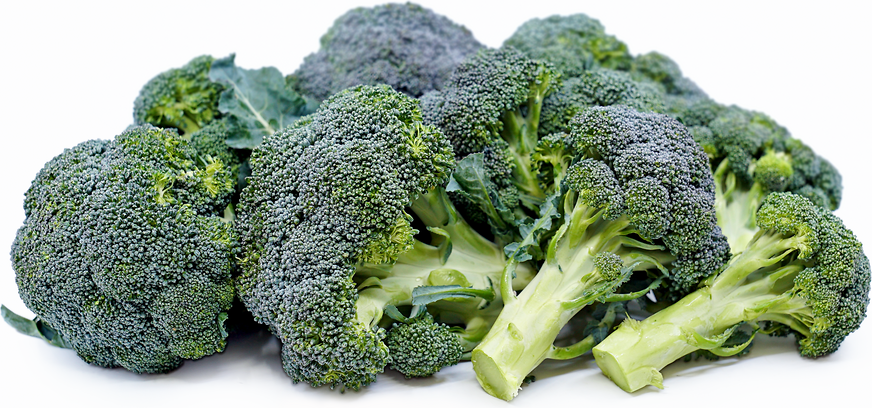 Broccoli
Inventory, 22 lbs : 57.17
This item was last sold on : 12/08/23
Description/Taste
Broccoli consists of flowering heads that are harvested when the buds are unopened, small, and still green. The heads average 10 to 20 centimeters in diameter and grow on thick, fibrous stalks, emerging from a covering of large, leathery, dark green leaves. Broccoli heads are generally green, sometimes flushed with dark purple depending on the variety, and contain tiny, unopened buds attached to branching stems. The branching, segmented stems with the flower buds are known as florets, which connect into a larger, central, thick, and fibrous, pale green stem. The unopened buds have a crisp and tender consistency when raw, and if left to mature, the buds would produce bright yellow, four-petaled flowers. The thick, raw stems also have a crisp, crunchy, slightly chewy texture, and the leaves are edible but often contain a bitter, fibrous nature. When cooked, Broccoli develops a soft, semi-crunchy consistency and has vegetal, herbaceous, and earthy flavors with grassy, bittersweet nuances.
Seasons/Availability
Broccoli is available year-round, with a peak season in the late fall through early spring.
Current Facts
Broccoli, botanically classified as Brassica oleracea var. Italica, is an ancient, cool-season annual belonging to the Brassicaceae or cabbage family. The large, compact heads grow on upright, fibrous stalks that can reach up to 90 centimeters in height and are highly favored for their edible florets, stem, and leaves. The name Broccoli is derived from the Italian word broccolo, which roughly translates to mean "the flowering crest of a cabbage." Broccoli was developed from many years of natural crossbreeding and was selected as a commercial crop for its high nutritional content and filling nature. There are multiple types of Broccoli, including heading and sprouting varieties, but the most common Broccoli seen in commercial markets is known as Calabrese Broccoli. This Broccoli is generally labeled as Broccoli in most markets and contains the characteristic dense, rounded green heads comprised of many smaller, branching florets. In the modern-day, Broccoli is grown worldwide, but the heads cannot be machine gathered and must be hand-harvested using knives to remove from the plant's base, making it a labor-intensive crop.
Nutritional Value
Broccoli is an excellent source of vitamin C to strengthen the immune system, boost collagen production, and reduce inflammation. The vegetable is also a rich source of vitamin K to assist in faster wound healing and contains antioxidants that can help eliminate free radicals, fiber to stimulate the digestive tract, and lower amounts of vitamin A, potassium, folate, and phosphorus.
Applications
Broccoli is a versatile ingredient well-suited for both raw and cooked applications, including steaming, boiling, roasting, baking, frying, and sautéing. The heads, stems, and leaves are all edible and will contain varying textures and flavors. The heads and stems are the most common portion of the plant consumed and can be chopped and tossed fresh into salads, mixed with other ingredients into slaws, or served on appetizer plates with creamy sauces and dips. Broccoli can also be battered and fried into tempura, lightly cooked and mixed into grain bowls, tossed into pasta, stir-fried with other vegetables, steamed and served as a tender side dish, or blanched and combined into rice and noodle dishes. In addition to using the heads in larger pieces, cooked Broccoli florets can be pureed into soups, stirred into risotto, or baked into quiches. The thick stems can also be used in any preparation calling for Broccoli. Some chefs choose to peel the stems to develop a more tender consistency when cooked. Broccoli leaves are also edible but may contain a bitter flavor. The leaves can be prepared similarly to kale or Swiss chard. Broccoli pairs well with zucchini, cauliflower, bell pepper, mushrooms, roasted meats, including poultry, turkey, beef, and fish, other seafood, sauces such as oyster, soy, creamy dressing, and vinaigrettes, and cheeses such as parmesan, cheddar, feta, and goat. Unwashed, raw Broccoli will keep 4 to 7 days when stored in the refrigerator, and once cooked, it will keep up to 5 days. It can also be frozen for 6 to 8 months.
Ethnic/Cultural Info
Broccoli was a prevalent vegetable served during cena, an Ancient Roman dinner reserved for the wealthy upper class. Most Roman households made lunch their largest meal of the day and could not afford a lavish dinner, but cena was a multi-course meal served after daily tasks were finished among the upper class. Cena was the most common meal to invite guests and was used to showcase status through exotic recipes and ingredients. Within the meal, there was traditionally an appetizer, main course, and dessert, and the main course was also sometimes broken up into three courses depending on the wealth of the hosting family. Broccoli was served during the main course and was presented cooked, generally coated in spices and rich sauces. Marcus Gavius Apicius, a wealthy epicure, is primarily credited with recording some of the first Broccoli recipes in the cookbook De Re Coquinaria. Many experts believe that Apicius's servants and chefs were the main authors of the recipes, but Apicius was the face and host of the extravagant dinner parties featuring these recipes, often paid by the Roman government to entertain foreign dignitaries. De Re Coquinaria contains approximately 500 recipes, and within the recipes, Broccoli was boiled, bruised, coated in coriander and cumin seeds, and tossed with a mixture of oil, wine, and onions. It was also sometimes served with creamy sauces or lightly coated in herbs. Early editions of the cookbook dating back to the 9th century can still be found at the New York Academy of Medicine and the Vatican.
Geography/History
Broccoli was developed from an ancient, wild cabbage relative native to the Mediterranean region and Asia Minor. Thousands of years ago, the wild cabbage relative was selectively bred for many generations to exhibit improved traits for human consumption, including flavor, size, and texture. Experts believe the Etruscans, a civilization known for their horticulture, first brought domesticated versions of Broccoli from Turkey to Southern Italy sometime before the 1st century. Broccoli continued to be cultivated in Italy, developing Calabria Broccoli, the compact heads we are familiar with today, and the plants were introduced to France in the 16th century. Broccoli was also brought to England in the 18th century, where it was initially known as Italian Asparagus. Thomas Jefferson had Broccoli planted in his Monticello garden in the United States sometime in the 18th century, but the vegetable did not become widespread in the New World until the arrival of Italian immigrants in the 19th century. Later in the 1920s, Italian immigrants known as the D'Arrigo brothers planted the first commercial fields of Broccoli in San Jose, California. The crops were shipped to Boston, and quickly after its commercial release, Broccoli rapidly increased in demand, establishing the vegetable as a commercial crop. Today California remains the largest producer of Broccoli in the United States, and the crop is sold domestically and exported to countries such as Japan, Taiwan, and Canada. Broccoli is also highly cultivated in India and China for commercial exports and is grown worldwide in home gardens.
Featured Restaurants
Restaurants currently purchasing this product as an ingredient for their menu.
the other 110...
Recipe Ideas
Recipes that include Broccoli. One

is easiest, three is harder.
the other 97...
| | | |
| --- | --- | --- |
| Daily Rebecca | | Broccoli & Chickpea Salad |
| Design Dazzle | | 5 Minute Healthy Halloween Treats |
| Baked Greens | | Broccoli, Cheddar, & Green Pea Fritters |
| Design Dazzle | | Garden Veggie Rice Salad |
| Sweet Dash of Sass | | Chicken Broccoli Alfredo Stuffed Shells |
| Delish Knowledge | | Roasted Broccoli Pesto Pizza |
| Mom Loves Baking | | Cold Veggie Pizza Appetizer |
| Life Made Sweeter | | Instant Pot Beef and Broccoli |
| Courntey Sweets | | Lemon Pepper Salmon and Rice Salad |
| A Brown Table | | Broccoli, Thyme and Gochulang Soup |
| An Italian in My Kitchen | | Three Vegetable Creamy Broccoli Soup |
| Little Mashies | | Broccoli Baby Puree |
| Courntey Sweets | | Broccoli Cheese Potato Mini Pies |
| Bunny's Warm Oven | | Cheesy Broccoli Rice |
| Hey Keto Mama | | Keto Broccoli Cheddar Soup |
| Happy Healthy Mama | | Instant Pot Broccoli Cheese Soup |
| A Latte Food | | Skinny Crustless Quiche |
| Gimme Delicious Food | | Baked Broccoli Tots |
| The Harvest Kitchen | | Coconut Curry Broccoli Soup |
| Eat Good 4 LIfe | | Whole Wheat White Broccoli Pizza |
| The Kitchen is My Playground | | Marinated Summer Vegetable Salad |
| Produce on Parade | | Vegan Pad See Ew |
| Delish Knowledge | | Charred Broccoli and Mozzarella Sandwich |
| Savory Tooth | | Balsamic Roasted Broccoli Salad with Garlic |
| Crowded Kitchen | | Green Curry Coconut Rice with Chickpeas, Mushrooms and Greens |
| Damn Delicious | | Chicken and Broccoli Alfredo |
| Art From My Table | | Broccoli Blueberry Salad |
| Vegan Heaven | | Veggie Salad with Broccoli and Mushrooms |
| Julia's Album | | Asiago Roasted Broccoli |
| Super Healthy Kids | | Broccoli Poppers |
| A Healthy Slice of Life | | Broccoli Cheddar Quinoa Bites |
| Fooduzzi | | Roasted Broccoli Quinoa Salad with Honey Mustard Dressing |
| Because I Said So, Baby | | Easy Cheesy 4 Ingredient Broccoli Bites |
| Natasha's Kitchen | | Chicken Stir Fry with Rice Noodles |
| Whole and Heavenly Oven | | Springtime Veggie Pasta Primavera |
| Gimme Delicious Food | | Broccoli Crust Pizza |
| Feel Good Foodie | | Broccoli & Cheese Hand Pies |
| Weelicious | | Broccoli, Potato and Cheese Puree |
| Wine and Glue | | Broccoli Cheddar Soup |
| Bobbi's Kozy Kitchen | | Broccoli Pesto |
| Wall Flower Kitchen | | Spicy Green Soup |
| Rawmazing | | Sweet Potato Broccoli Salad with Garlic-Ginger Tahini Sauce |
| Alidas Kitchen | | Broccoli Cheddar Quinoa Bites |
| Passion for Savings | | Slow Cooker Broccoli & Cheese Soup |
| Pip & Ebby | | Eggs with Broccoli and Tomatoes |
| Just a Little Bit of Bacon | | Three Cheese Broccoli Bites |
| Fooduzzi | | Easy Vegan Parmesan Roasted Broccoli |
| Wine and Glue | | Lighter Broccoli Cheese Soup |
| This Savory Vegan | | Vegan Brocoli Pesto Pasta with Whipped Tofu Ricotta |
| Delish Knowledge | | Vegan Macaroni and Cheese with Broccoli |
| Clean Eating Veggie Girl | | Raw Cheezy Broccoli Poppers |
| I Wash You Dry | | Broccoli Cheese Stuffed Chicken Breast |
| Thirty Handmade Days | | Broccoli Salad |
| Feel Good Foodie | | Beef and Broccoli Stir Fry |
| Play. Party. Plan. | | Broccoli Cheese Bites |
| Domestic Fits | | Broccoli Guacamole |
| Peas and Crayons | | Broccoli and Cheddar Four Cheese Pizza Flatbread |
| Rebooted Mom | | Creamy Instant Pot Broccoli Pasta Sauce |
| Cooking Classy | | Very Veggie Fried Rice |
| The Endless Meal | | Green Veggie Pizza Crust |
| Just a Little Bit of Bacon | | Creamy Broccoli Apple Salad With Pistachios, Cranberries, And Red Onion |
| Vegan Heaven | | Green Monster Veggie Burger |
| Simply Stacie | | Chicken, Broccoli & Cheddar Pot Pies |
| Radiate Food Vibes | | Vegan Pizza Potato Skins with Roasted Broccoli |
| An Italian in My Kitchen | | Baked Breaded Broccoli |
| 40 Aprons | | Paleo Broccoli Cheese Soup |
| Garlic & Zest | | Truffled Cream of Broccoli Soup |
| Two Peas and Their Pod | | Roasted Broccoli Grilled Cheese |
| The Harvest Kitchen | | Crunchy Curried Broccoli Salad |
| Damn Delicious | | Baked Broccoli Parmesan Dip |
| Delish Knowledge | | Vegan Coconut Curry Noodle Bowls |
| Kristine's Kitchen | | No Mayo Broccoli Salad with Blueberries and Apple |
| The Honour System | | Creamy Honey Mustard Chopped Chicken & Veggie Salad |
| Evolving Table | | Roasted Broccoli with Sriracha with Honey |
| Our Salty Kitchen | | Broccoli Quinoa Salad with Sunbutter Sauce |
| The Endless Meal | | Roasted Broccoli Salad with Blueberries, Bacon, and Pecans |
| Vanille Verte | | Chicken Tikka Masala on Broccoli Rice |
| Healthier Steps | | Curry Quinoa with Broccoli |
| The Foodie Physician | | Seared Tuna with Soba Noodles and Sesame Roasted Broccoli |
| Taste and See | | Roasted Parmesan Broccoli |
| Rabbit and Wolves | | Vegan Bang Bang Broccoli |
| Mother Thyme | | Chicken Alfredo Garlic Bread Pizza |
| Ahead of Thyme | | Roasted Broccoli Grilled Cheese Sandwich |
| I Love Vegan | | Broccoli Almondine |
| Know Your Produce | | Broccoli Alfredo Stuffed Baked Potato |
| Just a Little Bit of Bacon | | Chicken And Broccoli Salad With Creamy Dressing |
| Cilantro & Citronella | | Vegetable Udon Stir-fry |
| Produce on Parade | | Broccoli & Squash Quiche |
| Simply Stacie | | Very Veggie Chicken and Rice Soup |
| Meatloaf and Melodrama | | Sheet Pan BBQ Smoked Sausage Dinner |
| Vegan Heaven | | Vegan Chicken Alfredo |
| A Latte Food | | Hash Brown Crusted Broccoli & Cheddar Quiche Cups |
| PaleOMG | | Broccoli Fritters |
| From My Bowl | | Vegetable Lasagna with White Sauce |
| The Cookie Rookie | | Roasted Lemon Parmesan Broccoli |
| The Novice Chef | | Broccoli Cheese Bombs |
| The First Mess | | Green Goddess Pizza & Broccoli Stem Pesto |