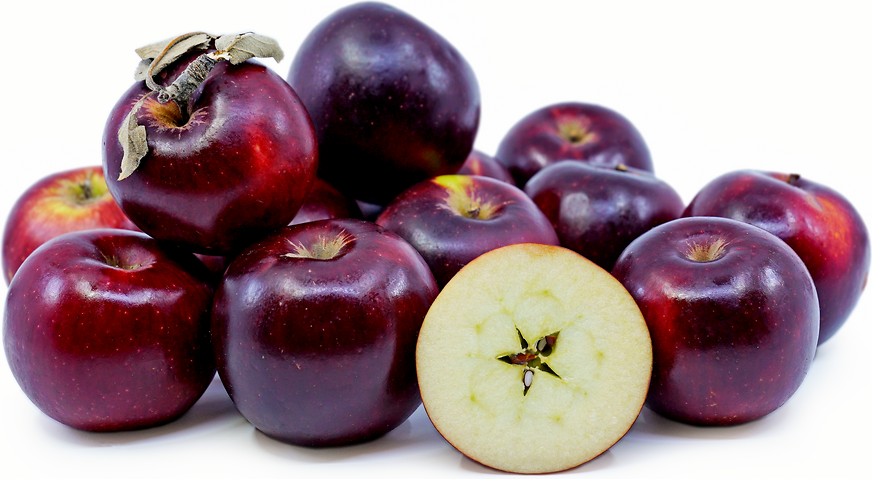 Arkansas Black Apples
Inventory, lb : 0
Description/Taste
Arkansas Black apples are a small to medium-sized varietal, averaging 5 to 7 centimeters in diameter and have a round to conic shape with flattened shoulders. The apple's skin is thick, chewy, and smooth, covered in a few lenticels and a waxy sheen that increases with storage. The skin also features small patches of russet surrounding the stem, and the apple has a yellow-green base, entirely covered in a crimson to dark red, almost black hue. The depth of color will vary per apple, depending on sun exposure and climate, and the coloring may intensify in storage. Underneath the surface, the flesh ranges in color from ivory to yellow and is fine-grained, moderately aqueous, and firm with a crisp consistency. The flesh also encases a central core filled with tiny dark brown seeds. Arkansas Black apples must be harvested and stored before they are consumed. Freshly harvested Arkansas Black apples are often very hard and contain a sour flavor. As the fruits are stored, the flavor mellows into a rich, sweet-tart taste with tangy undertones and nuances of vanilla, honey, cinnamon, almond, and coriander. Each apple will have a slightly different flavor and will range in complexity depending on the length of time in storage and cultivation region.
Seasons/Availability
Arkansas Black apples are available in the late fall through winter.
Current Facts
Arkansas Black apples, botanically classified as Malus domestica, are an American heirloom variety belonging to the Rosaceae family. The unusually dark, pigmented apples were discovered in Arkansas and were highly prized for their complex flavoring, extended storage capabilities, and visually stunning appearance. Arkansas Black apples are distinct as they have thick skin and firm flesh, allowing them to be kept in storage for several months. This variety is not meant to be eaten straight from the tree and actually improves in flavor when stored. Arkansas Black apples were a popular apple of the early 20th century, but they quickly fell out of favor due to unforeseen production issues, causing them to fade from commercial cultivation. In the modern-day, Arkansas Black apples are a rare variety grown on a small scale. The apples can be eaten fresh after a period of storage to allow the flavors to mellow, but the variety has remained a specialty apple among apple enthusiasts for its baking abilities. When purchasing Arkansas Black apples, check with the seller whether the apples have been stored. Some growers will hold the apples in storage before offering them to the public, while others offer freshly harvested apples.
Nutritional Value
Arkansas Black apples are a source of fiber to regulate the digestive tract, potassium to balance fluid levels within the body, and calcium to protect bones and teeth. The apples also provide vitamin C to strengthen the immune system and reduce inflammation, vitamin A to maintain healthy organ functioning, and other nutrients, including zinc, iron, vitamins K and E, magnesium, copper, and boron. The apple's pigmented skin contains antioxidants to protect the cells against the damage caused by free radicals.
Applications
Arkansas Black apples are a versatile variety utilized in fresh and cooked preparations. The apples are not meant for fresh consumption straight off the tree, but rather, they are kept in storage for a couple of months to develop a rich and aromatic, spice-filled flavor. Arkansas Black apples have a dense, firm texture that lends well to baking. The apples are traditionally incorporated into pies, crisps, cobblers, bread pudding, cakes, and bread, and the flesh imparts a complex sweet-tart flavoring to the desserts. Arkansas Black apples are also incorporated into cookies, fritters, and dumplings, or they are cooked into stuffing, soups, or cornbread. When the apples are simmered, their flesh breaks down into a flavorful butter, chutney, or jam, or the apples can be used to make apple cider vinegar. Try pressing Arkansas Black apples into juice and combining them with other varieties to create a dynamic cider. The apples can also be dried into rings or chips or served raw after being kept in storage, their wine-like flavoring complementing cheese plates. Arkansas Black apples pair well with nuts such as walnuts, pecans, and almonds, vanilla, caramel, bourbon, spices including cardamom, cinnamon, allspice, and nutmeg, herbs such as sage, thyme, and rosemary, and fruits including cranberries, pomegranates, and citrus. Whole, unwashed Arkansas Black apples will keep at least 3 to 4 months in the refrigerator's crisper drawer.
Ethnic/Cultural Info
Arkansas Black apples were one of the apple varieties that inspired Arkansas legislators to declare the apple blossom as their state flower in the early 20th century. During this time, Benton and Washington counties in Arkansas had become the top apple-producing regions in the country. Railroad lines were built into nearby cities, providing apple growers with a larger market, and several specialty apple varieties were being developed in Benton, including the Arkansas Black apples. These heavily pigmented, dark red to purple apples were prized for their storage capabilities and rich flavor, becoming a favored variety across the United States. By 1900, there were over 40,000 acres of apple orchards in Benton County, Arkansas alone, and many different distilleries, cideries, and apple drying centers were established to further diversify the booming apple business. Arkansas Black apples also achieved international fame in 1900 when they won first prize at the Paris Exposition, or Exposition Universelle, a world's fair hosted in Paris, France. The 1900 Paris Exposition had over 50 million attendees over the course of a few months, and the event honored achievements that had been made in agriculture, science, and technology over the past century. After their worldwide debut in 1900, Arkansas resident Love Barton used Arkansas Black apples and several other local varieties to persuade legislators to select the apple blossom as the state flower. On January 30th, 1901, Barton visited the Arkansas State Capitol, handed each legislator an apple, and gave a compelling speech to advocate for the blossom. The meeting was a success, and on February 1st, 1901, Governor Jeff Davis signed a document declaring apple blossoms as the state flower. Arkansas was the second state to adopt the apple blossom. Michigan selected the bloom as their state flower in 1897.
Geography/History
Arkansas Black apples were discovered as a chance seedling growing in Benton County, Arkansas, in the 1870s. The variety's parentage is unknown, but many pomologists believe it is related to the winesap apple. There are several conflicting stories as to the original orchard where the Arkansas Black apple was discovered. The first story traces the apples to an orchard owned by John Braithwaite, while the second story points to a man named John Crawford. The third story states that the variety was grown in the orchard of nurseryman De Kalb Holt, the brother of Earl Holt, the owner of the first commercial nursery in Arkansas. Regardless of the variety's exact origins, Arkansas Black apples were introduced in 1870 and garnered statewide attention. The apples quickly became cultivated throughout the Ozarks in Arkansas and Missouri and were eventually shipped across the United States via the railway. In the early 1900s, Arkansas Black apples made up 15 to 20% of the apple production in Arkansas. Despite their favorable reputation, the apple's fame was short-lived, as a combination of drought, a moth infestation, and the onset of the Great Depression in the 1930s caused production of the apple to nearly disappear. The Arkansas apple industry never fully recovered, leading Arkansas Black apples to survive extinction by a few specialty orchards and home gardens. Today Arkansas Black apples account for only 3 to 5% of the state's apple production. The variety has been revived through growers in the Pacific Northwest, Ohio, and California, cultivated on a small scale for chefs and apple enthusiasts. When in season, Arkansas Black apples are available in limited quantities through farmer's markets, farm stands, and specialty distributors.
Recipe Ideas
Recipes that include Arkansas Black Apples. One

is easiest, three is harder.
the other 1...