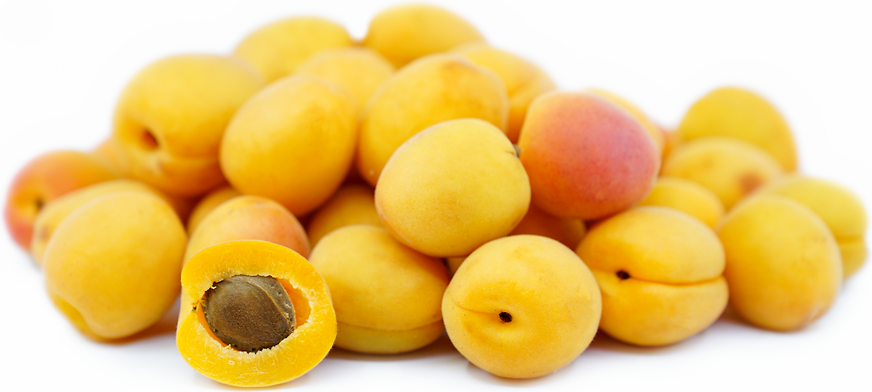 Apriums
Inventory, cs : 0
Description/Taste

Apriums have the initial appearance of a small deep rose-hued apricot, a physical trait inherited from its plum parentage. It skin is covered with a near translucent fuzz which the fruit inherited from its other parent, the apricot. The fruit's flesh, when ripe, is sweet forward with a bright and tart finishing mouthful. The flesh is also more comparable to a plum with layers of juice that make the fruit's consistency delicious when just ripe, yet mealy when overly matured. Apriums are classified as a "climacteric fruit", meaning the fruit continues to ripen after picking.


Seasons/Availability

Aprium are available for a brief period during spring.


Current Facts

Apriums are an interspecific complex hybrid of plums and apricots. They were developed to contain a superior mixture of fruit juices over their individual parents, which also characteristically produces a higher sugar content. The process of creating an interspecifc hybrid requires intentional controlled open pollination. True 50/50 apricot-plum crosses will generally go back into a breeding program as "mother stock." The process will repeat the following season. If plum pollen is used for pollination, the resulting fruit will have predominantly plum characteristics - 75% plum and 25% apricot and be called a plumcot. If apricot pollen is used again, the fruit will carry primarily apricot qualities and be considered an Aprium.


Geography/History

Apriums were developed in the late 1980s by Floyd Zaiger of Zaiger Genetics, in Modesto, California. In fact, Aprium is a federally registered trademark for the name of the fruit and the process by which it is grown. Genetically, the Aprium's parentage is 25% plum and 75% apricot. The process of hybridization includes the method of pollen to seed-bearing stock. Rootstock plays an essential role in the development of new varieties. They are used for grafting the cutting or budding of other plants. The rootstock named Citation, a peach/plum hybrid, is the standard rootstock for aprium trees.