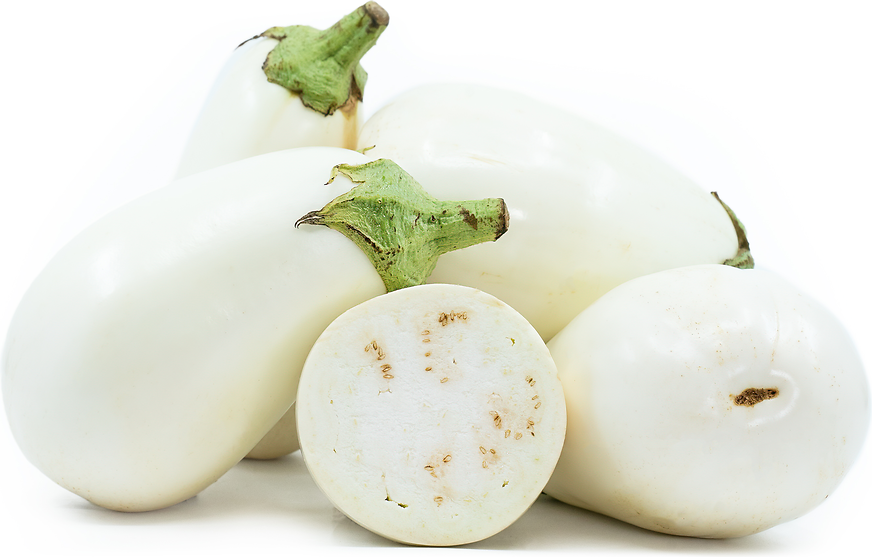 White Eggplant
Inventory, 10 lbs : 0
Description/Taste
White eggplants vary in size and shape, depending on the variety, averaging 7 to 25 centimeters in length, and have a round, oval, to oblong shape with an elongated and slender to short and bulbous nature. Most varieties of White eggplants have gently tapered ends that slope into a blunt, curved tip, and the top of the fruit is capped with a green to green-brown calyx. The skin ranges from thin to thick and is smooth, taut, semi-firm, and glossy. White eggplants are found in ivory, white, to cream-colored hues, and underneath the surface, the flesh shares a white-to-ivory coloring. The flesh is dense, tender, springy, and spongy, encasing many edible white to cream-colored seeds. White eggplant varieties typically have more seeds than purple eggplants, and the older the eggplant becomes, the more seeds it will develop. The flesh also transitions into grey or beige hues when cooked. Select White eggplants that are firm to the touch but not overly hard. If the eggplant emits a dull sound when lightly tapped, it is ripe. Cooked White eggplants have a light, mild, subtly sweet taste with nutty, mushroom-like nuances. White eggplants are traditionally less bitter and acidic than purple eggplants, allowing them to be used in more neutral preparations.
Seasons/Availability
White eggplants are available in the summer when grown in open fields and gardens. In greenhouse production, eggplants can be found year-round.
Current Facts
White eggplant, botanically classified as Solanum melongena, is a general descriptor for many eggplant varieties belonging to the Solanaceae or nightshade family. Each cultivar under this name showcases a white to ivory hue, a coloring created from the lack of anthocyanins, which are pigmented compounds in the skin and flesh that typically produce red-purple hues. It is also worth noting that eggplants are botanically a fruit that is customarily prepared like a vegetable. White eggplants vary in size, shape, and overall appearance, but the fruits typically mature in 50 to 90 days and grow on upright, bushy plants. There are two main types of White eggplant: ornamental and culinary cultivars. Ornamental eggplants are not commonly consumed as they carry a bitter flavor and are a part of Solanum ovigerum. Many ornamental eggplants are small and oval, similar in shape to an egg, earning them the nicknames of Egg Trees and Easter Eggs. Culinary White eggplants belong to Solanum melongena, and there are several well-known varieties, including Casper, Easter Egg, Cloud Nine, Ghostbuster, White Beauty, Albino, Paloma, Tango, Blanch Ronde a Oeuf, Blanche Longue, Dourga, Bride White, Clara, Gretel, Japanese White, Snowy, Thai White Ribbed, and White Comet. Historically, White eggplants were some of the first types of eggplant to be found in cultivation in Asia. In the modern day, White eggplants are rare compared to the purple varieties that dominate commercial markets, but they are experiencing a revival as more chefs and home cooks search for diversity in their produce. White eggplants are utilized in cooked culinary preparations worldwide.
Nutritional Value
White eggplants are a source of potassium to balance fluid levels within the body, fiber to regulate the digestive tract, and copper to develop connective tissues. Eggplants also provide some magnesium to regulate optimal nerve functioning, vitamin C to strengthen the immune system, and other nutrients, including manganese, vitamin K, niacin, folate, and B vitamins. In Ayurveda, White eggplants have traditionally been used in various treatments for asthma.
Applications
White eggplants have a mild, subtly sweet, and nutty taste suited for cooked preparations such as sautéing, pan-frying, deep-frying, grilling, and baking. Depending on the variety, the eggplants can have thin to thick skin and can be peeled for a more tender consistency. White eggplants complement a wide range of flavorings, allowing them to be used in cuisines worldwide. The eggplants can be grilled and served in salads, coated in a glaze and stir-fried, or added to soups, stews, and curries. They can also be stuffed with herbs and meat, battered and fried, or marinated and baked as a side dish. White eggplant can be used in any recipe calling for purple eggplant. In Italian recipes, White eggplant can be incorporated into lasagna, minced into stuffed pasta, simmered into Bolognese, or made into eggplant parmesan. The eggplants are also used to create a well-known Burundian sauce or baba ghanoush, a Mediterranean dip comprised of blended eggplant. In addition to typical recipes, White eggplant often acts as a meat substitute and can be used in schnitzel, cooked as a steak, or used in burgers. White eggplants pair well with aromatics such as garlic, ginger, onions, and chilies, tomatoes, squash, herbs including basil, mint, cilantro, and parsley, cheeses such as fresh cow's milk, parmesan, and aged sheep's cheese, miso, ginger, yuzu, garlic, and allspice. Whole, unwashed White eggplants can be stored in a paper bag at room temperature to ripen for a few days. Once ripe, the eggplant should be immediately consumed for the best quality and flavor. They can also be wrapped in paper towels, covered loosely in plastic wrap, and stored in the refrigerator's vegetable drawer for 1 to 5 days. White eggplants that are yellowed in color are generally a sign that they have become overripe. Some of these yellowed eggplants are still edible, but they will be bitter and soft, creating a generally unpleasant eating experience.
Ethnic/Cultural Info
White eggplants are the inspiration behind the fruit's famous egg-based moniker. Eggs might not necessarily spring to mind when staring at the large and bulbous dark purple eggplants sold in commercial markets today, but in the 18th century, White eggplants were being promoted across Europe as an ornamental garden plant. White eggplants were especially popular in England, where the plants produced small, oval, and white fruits closely resembling a chicken or goose egg. The public was amazed by the egg-like fruits and began referring to the plants as eggplants. Many of these white varieties were strictly ornamental at the time and were featured in horticultural contests and exhibitions. Magazines, newspapers, and nursery catalogs also heavily promoted the ornamental plant, using the public's common name of eggplant as their main descriptor. By the end of the 17th and early 18th centuries, new varieties of White eggplants were being introduced for culinary purposes under the name eggplant. The term had become deeply rooted in common slang, and all the different colored varieties were also being generally labeled as eggplants in commercial markets, establishing the ever-popular name throughout history.
Geography/History
White eggplant is native to Asia and has a broad center of origin, as wild plants have been discovered in northeastern India, Burma, Vietnam, Thailand, and southwestern China. The species has been growing wild since ancient times, and many wild plants are still found in these growing regions in the modern day. White eggplants were thought to have been domesticated sometime in the Early Ages and were grown in China as early as the Western Jin Dynasty, spanning from 265 to 316 CE. In the 5th century China, eggplants were part of a traditional skillset that brides had to master before marrying. It was said the bride had to learn at least twelve eggplant recipes before her wedding day to be a successful spouse. White eggplants were also featured in a black and white drawing in a treatise known as Yinshan Zhengyao, written by Hu Sihui and published in the 14th century. In the 8th century, White eggplants were introduced to Japan during the Tang Dynasty, and the species eventually traveled west to Persia at an unknown date. Traders and merchants carried White eggplants from Persia to the Mediterranean in the 7th century, and by the 8th century, the species had been introduced to East Africa. Throughout history, eggplants have acquired polarizing reputations from being the "mala insana" or the "mad apple" to being the "poma amoris," meaning "love apple." Scholars, doctors, and herbalists argued about the plant's nutritional impact and medicinal uses, and in Europe, some countries embraced the species while others shunned it. White eggplants were brought by the Spaniards to the United States sometime during the late 18th and early 19th centuries, and the fruits were also being grown on a small scale in Brazil. White eggplants saw the most success in the southern United States and were popularly battered and fried, as recorded in William N. White's handbook Gardening in the South, written in 1857. In the late 19th century, the species' popularity expanded to the northern United States. Today White eggplants are less available in commercial markets compared to purple varieties, but the species is cultivated worldwide through growers and home gardeners. White eggplants are sold through fresh markets, select grocers, and distributors.
Recipe Ideas
Recipes that include White Eggplant. One

is easiest, three is harder.