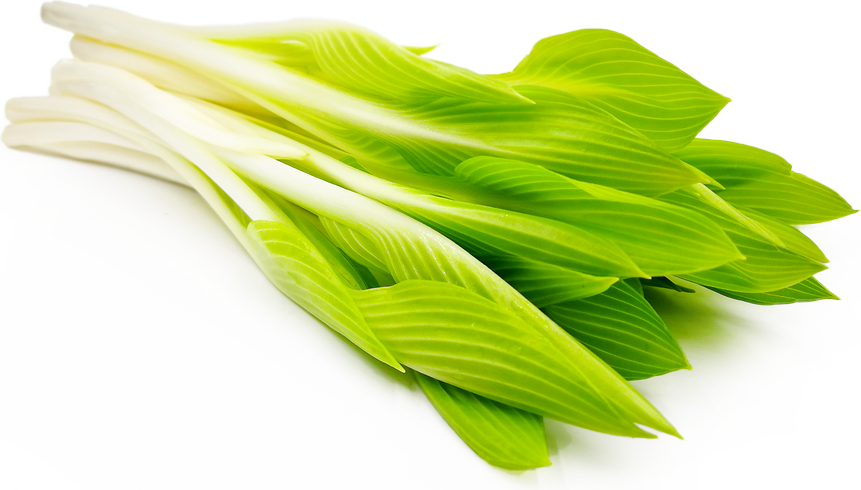 Urui
Inventory, lb : 0
Description/Taste
Urui is comprised of slender, upright stems topped with small leaves that are still curled and unopened. The young shoots are harvested when they are less than 25 centimeters in length and are known for their straight, narrow, and delicate appearance. The stems are traditionally white and have a smooth, firm, and taut nature, while the pale yellow-green leaves bear even edges and have a lanceolate shape, folding and curling inward. The leaves are pliable and have distinct striping that extends vertically down the surface. Urui will vary in color, depending on if it was foraged or commercially produced. Wild Urui will have a slightly greener appearance, and the cultivated shoots tend to be pale yellow and white, a hue created by forcing the shoots to grow in the dark during production. The young shoots are crisp and succulent, harvested by slicing the stem at its base. Select Urui that has a plump, fresh appearance with white stems and uncurled leaves. The shoots have a mild, sweet, and bitter taste when raw, developing a slightly viscous texture and pleasant neutral flavor when cooked.
Seasons/Availability
Urui is harvested from the wild in the early spring through late spring. Commercially produced Urui is grown in greenhouses in the late winter through spring.
Current Facts
Urui, botanically classified as Hosta sieboldiana, is a term for the young shoots of a perennial herb belonging to the Asparagaceae family. The plants are native to Asia, and the slender, crisp shoots are the young greens of the Oobagiboshi plant. Urui is a traditionally foraged vegetable in Japan. The young shoots are often referred to as the "breath of early spring" and are harvested 7 to 10 days after sprouting. Urui is also highly valued for its scarcity and is sold as a delicacy, utilized in fresh and cooked preparations. Throughout Japan, Urui is known by several regional names, including Amana, Uruito, Mountain Kanpyo, Gimbo, Urippa, Kimbo, Korei, Siebold's Plantain Lily, Hayazaki, Utsurigiboshi, Atsubagiboshi, and Togiboshi. Over time, scientists studied and examined wild-picked Urui and created several cultivation methods to grow the shoots in greenhouses, allowing the greens to be offered year-round. Cultivated Urui shoots will be paler than wild greens, showcasing white stems with yellow, subtly green leaves. Oobagiboshi is also planted as an ornamental in home gardens for the plant's lilac-hued flowers. It is important to note that Baikkeisou and Kobaikeisou are poisonous look-a-like plants in the wild. Discussion and evaluation with a foraging professional is essential to prevent accidental poisoning before consuming any wild green.
Nutritional Value
Urui is known for its high vitamin C content. Vitamin C strengthens the immune system, boosts collagen production within the skin, and helps to reduce inflammation. It also acts as an antioxidant to protect the cells against the damage caused by free radicals and oxidative stress. In addition, the shoots provide vitamin K to assist the body in producing proteins that help blood cells clot faster for quicker wound healing.
Applications
Urui has a mild, bittersweet, and green flavor suited for fresh and cooked preparations. Only the young shoots with curled, unopened leaves are recommended for culinary use, as the leaves will become too bitter once they open. The crisp, white stems can be chopped and added to salads or tossed in various marinades and sauces as a simple side dish. Urui can also be simmered in stews, hot pot, and soups, especially in miso soup, or it can be added to stir-fries and seafood dishes. In Japan, Urui is popularly fried into tempura or lightly boiled and placed in a broth, served as aemono. The shoots can also be pickled as a tangy condiment or boiled and dried in a preservation method known as yamakanpuo. Beyond Asian-inspired recipes, Urui has a flavor complementing Western dishes, including pasta and salads. Urui pairs well with seafood such as scallops, shrimp, and fish, spring vegetables including fava beans, asparagus, peas, and artichokes, mushrooms, and aromatics such as garlic, onions, and ginger. Freshly harvested Urui should be immediately consumed for the best quality and flavor. The shoots can also be wrapped in a damp paper towel, placed in plastic, and stored in the refrigerator.
Ethnic/Cultural Info
Legend has it that Urui is named after the color of the rind of a young gourd or melon. The descriptor Urui is a corrupted form of the word Urina, and the curled nature of the young shoots and leaves is similar to the twisting nature of gourd and melon leaves. The plant as a whole also has several name explanations. Oobagiboshi was named for the shape of their unopened oval and pointed flower buds. The buds are said to resemble gihoju or giboshi, which are small, decorative shapes that are commonly placed on top of railings on wooden bridges. Giboshi is also sometimes found on shrines, handrails, and pillars, and there are two theories of origin for the decorative symbol. The first theory traces giboshi's shape to the outline of a green onion flower, as green onions were once used as protection against evil spirits. The onion's pungent odor was thought to be detested by evil, repelling spirits away from the plant. The second theory connects giboshi to the hoju in Buddhism. Hoju resembles the shape of Shakyamuni's shari jar, a vessel held in the Buddha's hand in sculptures, drawings, and shrines.
Geography/History
Urui is native to East Asia and has been growing wild since ancient times. The plant is known as Oobagiboshi and is widely found in Japan, thriving in humid regions with moist soils. The species can be foraged from meadows, grasslands, mountain slopes, highlands, marshes, and along streams, and Urui is harvested only in the spring when the new shoots emerge from the soil. Urui is also commercially produced in greenhouses as a cultivated vegetable. The shoots are grown using specific methods, including forcing and covering the seedling in rice husks to develop the shoot's signature white coloring and tender nature. Cultivated Urui is produced in the Tohoku region, specifically in Yamagata, and on a smaller scale in the Tokushima prefecture. The shoots are also found in the Hokkaido, Honshu, Kyushu, and Shikoku prefectures. Today Urui is sold through fresh markets, grocers, and select distributors throughout Japan.
Recipe Ideas
Recipes that include Urui. One

is easiest, three is harder.