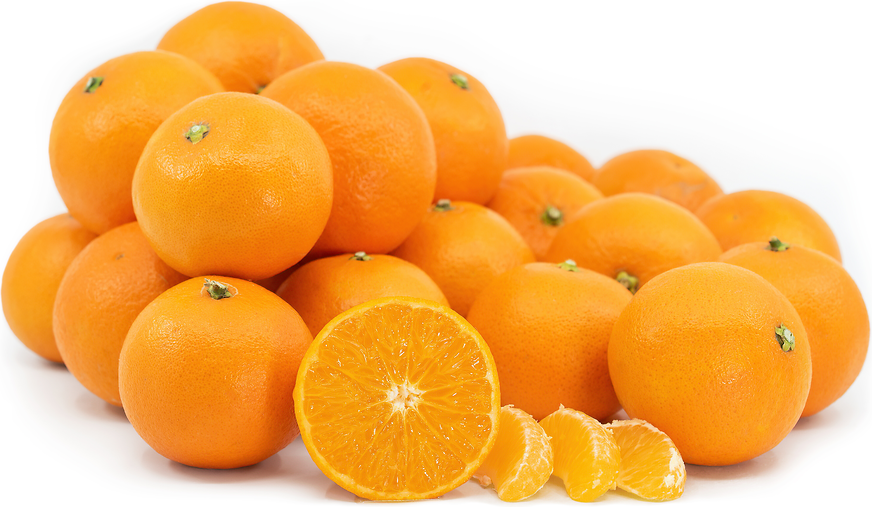 Fortune Mandarins
Inventory, lb : 0
Description/Taste

Fortune mandarins are a small to medium-sized varietal, averaging 5 to 6 centimeters in diameter, and have a round, sometimes oblate appearance with a broad, curved middle tapering to a slightly flattened top and bottom. The mandarin's thin rind is tightly adhered to the flesh but is still easily peeled and showcases orange to dark red-orange hues at maturity. The rind is also smooth, leathery, semi-glossy, and covered in prominent oil glands creating a pebbled, pocked look with a textured feel. Underneath the surface, the flesh is enveloped in a thin layer of white to pale orange pith and is divided into 11 to 12 segments by thin membranes. The flesh is primarily seedless but can occasionally contain seeds depending on pollination and has a firm, tender, aqueous, and succulent consistency with a hollow core. Fortune mandarins are aromatic and have high sugar and acidity, contributing to a rich, sweet, and tart flavor. At the beginning of the season, the mandarins will retain more lingering tartness, but in the late season, they will become sweeter and less acidic.


Seasons/Availability

Fortune mandarins are available in the spring.


Current Facts

Fortune mandarins, botanically classified as Citrus reticulata, are a hybrid variety belonging to the Rutaceae family. The late-season variety was developed at a research station in Indio, California, in the late 20th century and was selected for commercial cultivation for its adaptable growth characteristics. Fortune mandarins were specifically developed to thrive in desert-growing regions and are a self-pollinating variety that produces a heavy crop and holds well on the tree for an extended season. The mandarins also ripen in the spring, arriving at markets when many other varieties have ended their seasons. Outside of the United States, Fortune mandarins were introduced to Europe, where they became a popular commercial variety for a brief period in the late 20th century. In the modern day, the variety has been overshadowed by modern mandarin cultivars and is mainly grown as a novelty, offered through specialty grocers and farmer's markets for fresh eating.


Nutritional Value

Fortune mandarins are a source of various antioxidants, including vitamin C to strengthen the immune system and vitamin E to reduce inflammation. Antioxidants also guard the cells in the body against the damage caused by free radicals. In addition to antioxidants, Fortune mandarins provide folate to develop DNA and RNA, fiber to regulate the digestive tract, and potassium to balance fluid levels within the body. The mandarins also contain vitamin A to maintain healthy organ functioning and other nutrients, including manganese, magnesium, phosphorus, copper, B vitamins, and iron.


Applications

Fortune mandarins have a sweet-tart flavor suited for fresh and cooked preparations. The variety is popularly consumed straight out of hand, as the rind is easy-to-peel, and the flesh can be segmented and eaten as a snack, placed as an edible garnish on cakes and other desserts, or served on cheese platters. Fortune mandarins are also tossed into salads, mixed into fruit medleys, layered into parfaits, added to grain bowls, or topped over breakfast items such as pancakes, waffles, or granola. The mandarin's sweet and tangy juice enhances dressings, sauces, marinades, and syrups, the flesh can be chopped into salsa and relish, or it can be combined into dips or whipped into crème fraiche. In addition to fresh preparations, Fortune mandarins can be simmered into jams, jellies, and other preserves or cooked into glazes for roasted meats. The variety complements both sweet and savory dishes and can be added to stir-fries or combined with aromatics as a zesty garnish. Fortune mandarins can also be baked into crisps, muffins, bread, cupcakes, scones, cake, and tarts or used in fillings for other pastries. Try blending and freezing mandarins into a sorbet as a refreshing dessert. Beyond culinary preparations, Fortune mandarins can be juiced for cocktails, smoothies, fruit punches, and other sparkling beverages. Fortune mandarins pair well with herbs such as basil, mint, rosemary, and cilantro, fruits including blueberries, strawberries, bananas, and grapes, and nuts such as walnuts, almonds, pine, and peanuts. Whole, unpeeled Fortune mandarins will keep for a few days at room temperature or 1 to 2 weeks when stored in the refrigerator's crisper drawer.


Ethnic/Cultural Info

Spain is one of the largest mandarin producers within Europe, and Fortune mandarins were once the second most commercially grown variety in the country behind Nules clementines. Within Spain, oranges are a symbol of the region of Valencia, and commercial production of the fruits in the area can be traced back to the late 18th century. This transition to orange cultivation marked a turning point in Valencia's economic history, and the region flourished by exporting citrus to countries throughout Europe. Each citrus season, mandarins are an easy-to-peel delicacy utilized in traditional culinary dishes and beverages throughout Valencia, and the juicy fruits are sometimes used to make the famous Agua de Valencia. The citrus-infused cocktail was created in 1959 by mixologist Constante Gil in Café Madrid. Legend has it that Gil became bored with drinking cava, a sparkling wine, and a group of travelers at the café encouraged him to create a new drink. Gil decided to mix gin, vodka, cava, and fresh orange juice. The cocktail was a hit, and the drink was named Agua de Valencia, meaning the "Water of Valencia." The 20th-century cocktail has increased in popularity since its debut and is now one of the most famous beverages throughout Spain.


Geography/History

Fortune mandarins were developed at the United States Department of Agriculture's Date and Citrus Station in Indio, California. The variety was created from a cross between a Clementine and an Orlando tangelo, bred by scientist and breeder J.R. Furr. Fortune mandarins were intentionally bred to produce a variety with growth characteristics suitable for desert climates. The cultivar was released in 1964 to growers in California and was later introduced into citrus regions in Spain in 1966. By 1974, Fortune mandarins were widely grown along the Mediterranean coastline of Spain and expanded into regions of the French Riviera. Fortune mandarins saw the most commercial success in Europe, but over time, they were removed from production due to their susceptibility to disease. They were also used in breeding programs to create improved varieties in Spain and New Zealand. Today Fortune mandarins are a specialty variety cultivated on a small scale in Europe, New Zealand, and the United States, specifically in Southern California and Arizona.