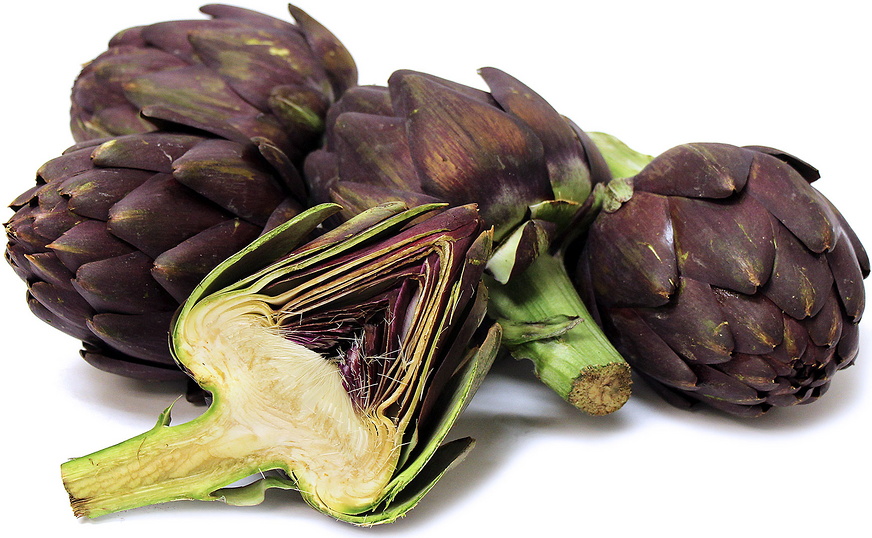 Sangria Artichokes
Inventory, 24 ct : 0
Description/Taste
Sangria artichokes are a medium to large varietal, averaging 4 to 16 centimeters in diameter, depending on growing conditions, and generally have a bulbous, tapered, and pointed appearance. Many consumers compare the variety's shape to the appearance of a pointed flower head. The heads are comprised of overlapping layers of fleshy leaves that form around a central base. The leaves are traditionally known as bracts and have a broad, triangular shape, gently hugging the curved nature of the head. The bracts also have a semi-thick feel and are smooth, bearing sharp spines at the top. Sangria artichokes are known for their dark purple, maroon, to burgundy coloring, and there are patches of bright green at the base of the heads, transitioning into the neck. This coloring will vary depending on the growing environment and climate. As the outer bracts are removed, the coloring will also lighten, transitioning into purple, pale green, to yellow hues. In the center of the head is a fleshy heart, also referenced as a core. This heart is edible and is a prized delicacy within the vegetable. The hearts are also covered in an inedible fuzzy cap known as the choke that must be removed before eating and are attached to thick, fibrous, and fleshy green stems streaked with purple. Sangria artichokes will feel heavy for their size, and the stems should be fresh, soft, and springy. When cooked, Sangria artichokes will develop a tender, succulent consistency, and the edible portions of the heads are the fleshy pockets at the base of the leaves and the central heart. Sangria artichokes have a mild, sweet, nutty, and subtly earthy flavor.
Seasons/Availability
Sangria artichokes are available in the spring.
Current Facts
Sangria artichokes, botanically classified as Cynara scolymus, are a variety of purple artichoke belonging to the Asteraceae family. The pigmented cultivar was developed in the early 21st century from proprietary seeds created in Italy and grown in Lompoc, California. Sangria artichokes were named for their burgundy coloring and were initially released as a limited-edition variety to encourage the consumption of purple-hued artichokes with distinct flavor profiles. Sangria artichokes were originally distributed through Frieda's Branded Produce in Southern California and were launched as part of a line of purple and red artichoke varieties in 2013, including Sangria, Fiore Viola, and Fiesole artichokes. Over time, the variety was expanded and offered to grocers throughout the United States. Sangria artichokes were selected for their coloring, large fleshy leaves, and nutty-earthy taste. The artichokes are harvested by hand in late March or April and are packaged in the field for immediate transport to retailers.
Nutritional Value
Sangria artichokes have yet to be studied for their nutritional properties. Like other purple artichokes, the variety's pigmented hue is created by the presence of anthocyanins within the skin. Anthocyanins contain antioxidant-like properties to protect the cells in the body against the damage caused by oxidative stress and free radicals. The artichokes also provide potassium to balance fluid levels within the body, fiber to regulate the digestive tract, vitamin C to strengthen the immune system, calcium to build strong bones and teeth, and other nutrients, including magnesium, vitamin K, folate, manganese, copper, iron, zinc, B vitamins, and phosphorus.
Applications
Sangria artichokes have a subtly nutty and earthy flavor suited for cooked preparations. The artichokes are traditionally cooked to create a soft, tender, and succulent consistency, and before cooking, the heads should be trimmed. It is recommended to remove the top of the head and part of the bottom to create a level surface, and the spines should be cut to make the artichokes easier to handle. Once prepped, Sangria artichokes are popularly steamed and served with dipping sauces as an appetizer. The cooked bracts complement a variety of sauces and dips, including butter, aioli, lemon saffron, mayonnaise, honey mustard, raspberry sauce, vinaigrettes, or a dill yogurt sauce. Sangria artichokes can also be grilled and drizzled with balsamic vinegar, incorporated into dips, braised in tomato-based sauces, or steamed, halved, and filled with poached eggs. The artichokes can be pulled apart by individual bracts, or the entire heads can be split and served, removing the choke and extracting the heart. Artichoke hearts can be stirred into pasta, used as a pizza topping, and mixed into rice with citrus and fresh herbs. The hearts can also be mashed with creamy ingredients and slathered on toast, battered and fried as a crunchy snack, or tossed into salads. Try serving Sangria artichokes with roasted meats, chopping and roasting with root vegetables, or stirring into beans. Sangria artichokes pair well with herbs such as mint, cilantro, parsley, and basil, cheeses including parmesan, feta, and mozzarella, citrus, and bitter greens such as radicchio. Whole, unwashed Sangria artichokes will keep for 1 to 2 weeks when lightly wrapped in plastic or stored in a sealed container and placed in the refrigerator's crisper drawer.
Ethnic/Cultural Info
"The Year of Purple" was a promotional campaign developed by Frieda's Branded Produce to encourage consumers to incorporate purple-hued fruits and vegetables into their diets. Purple is the lifeblood of Frieda's Branded Produce, and the color was especially close to the heart of founder Dr. Frieda Rapoport Caplan. Dr. Caplan was born and raised in Los Angeles and was the first woman in the United States to own and operate a produce company, established in 1962. During her first few years of running her produce business, Dr. Caplan had a memorable encounter with a sign painter. It is said that Dr. Caplan hired a sign painter from the Yellow Pages to design a sign for her to launch her business in the Los Angeles Wholesale Produce Market. The painter used a pale lavender paint for the sign, claiming it was the only color on his truck, and Dr. Caplan embraced the hue, eventually using purple as her signature color. Dr. Caplan frequently wore purple throughout her career and used purple packaging for the company's produce. In 2013, "The Year of Purple" was launched to highlight purple produce, also marking the 50th anniversary of the establishment of Frieda's Branded Produce. During the campaign, Frieda's Branded Produce introduced several purple-hued vegetables to select grocers, including purple asparagus, kohlrabi, eggplant, cauliflower, and Sangria artichokes. Frieda's Produce also encouraged its partners to create purple-hued displays to attract attention and peak consumer curiosity and supported the displays with hashtags, packaging, and signage about the nutritional benefits of purple produce.
Geography/History
Sangria artichokes were developed from a partnership between Californian and Italian seed breeders. The proprietary seed was initially created by breeder Pietro Papalini in Italy. Papalini was known as one of the most famous artichoke breeders in Italy in the late 20th century and conducted his research at a plant-breeding program based in Tarquinia. Papalini created his varieties from controlled experiments using cross-pollination, and once developed, vegetative propagules known as ovoli were transported to perennial artichoke breeder Steve Jordan in Lompoc, California. Jordan was the owner of Baroda Farms along the Central Coast of California and had been cultivating artichokes since 1986. Baroda Farms was at one time the second largest commercial grower in California, and Jordan spent most of his time in his 4,200 square-foot laboratory testing and improving artichoke cultivars. The Sangria artichoke propagules were grown to maturity in Jordan's fields, and the cultivar was eventually selected to be released as a new commercial variety. Jordan and Papalini worked closely for several years to create new artichoke varieties of Italian heritage with distinct traits that would be valued in American markets. Sangria artichokes were released commercially through Frieda's Branded Produce in 2012. The Southern Californian wholesale company launched the new artichoke variety as a part of their "Year of Purple" campaign and exclusively sold the vegetables in Ralph's Grocery. After its initial release, Sangria artichokes were later offered through Gelson's Grocery and eventually expanded to retailers throughout the United States as a seasonal delicacy. Today Sangria artichokes are a rare variety occasionally offered through select American retailers in the spring.
Recipe Ideas
Recipes that include Sangria Artichokes. One

is easiest, three is harder.