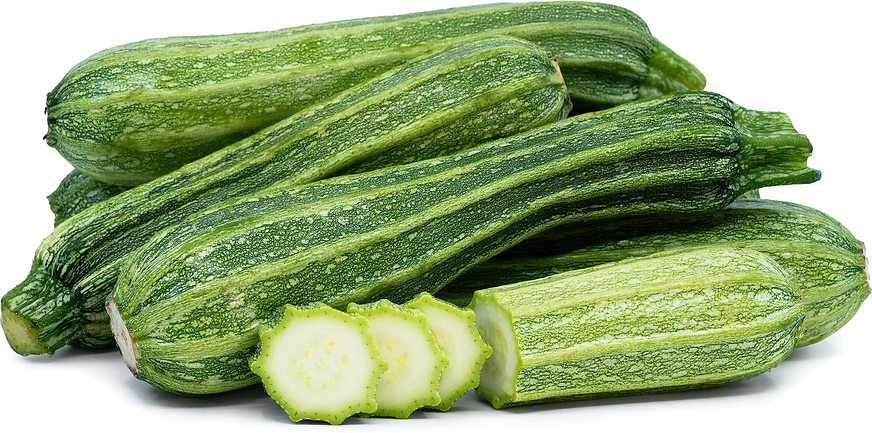 Romanesco Costata Squash
Inventory, lb : 0
Description/Taste

Costata Romanesco is an Italian heirloom cocozelle type squash that is recognizable by its distinctive outer skin. Its body is lined lengthwise with dark and light green stripes and a pale green to white speckled overlay. Rather than smooth like traditional zucchini the Costata Romanesco has prominent ribs running from stem to blossom end. Like many summer squash varieties the skin of Costata Romanesco squash is delicate enough to consume. It can grow up to fifteen inches in length though it is typically harvested at six inches. Whether large or small it consistently offers an exquisite summer squash texture and flavor with nut-like notes and a lingering sweet taste. The Costata Romanesco plant is also known to produce a significant amount of bright orange blossoms which can be harvested individually or while still attached to the squash and offer a delicate flavor and texture.


Seasons/Availability

Costata Romanesco squash is available in the spring and summer months.


Current Facts

Costata Romanesco is an Italian heirloom summer squash of the Cucurbitaceae family and botanically a member of Cucurbita pepo. Also known as Ribbed Roman or simply "Costata" this squash is part of the cocozelle group of squash and is known for its unique exterior which boasts varying hues of green and deeply grooved ribs. Unlike many popular hybridized summer squash varieties the Costata Romanesco was not bread to be a mass producer and will produce about half the yield of hybrid types. It is a variety of summer squash that is celebrated by growers and chefs alike as a result of its outstanding flavor and texture which it retains whether harvested when small or large in size.


Nutritional Value

The Costata Romanesco is a good source of dietary fiber and additionally contains some vitamin C, vitamin A, vitamin B6, folate, manganese and riboflavin.


Applications

Costata Romanesco is known for its exceptional flavor and texture and can be utilized in both raw and cooked applications. Slice thinly into ribbons or rounds and add to salads and crudos or combine with sauce for a healthy alternative to pasta. Grated squash can be added to soups, coleslaws, quick breads or fritters. Sliced Costata Romanesco will have a lovely scalloped shape around its edges and can be sautéed, steamed, roasted, grilled or battered and fried. Larger more mature squashes are ideal size for halving, hollowing, stuffing and baking. The orange blossoms of the squash additionally are edible and are classically stuffed then baked or deep fried. The sweet squash flavor of the Costata Romanesco pairs well with eggplant, tomatoes, garlic, chili peppers, lemon juice, basil, thyme, oregano, olives, roasted poultry, pancetta, proscuitto, egg preparations and cheeses such as pecorino romano, ricotta and feta. To store, keep dry and refrigerated and use within a week.


Ethnic/Cultural Info

Costata Romanesco is a common winner in county fair competitions for the largest squash category of entries, a result of its unique ability to maintain a high quality flavor and texture even when grown to larger sizes.


Geography/History

The Costata Romanesco is an heirloom cocozelle squash believed to be originally native to Rome, Italy. Cocozelle types of squash have long been grown in Italy with records of them dating back to the time of the Renaissance. From Italy it spread to other countries north of the Mediterranean Sea and eventually to the United States. In Italy today it is one of the most preferred summer squash types grown, in the United States the classic zucchini reigns as the most popular commercial summer squash though the Costata Romanesco is sought after when in season by growers, chefs and home cooks who know of its superior squash flavor. Like many summer squash types the Costata Romanesco is a large, vining plant that thrives in warm weather and prefers full sun and moderate watering. It is also, like most cucurbits susceptible to powdery mildew after the first few weeks of harvest.