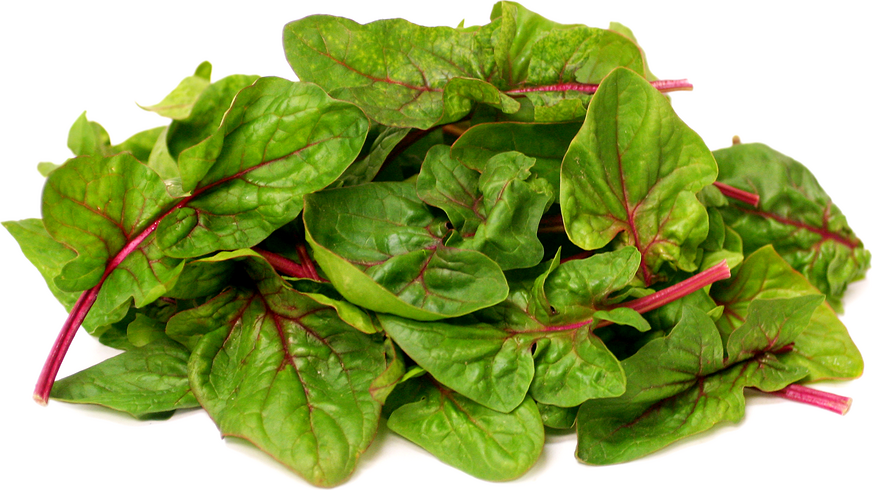 Red Okame Spinach
Inventory, lb : 0
Description/Taste

Red Okame spinach forms in low-growing rosettes of upright leaves averaging 25 to 30 centimeters in length. The large leaves have a uniform, multi-lobed, spade-like shape tapering to a rounded point, and the leaves will vary in appearance depending on maturity. Baby Red Okame leaves have softer, smoother edges with shallow lobes and a broad, flat nature. As the greens mature, they develop a more jagged, deeply lobed appearance, sometimes with serrated or pointed edges. Both baby and mature greens showcase prominent veining, becoming more pronounced on older leaves. Red Okame spinach has a vibrant green to dark green hue, and the veins and stems are brilliant red to magenta, providing an extreme color contrast for enhanced visual appeal. The stems are also generally straight, firm, slightly fibrous, and smooth. The greens have a crisp, chewy, and succulent consistency, and each leaf will vary in tenderness depending on the maturity and growing environment. Look for greens that are pliable, fresh, and not wilted. Red Okame spinach has a mild, vegetal, and earthy flavor with mineral-like nuances. The greens become soft and tender when cooked with subtly sweet, nutty undertones.


Seasons/Availability

Red Okame spinach is available in the late spring through summer.


Current Facts

Red Okame spinach, botanically classified as Spinacia oleracea, is a Japanese variety belonging to the Amaranthaceae family. The hybrid spinach was developed by the Takii Seed Company in Japan as an improved variety, combining the desired characteristics of its parent cultivars into a new spinach for commercial and home production. Takii Seeds created two types of Okame spinach: Red and Green Okame, and Red Okame spinach is an early-maturing variety with a hardy, fast-growing nature. The cultivar was selectively bred to produce multiple harvests of green leaves with red veining throughout the spring and summer and is favored for its mild flavor and thicker leaf texture. Red Okame spinach is primarily grown in Japan and Europe, but the variety was also introduced to the United States, where it is sometimes labeled as Red Arrowhead spinach, Oriental spinach, and Red Asian-Leaf spinach. In commercial and home garden cultivation, Red Okame spinach is typically harvested as a baby green as the leaves have a more tender, crisp consistency with a milder, sweeter flavor. Red Okame spinach is a versatile variety utilized in raw or cooked preparations and is known for its cut-and-come-again nature, producing leaves throughout the season.


Nutritional Value

Red Okame spinach is a source of vitamin C to strengthen the immune system, fiber to regulate the digestive tract, antioxidants to protect the cells against the damage caused by free radicals and oxidative stress, and calcium to build strong bones and teeth. The greens also provide anti-inflammatory properties to reduce inflammation, vitamin A to maintain optimal organ functioning and protect overall eye health, vitamin K to assist in faster wound healing, and other nutrients, including iron, copper, zinc, potassium, magnesium, folate, and manganese. While Red Okame spinach is known for its beneficial properties, most spinach varieties also contain oxalates. These naturally occurring compounds can bind to specific nutrients to prevent their absorption in the body. Oxalates can be lowered by cooking spinach and consuming it in small quantities, and it is recommended to at least blanch the greens to reduce these compounds and receive the most nutritional intake.


Applications

Red Okame spinach has a mild, vegetal, and mineral-forward flavor suited for fresh and cooked preparations. It is important to inspect and gently wash the leaves before use to remove any lingering debris or dirt that may have been trapped in the veins and folds. Once clean, the greens can be used in any recipe for spinach. In fresh preparations, baby greens are the preferred leaf stage as the leaves have a softer, more tender consistency with a sweeter, milder flavor. Baby Red Okame spinach is valued for its contrasting red stems and green leaves and is popularly added to salads, used as a bed of greens, or layered onto sandwiches, burgers, and in wraps. The leaves can also be thinly sliced and incorporated into fresh spring rolls, minced and stirred into dips and spreads, or blended into smoothies as a nutritional boost. Mature Red Okame leaves will have a thicker, chewier texture and are most commonly cooked to soften. The greens can be sauteed with aromatics as a simple side dish, cooked into egg-based dishes such as omelets, frittatas, and quiche, wilted into pasta, or used as a pizza topping. Try blanching Red Okame spinach and serving the greens in soups, curries, or light broths. The leaves can also be cooked and served with roasted meats, added to rice or noodle dishes, or topped over toast with soft cheeses and a vinaigrette. Okame spinach is famously used in Japan to make ohitashi, a boiled dish served in a dashi-based sauce. The word ohitashi is derived from hitashimono, translating from Japanese to mean "to immerse" or "to dunk," a descriptor for serving the cooked spinach in a soy-sauce broth. Ohitashi dates to the Nara period and is customarily topped with dried bonito flakes, also known as katsuobushi. Okame spinach is also sometimes used in gomae, a spinach salad. Gomae is comprised of blanched spinach tossed in a sauce of sesame seeds, sugar, water, soy sauce, and dashi powder. Red Okame spinach pairs well with meats such as pork, poultry, and beef, seafood including scallops, shrimp, squid, and fish, aromatics such as ginger, onions, garlic, lemongrass, chives, and chile peppers, and seasonings including soy sauce, sesame, mirin, and oyster. Whole, unwashed Red Okame spinach will keep for 2 to 3 days when stored in a sealed bag between layers of paper towels. The leaves can also be blanched or wilted and frozen for six months.


Ethnic/Cultural Info

The name Okame was given to the spinach variety to exude good luck. Okame roughly translates to mean "tortoise," a symbol of luck and long life and is the name of a traditional mask worn in Noh theater performances throughout Japan. The Okame mask depicts an always smiling woman, and it is often paired with Otafuku, also known as Hyottoko, a mask of a man with a curious, surprised expression. Otafuku translates to mean "much good fortune," and the Okame and Otafuku masks are worn in Noh performances to bring laughter to the audience. These performances were especially popular as entertainment for the New Year holiday, and many audience members believe the more laughter that occurs, the happier they will be in the year to come. Legend has it that Okame masks may have been derived from the Shinto deity Ama-no-Uzume, the goddess of humor, mirth, and revelry. One day the goddess of the sun, Amaterasu, retreated and hid in a cave, causing the world to enter darkness. Despite the god's pleas, the goddess refused to come out, so Ama-no-Uzume decided to perform a comedic dance that caused the gods to burst out in laughter. Amaterasu was curious at the god's laughter and left the cave to see what was happening, restoring daylight to the world. In reference to Okame spinach, Okame is a descriptor used to bring good luck and is often used as a commercial product name to entice consumers.


Geography/History

Red Okame spinach is native to Japan and was developed by the Takii Seed Company, a family-owned and operated business that originated in Kyoto, Japan. Mr. Jisaburo Takii established his seed store in 1835 and initially sold local vegetables found in Kyoto. At the time, Kyoto was the capital of Japan, and it was customary for growers throughout the country to send prized vegetables as gifts to the Imperial family. As new vegetable varieties were carried from across the land and presented in Kyoto, Mr. Takii built a network of growers to acquire seeds and develop new varieties. Kyoto quickly became an area renowned for seed production due to its access to a wide array of seeds, and the Takii family worked as a team to expand their brand. Much of the history of Red Okame is unknown, but the hybrid variety was intentionally created as an improved spinach cultivar to demonstrate increased resistance to bolting, diseases, and weather. Today Red Okame spinach is primarily offered in seed form through Takii Seeds and their distribution partners for commercial and home garden use. Some growers also cultivate the variety and sell the fresh greens through farmer's markets, specialty retailers, and distributors in Asia, Europe, and the United States.