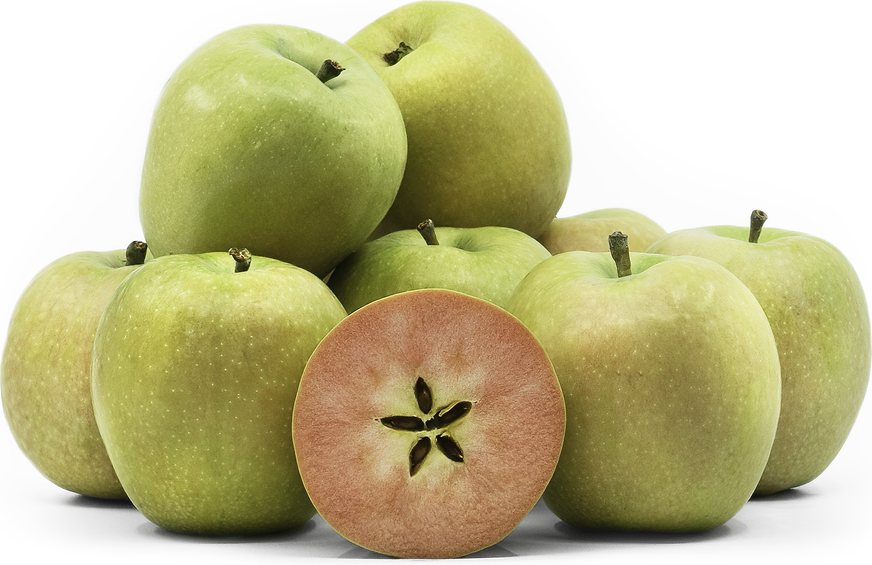 Mountain Rose Apples
Inventory, lb : 0
Description/Taste
Mountain Rose apples are a medium to large varietal and have an elongated, conical shape with flat, broad shoulders tapering to a narrow base. The apple's thin skin is easily bruised, developing marks from damage, and is covered in moderate ribbing and prominent white lenticels. The skin also has a yellow-green, translucent hue and is muted, smooth, and taut, occasionally covered in patches of light pink-red blush. Underneath the surface, the flesh features variegated, often mottled shades of pale pink, bright red, and white, and each apple will have varying degrees of pigment, depending on growing conditions. The flesh is fine-grained, aqueous, and firm with a crisp consistency, and the central core is filled with inedible black-brown seeds that should be discarded. Mountain Rose apples can be eaten raw or cooked and have high sugar levels mixed with acidity, creating a sweet, tart, tangy, and fruity taste reminiscent of berries and fruit punch.
Seasons/Availability
Mountain Rose apples are harvested in the late fall and can be professionally stored through the winter.
Current Facts
Mountain Rose apples, botanically classified as Malus domestica, are an American variety belonging to the Rosaceae family. The late-season fruits were developed from a chance seedling found in an orchard in Oregon in the 20th century and were selected for commercial cultivation for their pigmented flesh. Mountain Rose apples are considered a culinary and ornamental variety, as the tree produces colorful pink blooms in the spring and large, blushed apples in the fall and winter. The apples develop their signature flavoring from the growing region's terroir and tree-ripened nature. Tree-ripened fruits are left on the tree for extended periods, longer than other commercial cultivars, to encourage the apples to generate more sugar for a sweeter taste. Mountain Rose apples are a specialty apple favored by growers for their productive nature, colorful fruits, and fruity flavoring. Despite their distinct appearance and taste, Mountain Rose apples cannot be shipped long distances as they bruise easily and cannot stand extreme cold temperatures. The variety is also heavily debated among pomologists if they are the same as Hidden Rose® apples and Airlie Red Flesh apples or are distinct as a natural mutation of one of these cultivars. In the modern day, Mountain Rose apples are a seasonal delicacy only sold in limited quantities to apple enthusiasts for use in fresh and cooked preparations.
Nutritional Value
Mountain Rose apples have not been studied for their nutritional properties. Like other varieties, the apples are a source of fiber to regulate the digestive tract, potassium to balance fluid levels within the body, and vitamin A to maintain healthy organ functioning. The apples also provide vitamin C to boost the immune system, calcium to build strong bones and teeth, vitamin E to reduce inflammation, and other nutrients, including phosphorus, magnesium, iron, copper, vitamin K, and boron. One of the apple's notable ingredients is anthocyanins, colored pigments within the flesh with antioxidant-like properties to guard the cells against the damage caused by free radicals.
Applications
Mountain Rose apples have a sweet, tart, and fruity flavor suited for fresh and cooked preparations. The variety is primarily consumed straight out of hand and is savored for its colorful flesh and berry-like taste. Mountain Rose apples are popularly served in fresh preparations as their coloring adds dimension and a fun twist to salads, appetizers, and desserts. The apples are also slow to oxidize and brown, allowing them to remain pristine when presented raw. Try adding slices into salads, shredding them into slaws, or displaying them on charcuterie boards with hard and soft cheeses. Mountain Rose apples can also be used as an edible garnish, frequently combined with chocolate as a sweet-tart dessert. When pressed into a juice, Mountain Rose apples release a pink liquid, adding color and flavor to cocktails, punches, and sparkling drinks. In addition to fresh preparations, Mountain Rose apples retain their vibrant coloring when cooked and are favored for use in pies, crisps, tarts, and other pastries. The apples can also be sliced thin and served over grains, stuffing, or pizzas, sauteed and eaten with meat main dishes, or cooked into a pink applesauce. While less common, Mountain Rose apples are simmered into jams, jellies, and other preserves. Mountain Rose apples pair well with vanilla, maple syrup, chocolate, brown sugar, nuts including pecans, almonds, and walnuts, and meats such as poultry, pork, and duck. Whole, unwashed Mountain Rose apples will keep for 1 to 2 months when stored in a cool, dry, and dark location, and in professional cold storage, the variety may keep longer, closer to 5 months. It is important to note that Mountain Rose apples are sensitive to cold temperatures and will become mealy when stored in too low temperatures. It is recommended to consume the apples relatively quickly or store them in a cool but not too cold temperature, such as a cellar.
Ethnic/Cultural Info
Mountain Rose apples were named after their site of origin and flesh coloring. The apples were developed from a chance seedling discovered in Oregon and were named in honor of Mount Hood, the prominent peak looming above Oregon's apple-growing region in the Mount Hood River Valley. The variety was also given its floral moniker for its pigmented, red-pink coloring, shades similarly found in roses. Mountain Rose apples are said to develop their unique flavor and coloring from Oregon's rich volcanic soil and day-to-night temperature fluctuations. The variety is notably grown and sold through family-owned roadside stands along the "Fruit Loop," a 35-mile loop passing alongside farms, breweries, cideries, wineries, orchards, and flower fields.
Geography/History
Mountain Rose apples are native to Oregon and are believed to be a descendant of red-fleshed apples discovered growing as a chance seedling in an orchard near Airlie, Oregon. Red-fleshed apples were brought to the United States from Europe and Russia in the mid-19th century, and historians hypothesize that the pigmented varieties were planted in the Pacific Northwest through hybrid varieties developed by apple breeder Albert Etter in Northern California in the early 20th century. In 1959, ranch owner Lucky Newell was riding his horse on his 80-acre property in Airlie, Oregon, when he noticed a blushed yellow apple on a tree. He bit into the apple and was surprised by its red and pink mottled flesh. Newell commented that the flesh was as "ruby as his wife's lips" but continued his ride without giving the fruits a second thought. In 1966, Newell sold his ranch, and it wasn't until the 1980s that the apples were rediscovered. Field Manager of Thomas Paine Farms, Louis Kimzey, found the apples on a stroll through the same orchard and began investigating the fruits to see if they were a new variety. Kimzey partnered with grower Eric Schwartz and began grafting the variety for research and propagation, establishing the first commercial orchard in 1992. The apples were given the trademarked name Hidden Rose® in 2001 and were exclusively marketed by Dragonberry Produce. While Kimzey and Schwartz were developing Hidden Rose® apples, John and Brady Jacobson of Mt. Hood Organic Farms, Randy Kiyokawa of Kiyokawa Family Orchards, and several other apple growers in the region also began cultivating the red-fleshed apples in the early 1990s. These growers were unable to use the trademarked name Hidden Rose®, so they named their pigmented apples Mountain Rose. Today, Mountain Rose apples and Hidden Rose® apples are thought to share the same ancestry and may be natural mutations from the same tree. When in season, Mountain Rose apples are cultivated in Oregon and are a specialty variety sold in limited quantities directly through growers, at farmer's markets, and select distributors in the Pacific Northwest and California.
Recipe Ideas
Recipes that include Mountain Rose Apples. One

is easiest, three is harder.