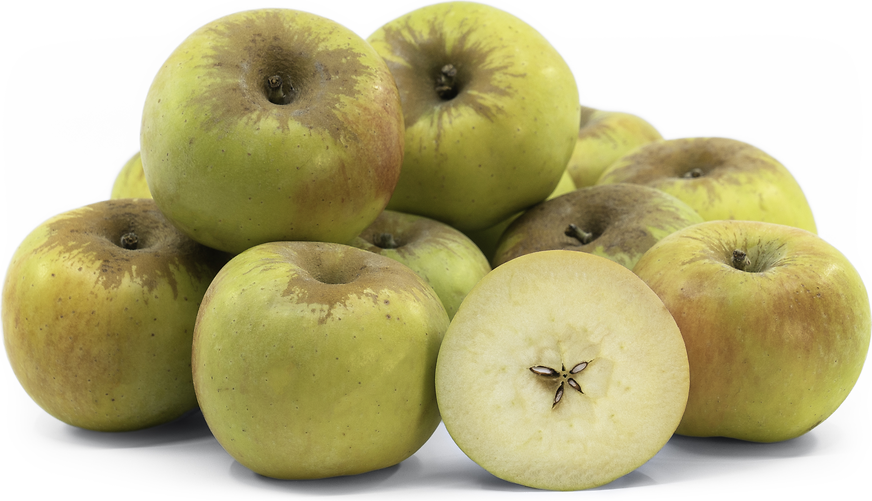 Melrose Apples
Inventory, lb : 0
Description/Taste
Melrose apples are a medium to large varietal and have a flattened, angular, squat, and round shape. The apples often feature blocky shoulders, giving them a square to rectangular appearance, and the stem is short, dark brown, woody, and slender, embedded in a narrow cavity. The skin is thick, taut, and tough, covered in patches of brown russet. These patches have a sandy, rough texture and are found in large areas or in the form of small, raised dots. The skin has a yellow-green base when ripe, sometimes covered in a muted and dull red-orange blush. The blush may be faint or contain broken striping, and the apple's entire surface is enveloped in a grey bloom. The skin also has pale lenticels scattered across the surface. Underneath the skin, the ivory to cream-colored flesh is dense, firm, aqueous, coarse, and crunchy. The flesh is also tinged with green, depending on growing conditions, and develops a fruity aroma after a period of storage. Ripe Melrose apples have an initially tart, slightly acidic flavor and become sweeter in storage. The apples are not as tart as their parent variety, Johnathan apples, and develop aromatic, spice-filled nuances.
Seasons/Availability
Melrose apples are harvested in the late fall through early winter and can be stored through the spring.
Current Facts
Melrose apples, botanically classified as Malus domestica, are an American variety belonging to the Rosaceae family. The mid to late-season apples were selectively bred in the 20th century in Ohio and were chosen as a new commercial cultivar for their complex but balanced sweet and sour flavoring. Melrose apples grow on deciduous trees reaching 3 to 5 meters in height, and each tree begins bearing fruit approximately 2 to 4 years after being planted, depending on how they are grown. Growers favor the variety for its productive nature, hardiness, vigor, and disease resistance to some blight and rust, and the late-season apples have extended storage capabilities, lasting well into the spring. Despite their favored characteristics, Melrose apples have not increased as a commercial cultivar due to their russeted skin and dull coloring. The variety is often overshadowed by brighter and shinier commercial fruits, leaving them to be grown among specialty orchards and in home gardens. It is also important to note that Melrose apples should not be confused with White Melrose, a Scottish cultivar distinct from Melrose apples. In the modern day, Melrose apples are only produced in limited quantities, but the fruits are revered among select apple enthusiasts for their complex, spice-filled flavor.
Nutritional Value
Melrose apples, like other bi-colored varieties, are a source of vitamin C to boost the immune system, calcium to build strong bones and teeth, and fiber to regulate the digestive tract. The apples may also provide potassium to balance fluid levels within the body, vitamin K to assist in faster wound healing, vitamin A to maintain healthy organ functioning, and other nutrients, including manganese, zinc, copper, phosphorus, magnesium, and vitamin E. The vibrant red hues within the skin indicate the presence of anthocyanins, pigmented compounds with antioxidant-like properties to protect the cells against the damage and oxidative stress caused by free radicals.
Applications
Melrose apples have a sweet-tart flavoring suited for fresh and cooked preparations. The variety is typically consumed raw once the apples have rested in extended storage periods. This storage allows the flesh to concentrate sugars, developing a less tart and sweeter taste. Raw Melrose apples can be eaten as a stand-alone snack, or they can be shredded into slaws, chopped onto crostini, or used as a topping over parfaits, oatmeal, and grain bowls. Try layering Melrose apples into cold sandwiches, grilled cheeses, and paninis or placing them over toast slathered with nut butter. When the variety is initially harvested, it has a tarter taste, allowing the fruits to be incorporated into baked preparations. Melrose apples hold their shape and can be baked into pies, cobblers, crisps, and galettes or added to muffins, cookies, and bread. The variety can also be sliced and cored into rings, wrapped in pastry, and drizzled in caramel as a crunchy, sweet treat. In addition to sweet preparations, Melrose apples can be tossed into pancake or waffle batter and cooked, pureed into soups, roasted with meat main dishes, or used as an unusual pizza topping. The apples can also be dried into thick, chewy strips, consumed as a snack, or cut into pieces for granola and homemade trail mix bars. Melrose apples pair well with fruits such as oranges, bananas, grapes, and blueberries, meats including pork, poultry, beef, and turkey, and herbs including basil, mint, cilantro, and parsley. Whole, unwashed Melrose apples will keep for 3 to 4 months in a cool, dry, and dark place such as a cellar or refrigerator. Melrose apples can also be frozen or canned for extended use. Canned apples will last 1 to 2 years, and frozen apples will last for 3 to 6 months.
Ethnic/Cultural Info
Melrose apples were declared the Official State Apple of Ohio in the late 20th century. The variety is valued throughout the state as a local, multi-purpose apple and is a favored cultivar for home gardens and smaller commercial orchards. Apples were planted in Ohio sometime during the 19th century, and since their introduction, the fruits have been a dominant commercial fruit within Ohio agriculture. Historically, communities throughout Ohio seasonally gathered to harvest the apple orchards, and during this time, games were played with the fruits. One of the more unusual games was slicing an apple in half and using the seeds to predict love. If the number of seeds revealed in the cut was two, marriage was in the participant's future. If there were three seeds, the participant would leave a legacy in their life, four represented wealth, and five meant a voyage in the near future, and various predictions were made for each number. Apple seeds were also used to predict lovers. Two seeds were labeled with the suitor's names and stuck to the participant's forehead. The participant then ate the apple, and the seed that fell off first was the suitor not meant for the participant. These jovial games were used as a form of entertainment, and over time, apples continued to be the center of many communities throughout the fall season.
Geography/History
Melrose apples are native to the United States and were developed at the Ohio Agricultural Experiment Station, also shortened to OAES, in Wooster, Ohio. In 1937, scientist Dr. Freeman S. Howlett used pollen from Red Delicious apples and crossed them with Johnathan apples to create a mid to late-season, multi-purpose apple. Melrose apples were one of five apple varieties that Dr. Howlett released from the OAES program, and the variety was introduced to commercial growers in 1944 after several years of trials and evaluations. In commercial markets, Melrose apples struggled to compete with other modern apple cultivars in the late 20th century due to their dull, muted coloring. In the 1970s, Ohio apple growers attempted to breed and improve the appearance of Melrose apples to reduce russeting and dull color, but the endeavor was unsuccessful. Today, Melrose apples are a specialty variety grown on a small scale for their flavor over appearance. The apples are not a widespread commercial cultivar and are primarily grown in the Midwest, the Pacific Northwest, the Southern States, and the Northeastern United States. Home growers also plant the tree in private orchards as a novelty. When in season, Melrose apples are sold directly through growers and farmer's markets.
Recipe Ideas
Recipes that include Melrose Apples. One

is easiest, three is harder.
the other 5...