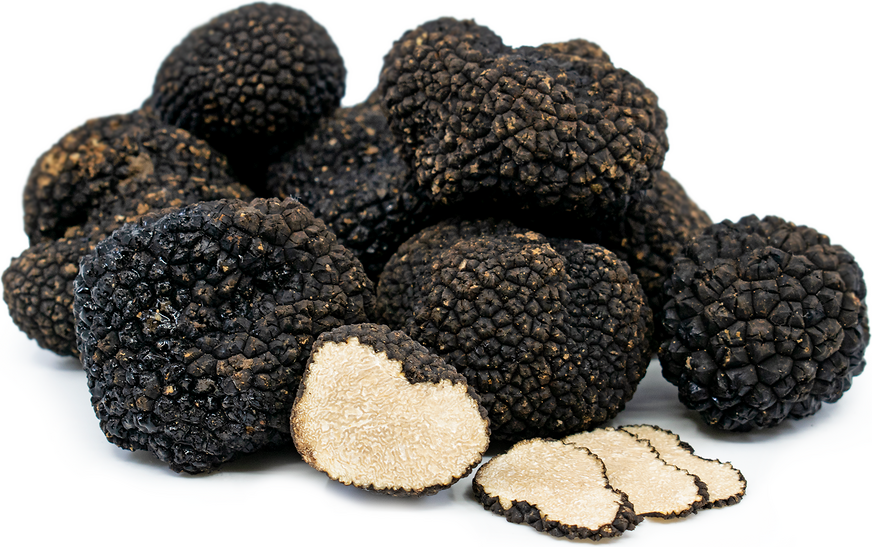 Italian Black Summer Truffles
Inventory, oz : 0
Description/Taste
Italian Black Summer truffles widely vary in size and shape, averaging 2 to 10 centimeters in diameter, and have a rounded, lumpy, and lopsided appearance, molded by stones and other textural components of soil. The truffle's surface ranges in color from brown-black to dark brown, covered in many crevices and pyramidal warts, also known as protrusions, ranging between 3 to 9 millimeters in diameter. Each small knobby protrusion is angular with 4 to 6 sides, creating a rough and bumpy feel, often likened to alligator skin. Underneath the surface, the flesh is light brown to tan and bears a thick, spongy consistency. There is also a faint marbled pattern unique to each truffle, and the thin, branching veins do not change color when exposed to the air. Italian Black Summer truffles contain a subtle aroma and have a mild, delicate flavor reminiscent of porcini mushrooms mixed with garlic, chocolate, and hazelnut nuances.
Seasons/Availability
Italian Black Summer truffles are available in the summer. The typical harvest period falls between the months of May through August.
Current Facts
Italian Black Summer truffles, botanically classified as Tuber aestivum, are one of the most prevalent truffle species in Europe, belonging to the Tuberaceae family. The truffles are also known as Scorzone, Tartufo Estivo, and Trufa de Verano and are favored for their delicate flavor. Italian Black Summer truffles are harvested at peak maturity, typically an hour before sunrise, and are considered one of the more affordable truffle varieties. Many experts believe Italian Black Summer truffles are the summer version of the Italian black winter truffle, and the differences between the two are purely ecological, created from climate and terroir. Despite their similarities in molecular structure, the truffles are distinguished from one another in commercial markets to avoid confusion. They are also separated with different names to acknowledge the slight variation in flavor, as Italian Black Summer truffles contain a milder aroma and taste compared to the winter truffles. Italian Black Summer truffles are valued for flavoring fresh spring and summer dishes with subtle umami and mushroom notes.
Nutritional Value
Italian Black Summer truffles, like other black truffle varieties, are a good source of vitamin C to boost the immune system and phosphorus and calcium to strengthen bones and teeth. The truffles also provide fiber to regulate the digestive tract, antioxidants to protect cells against free radical damage and contain lower amounts of manganese, magnesium, and iron.
Applications
Italian Black Summer truffles are well suited to flavor raw or cooked applications, typically shaved, grated, slivered, or thinly sliced. It is important to note that the truffles should be added as a finishing element at the end of cooked preparations, as prolonged periods of heat will diminish the truffle's flavor. Italian Black Summer truffles also have a milder flavor than winter truffles, and their delicate umami essence complements lighter, spring and summer dishes. The truffles can also be mixed with fatty, rich elements, wine or cream-based sauces, oils, and neutral ingredients such as potatoes, rice, and pasta for enhanced flavor. Italian Black Summer truffles should be cleaned before use, and it is recommended to brush or wipe the surface rather than rinsing under water as moisture will cause the fungus to rot. Once cleaned, Italian Black Summer truffles are popularly shaved and infused into olive oil with garlic for dressings and cooking oils, or they can be mixed into sauces, folded into butter, or infused into honey. Italian Black Summer truffles can also be thinly sliced into crepes, sprinkled over crostini, or combined into a salad, pasta, risotto, soups, and eggs. The truffle's subtle flavoring can add a layer of depth to pizzas, fries, and roasts, or they can be incorporated into mashed potatoes, macaroni and cheese, casseroles, and sandwiches such as grilled cheese. Italian Black Summer truffles pair well with meats such as steak, poultry, turkey, and fish, other seafood, wild mushrooms, potatoes, citrus, herbs such as tarragon, basil, and parsley, cheeses such as pecorino, parmesan, and cheddar, rice, white wine, light-bodied vinegar, and heavy cream. Fresh Italian Black Summer truffles will keep 3 to 4 days when wrapped in a paper towel or moisture absorbent cloth and stored in a sealed container in the refrigerator's crisper drawer. The truffle must remain dry for the best quality and flavor. Replace the paper towel regularly to prevent moisture build-up as the fungus will naturally release moisture as it is stored. The truffles can also be frozen for 3 to 6 months, but some flavor will be lost in the process.
Ethnic/Cultural Info
Italian truffles are traditionally found using Lagotto Romagnolo, an ancient Italian dog breed specifically bred for hunting. The name Lagotto Romagnolo is derived from the Italian word "lago," meaning "lake," first bred in Romagna, Italy, sometime around 1474 CE, and the dogs were initially trained as a water retriever and hunting companion. Over time, the landscape of Romagna began to change as marshlands were converted into farmland, rendering Lagotto Romagnolo's purpose as a hunting dog unneeded due to the lack of hunting. During this time, truffle hunters were also looking for a new companion. Historically, truffle hunters used female pigs to sniff out truffles as they contain a pheromone similar in scent to a pheromone used by male pigs to attract females. The pigs were effective, but they would also try to eat the truffle and were fairly noticeable in fields, exposing the hunter's secret gathering spots. Truffle hunters began looking for alternatives to pigs and turned to the Lagotto Romagnolo for their high sensory capabilities, agility, and tracking abilities. In the modern-day, Lagotto Romagnolo is considered the preferred breed of choice for truffle hunting. The dogs are trained using a process involving scent tubes and treats to associate finding truffles with rewards. They are also taught to gently paw the ground where the truffle is located to assist the hunter with finding the truffle faster.
Geography/History
Italian Black Summer truffles are native to Europe and have been growing wild since ancient times. The truffles are most commonly found in Italy in the Marche region and are also gathered in Roccafluvione, Macerata, and San Gineso. Italian Black Summer truffles are also considered one of the most widely distributed truffle species found in nearly every European country. Today Italian Black Summer truffles are foraged and grown through truffle farms, primarily in France, Spain, and Italy. The truffle species favors sandy, calcareous soils and thrives in shady areas amongst the roots of hardwood trees like oak, chestnut, beech, pine, ash, and hazelnut. Italian Black Summer truffles are sold fresh through local markets and distributors in Europe. Internationally, the truffles are offered through online retailers and distributors.
Recipe Ideas
Recipes that include Italian Black Summer Truffles. One

is easiest, three is harder.