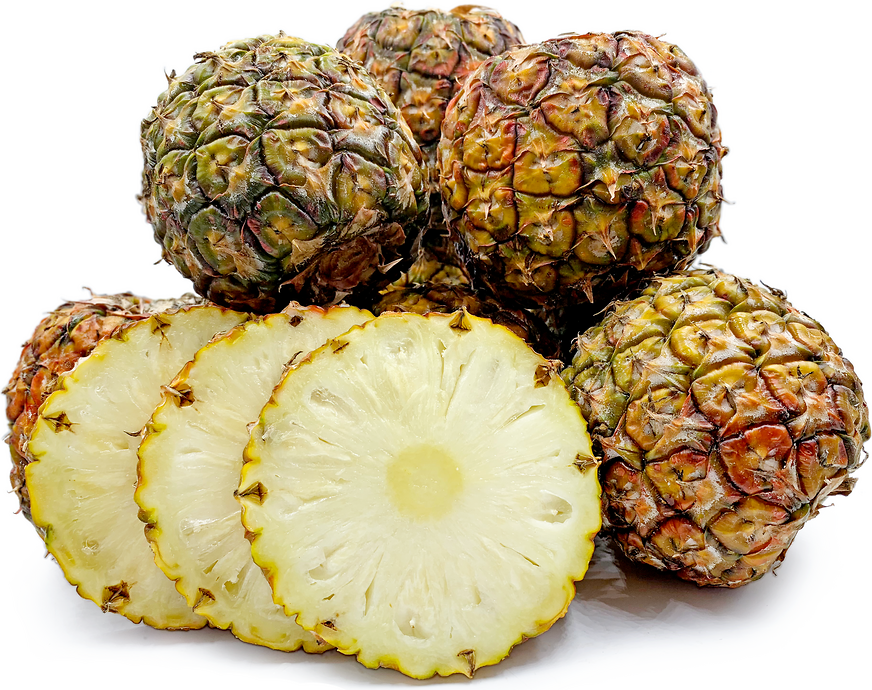 Honey Cream Pineapples
Inventory, ea : 0
Description/Taste
Honey Cream pineapples are relatively small, squat fruit with a dark orange or red skin. They weigh an average of 46 ounces each, and are around 11 centimeters in diameter. They are green when immature, then turn yellow before their skin color deepens to darker reddish hues. Honey Cream pineapples smell fragrant, sweet and floral and taste extremely sweet, with hints of honey and coconut. They come in high on the Brix scale, a measurement of sugar in fruit, registering at 28 compared to common pineapples that register at 19. Honey Cream pineapples have a firm texture which is softer when ripe. Their flesh is cream-colored with a low acid content. The core is soft enough to be eaten, and the fruit is not fibrous or stringy.
Seasons/Availability
Honey Cream pineapples are available year-round with a peak season in summer months.
Current Facts
Honey Cream pineapples are botanically classified as Ananas comosus, and belong to the Bromeliaceae family. They are known as Meli Kalima pineapples in Hawaii, which translates directly as Honey Cream in English. Honey Cream pineapples are a strain derived from the Hilo white and dry sweet pineapple varities. Honey Cream pineapples are unique to Hawaii, and are grown only by Frankie's Nursery in Waimanalo on Oahu. Honey Cream pineapples are sold with their crowns cut off, to prevent other growers from propagating them.
Nutritional Value
Honey Cream pineapples contain vitamins B and C, as well as potassium, copper, manganese, calcium, magnesiam, and fiber.
Applications
Honey Cream pineapples are best eaten raw on their own as a dessert fruit or as a sweet snack. However, they can be used in a variety of preparations, such as grilling baking, or added to salsas and smoothies. Complimentary flavors include salty cheeses, fresh herbs, vanilla, oranges, and fatty seafood. Honey Cream pineapples can also be used to top desserts such as parfaits and fruit tarts. Store Honey Cream pineapples whole in the refrigerator, where they can last up to 5 days. Because Honey Cream pineapples can only be bought with their tops cut off, place them upside down on a plate, and cover in plastic wrap before placing them in the fridge. They may also be cut and stored in plastic containers, where they will last for a maximum of 2 to 3 days. Honey Cream pineapples can be sliced and stored in an airtight container in the freezer, where their shelf life will be extended for up to 12 months.
Ethnic/Cultural Info
Honey Cream pineapples are extremely rare, and hence may be five times the cost of common pineapples. They are grown exclusively at Frankie's Nursery, and are found at farmers' markets and Whole Foods stores in Hawaii. Chefs hail Honey Cream pineapples as a special fruit,so much so that they were used in a tasting "flight" of tropical fruits at an upscale Hawaiian restaurant.
Geography/History
Honey Cream pineapples were developed by Frank Sekiya, owner of Frankie's Nursery in Oahu, Hawaii. Sekiya happened to cut into a pineapple fruit and discovered that it had hundreds of hard seeds. He suspected this was the result of a rare occurrence of cross-pollination from a neighboring variety by insects. Sekiya grew out the chance seedlings, from which the Honey Cream pineapple was born. He patented the Honey Cream pineapple in 2013.
Podcasts