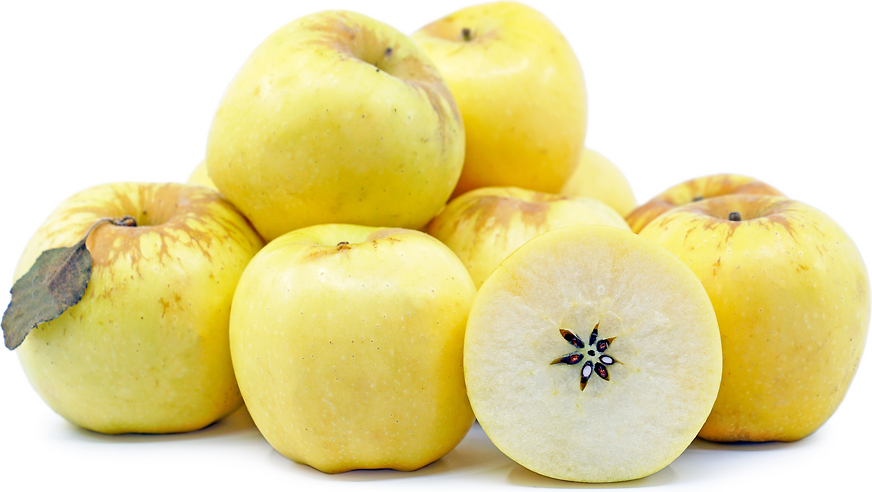 Golden Delicious Apples
Inventory, 88 ct : 22.65
This item was last sold on : 12/01/23
Description/Taste
Golden Delicious apples are a small to medium-sized varietal, averaging 5 to 8 centimeters in diameter, and have a round to conical appearance with flat, broad shoulders tapering to a wide base. The apples are slightly ribbed and have smooth, thin, and taut flesh, showcasing textured brown russet within the stem cavity. The skin has a golden-yellow to bright yellow hue, often tinged with green or covered in patches of pale pink-red blush. Prominent lenticels envelop the apple's surface, and the thin skin is easily damaged, bruised, or shriveled. Underneath the surface, the white to ivory flesh is fine-grained, aqueous, and semi-firm, with a crisp but light, soft, and tender consistency. The flesh also encases a small central core filled with tiny dark brown seeds. Golden Delicious apples are faintly aromatic and have a balanced blend of sugar and acidity, creating a mild, sweet, and tangy taste with floral, honeyed, and fruity nuances. It is worth noting that the apple's flavor will change according to the climate it is grown. In cooler climates, the flavor becomes slightly more robust, releasing a more acidic and sweeter taste. If the apples are grown in warmer climates, their flavor will be milder as the acid content is reduced.
Seasons/Availability
Golden Delicious apples are harvested in the fall and can be stored through the spring.
Current Facts
Golden Delicious apples, botanically classified as Malus domestica, are an American variety belonging to the Rosaceae family. The apples were discovered growing as a chance seedling in West Virginia in the early 20th century and were popularized by the well-known Stark Brothers Nursery. At the time of the apple's discovery, red apple varieties dominated commercial markets, and Stark Brothers Nursery was searching for a yellow apple to release for diversity. Golden Delicious apples were selected as they are easy-to-grow, self-pollinating, temperature tolerant, and produce large crops. The apples also exhibit extended storage properties, able to be kept into the late spring. Stark Brothers Nursery heavily promoted Golden Delicious in conjunction with their other variety Red Delicious, but it is important to note that the two apples are not related and only share a similar name. Golden Delicious apples quickly increased in cultivation and were eventually spread worldwide for their favorable growth characteristics. The variety reigned as one of the top commercial cultivars for several years, but over time as the apples became more mass-produced, many consumers began to notice that the apple's true flavor had been lost. Golden Delicious apples were often picked while still green and were stored for months before being sold in commercial markets, creating a dull, mild flavor. The variety was eventually replaced with other more flavorful modern introductions, but presently, it remains a prominent variety found worldwide. Golden Delicious apples are favored for their genetic makeup in the scientific community. A study conducted by a consortium in Italy in 2010 determined that Golden Delicious apples have over 57,000 genes, one of the highest numbers of any plant studied to date. The apple's genes are used in breeding programs, and Golden Delicious apples are a parent variety to Jonagold, Gala, Mutsu, Pink Lady, and Ambrosia apples.
Nutritional Value
Golden Delicious apples are a source of potassium to balance fluid levels within the body, fiber to regulate the digestive tract, and vitamin C to strengthen the immune system while reducing inflammation. The apples also provide small amounts of copper to develop connective tissues, magnesium to control optimal nerve functioning, and other nutrients, including iron, vitamin K, vitamin E, calcium, and zinc.
Applications
Golden Delicious apples have a sweet, subtly tart flavor suited for fresh and cooked preparations. The apple's flesh is slow to brown and is typically consumed straight out of hand. Golden Delicious apples can also be sliced and tossed into salads, chopped into fruit medleys, shredded into slaws, or minced into dips, grain side dishes, and spreads. Try layering Golden Delicious apples into cold and hot sandwiches or adding them to burgers for a sweet crunch. In addition to fresh preparations, Golden Delicious apples have high sugar and acidity, lending themselves to cooked and baked dishes. The apple's natural sweetness allows bakers to use less sugar in pie, cake, and bread recipes, and the flesh can be sliced and baked into tarts, crisps, galettes, and crumbles. Golden Delicious apples can also be simmered into applesauce, butter, jellies, and jams, cooked into soups, or sauteed in cinnamon and spices and served as a rich topping over ice cream. Beyond culinary preparations, Golden Delicious apples can be pressed into juice for ciders, cocktails, and sparkling beverages or dried into rings and strips for extended use. Golden Delicious apples pair well with herbs such as mint, basil, sage, and rosemary, vanilla, chocolate, maple syrup, honey, brown sugar, and nuts such as walnuts, almonds, hazelnuts, and pecans. Whole, unwashed Golden Delicious apples will keep for several weeks when stored in a cool, dry, or dark place. In proper cold storage, the apples will keep up to five months.
Ethnic/Cultural Info
Paul Stark Sr. of Stark Brothers Nursery traveled over 1,000 miles in search of Golden Delicious apples, a journey known as the "Trail of the Golden Delicious Apple." When Paul Stark Sr. sampled the Golden Delicious apples sent to him by Anderson Mullins in 1914, he immediately ventured out to find the apple's mother tree. Paul Stark Sr. had to travel 1,000 miles by railway and 25 miles on horseback through the West Virginia Mountains to get to Anderson Mullin's farm in Odessa of Clay County, West Virginia. When Stark arrived, he knocked on the front door, but no one answered. Stark decided to look around the property and went behind the house in search of the apple tree. He wandered up the hill behind the house and found a small orchard. All the orchard's trees were barren except for one highly productive tree that was producing dark green foliage with plump, golden-yellow fruits. Stark couldn't help himself and began eating one of the apples. The yellow apple was just as flavorful as the sample he had tasted previously, and as he was enjoying the fruit, Anderson Mullings appeared and met him at the tree. Stark identified himself by saying, "That's some apple," and Mullins replied, "Name's Mullins; I sent you some." Stark and Mullins agreed that day for Stark to purchase the tree, and the deed for the 900 sq ft piece of property that Stark bought is still held in the Clay County courthouse. Before Stark left to return home, he constructed a 30 x 30-foot cage around the 900 sq foot piece of property, completely encasing the Golden Delicious tree. The tree was covered in a mixture of wood and woven wire, and an electric alarm was installed to notify Mullins if someone was trying to steal from the tree. Anderson Mullins watched over the mother tree for over thirty years until the tree eventually died in the 1950s. After the tree's passing, a historical marker was placed along the nearby route 1 for apple enthusiasts to visit. Golden Delicious apples were also named the official fruit of West Virginia in 1955. The commercially significant apple is honored yearly in September through a Golden Delicious Apple Festival in Clay County. The four-day celebration was established in 1972 and commemorates the history and impact of the apple's discovery. During the festival, visitors participate in baking contests, a 5K, a skillet flinging contest, clogging, and a parade.
Geography/History
Golden Delicious apples arose as a chance seedling on a family farm in the hamlet of Odessa in Clay County, West Virginia. In 1891, J.M. Mullins was asked by his father to tend to the field outside of their farmhouse with a large scythe. The 15-year-old began working and eventually noticed a new apple seedling around half a meter in height. The seedling had sprouted from a discarded apple seed, and J.M. Mullins decided to spare the tree and allow it to grow. The apple tree matured and began bearing fruit a few years later, producing golden yellow apples distinct from the nearby apple trees. Over time, the farm was traded within the Mullins family, and J.M. Mullin's uncle, Anderson Mullins, took over the apple orchard. Anderson noticed the unusual yellow-apple tree in 1905 and thought it to be a descendant of the Grimes Golden apple, another variety that was discovered in West Virginia in the early 1800s. He also noticed that the apples would stay crisp until the late spring and produce fruits when other trees would not, making him realize the apples should be commercialized. Locally, the apples were known under the names Mullins Yellow Seedling and Annit apple. Anderson Mullins observed the tree for nine years before sending three samples to Stark Brothers Nursery in Missouri, a major commercial mail-order company. Paul Stark Sr. and his brother sampled the variety around 1914, and by 1916, they had visited Anderson's farm and purchased the rights to sell the apple. They also purchased the land surrounding the mother tree, offering Anderson at least $5,000 for the guarded land. Stark Brothers Nursery renamed the apple Golden Delicious and heavily marketed the variety with their other commercial apple Red Delicious. By 1918, Stark Brothers Nursery sold out of their Golden Delicious apples before they even came to market. Many famous public figures also endorsed Golden Delicious apples. Renowned plant breeder Luther Burbank publicly shared his love for the variety. Dr. John Harvey Kellogg, the founder of the Kellogg's breakfast food company, also wrote a letter to Stark Nurseries saying, "I consider the Golden Delicious the finest apple I have ever tasted." At the time, Kellogg was searching for apple varieties to plant in his private orchard. In the 1920s, Golden Delicious apples became one of the most successful commercial varieties of the time and were shared internationally, grown in orchards around the world. The variety remained popular throughout the 20th century, but towards the end of the 20th, it became overshadowed by newer apple introductions that showcased increased flavor and appearance. Today Golden Delicious apples are well-known and cultivated worldwide, offered through farmer's markets, grocers, and distributors, and grown in home gardens in Europe, Asia, Australia, Africa, South America, and North America.
Featured Restaurants
Restaurants currently purchasing this product as an ingredient for their menu.
Recipe Ideas
Recipes that include Golden Delicious Apples. One

is easiest, three is harder.
the other 27...