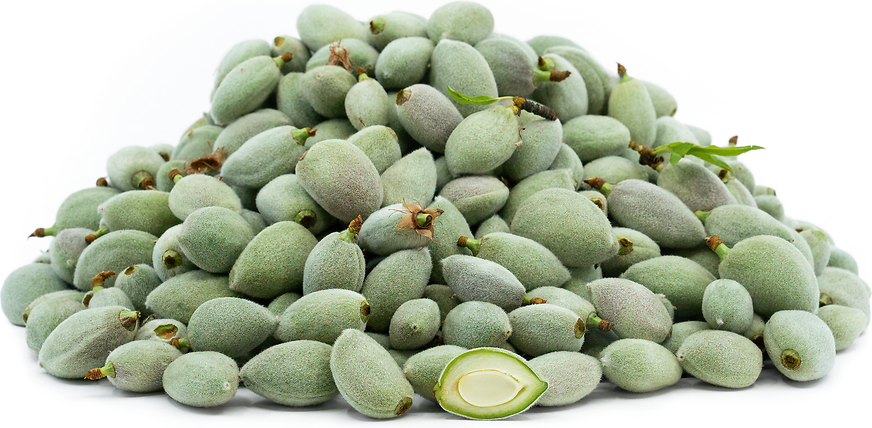 Fresh Green Almonds
Inventory, lb : 0
Description/Taste
Green Almonds are small and ovate in shape, measuring approximately five centimeters in length. Green Almonds are distinguishable by their fuzzy, green outer hull. Within the green hull, the flesh offers a soft jelly consistency within a skinless nut. If the Green Almond is left on the tree to grow and dry out, it will eventually harden, split, and reveal a conventional almond. Green Almonds can be eaten whole when fresh, green skin and all. When Green Almonds are slightly older, the green hull will become tough and bitter and should be removed and the inner almond eaten on its own. Green Almonds offer a complex flavor with mild floral and grass-like notes and an overall sweet-tart taste compared to green apple, pea pods, and uncured olives.
Seasons/Availability
Green Almonds have a short window of availability during the first few weeks of spring.
Current Facts
Green Almonds, botanically speaking, are not a nut but rather the fruit produced by the sweet almond tree, officially listed scientifically as a member of Prunus amygdalus var. dulcis. The almonds we consume today as a snacking nut are the seeds of the stone, also known as the pit, located within the fruit of the almond tree. You can start to see the familial similarities when you note the fuzzy exterior of Green Almonds, which is similar in texture to another well-known stone fruit, the peach. Green Almonds are a spring delicacy, one of the first fruits to appear of the season, and have a short shelf life. When foraging for Green Almonds, it is essential to know the variety of almonds being harvested. Wild almonds and bitter almonds contain high levels of cyanide that must be cooked off to consume. The sweet almond tree is a naturally occurring mutation of the wild almond tree that resulted in little to no cyanide within the fruit.
Nutritional Value
Green Almonds offer the same nutritional benefits as dry almonds, including vitamin C to strengthen the immune system, vitamin E to protect cells against free radical damage, and other amounts of iron, calcium, magnesium, riboflavin, and L-carnitine. The seeds also offer protein and fiber to regulate the digestive tract and have a low glycemic index.
Applications
Tender Green Almonds can be used whole when young, and when more mature, the husk should be removed, and the inner almond used. Serve simply as is or sprinkle lightly with sea salt to cut its tart flavor. Slice thin and add to salads or use to make salsa or pickled condiments. Sauté Green Almond slices in olive oil, sea salt, and lemon, or poach whole in olive oil or use them sliced atop fruit tarts, ice cream, and other desserts. When Green Almonds are a bit more mature, typically towards the middle or end of summer, they can make almond milk. Green Almonds pair well with the tart flavors of arugula, watercress, and lemon. The seeds also pair well with seafood such as lobster, white fish, and crab, rabbit, lamb, rhubarb, asparagus, artichoke, capers, and fruits including apricots, nectarines, and berries. To store, keep Green Almonds refrigerated, and use them within three weeks.
Ethnic/Cultural Info
Almonds have been a food crop in nearly every ancient civilization. The shape of the almond can be found featured prominently in art throughout history. The oval shape of a halved Green Almond can be seen in the halo of figures in religious paintings, stained glass windows, and book covers. In Italy, this halo was referred to as the Italian word for almond, "mandorla." Green Almonds are also popularly used in Persian cuisine to make a traditional stew. In France, Green Almonds are served before spring dinners and are paired with an aperitif. In Portugal, whole Green Almonds are candied. In Iran, Green Almonds are sold whole and salted as a popular snack food.
Geography/History
Both peaches and almonds are thought to have evolved from the same ancient rootstock. As the terrain of the continents changed and mountains between China and Central Asia developed, peaches spread into eastern China and almonds westward. Nomads discovered the fruits of the almond tree and brought them as a food source as they traveled, allowing almonds to spread rapidly. Evidence of this can be found in the existence of wild trees along trade routes and population centers near many ancient cities. Almond trees were first cultivated in the Mediterranean climate regions of Iran, Spain, Greece, Israel, and Rome. In the 1700s, the almond tree first made its way from Spain to the United States via Franciscan Padres. Almond trees were not initially successful in the United States, and it was not until 1850 that pioneers in California would pinpoint the ideal growing conditions that would put the almond on its path to becoming one of the most popularly produced nuts in the United States. Green Almonds can be found at select farmer's markets and Middle Eastern markets during their short season.
Recipe Ideas
Recipes that include Fresh Green Almonds. One

is easiest, three is harder.
the other 3...