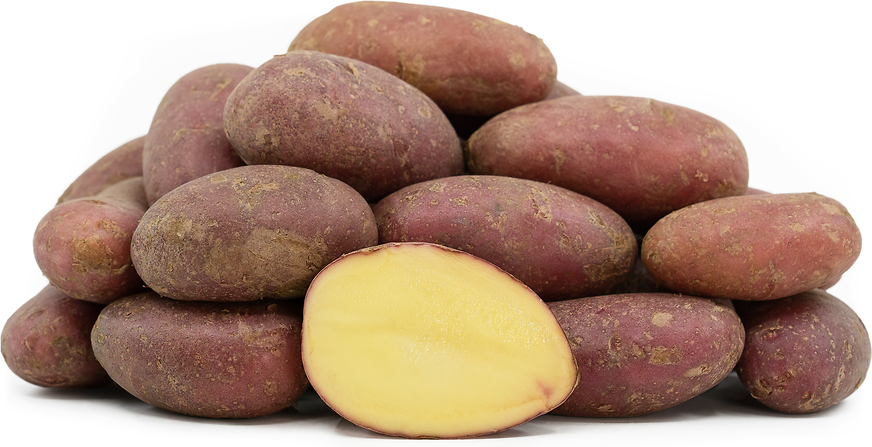 French Fingerling Potatoes
Inventory, 10 lbs : 0
This item was last sold on : 09/07/23
Description/Taste
French Fingerling potatoes are a small to medium-sized varietal, averaging 7 to 10 centimeters in length, and have a uniform, oval shape with slightly tapered, curved ends. The variety is larger than other fingerling cultivars, and the tubers are thick with a plump, elongated nature. The tuber's skin is thin, smooth, taut, and delicate, being easily scratched or damaged, creating brown markings on the surface. The skin also displays a few shallow eyes, showcasing a dusty-rose, red-pink, and pink-brown coloring. Underneath the surface, the golden yellow flesh is firm, dense, slippery, and solid. The flesh also occasionally features pink and red marbling, flecks, and rings, patterns that are distinct and naturally created during cultivation. French Fingerling potatoes are low in starch, contributing to their waxy, moist, creamy, and sturdy consistency when cooked. The tubers hold their shape without disintegrating and have an earthy, nutty, and rich flavor.
Seasons/Availability
French Fingerling potatoes are available year-round, with a peak season in the late spring through early summer.
Current Facts
French Fingerling potatoes, botanically classified as Solanum tuberosum, are an heirloom variety belonging to the Solanaceae or nightshade family. The small-tuber cultivar was developed in France in the mid-20th century as a mid to late-season main crop variety. French Fingerling potatoes grow underground beneath an upright, leafy plant reaching 60 to 91 centimeters in height, and the tubers are typically ready for harvest approximately 90 to 125 days after sowing. French Fingerling potatoes have acquired several names throughout history, including Roseval and Nosebag potatoes, and the variety was selected for commercial production for its size, productive nature, and resistance to scab. Growers favor French Fingerling potatoes for their earthy flavor, colorful skin, and dense flesh. Since their release, French Fingerling potatoes have remained a specialty variety primarily produced on a small scale through select growers and home gardeners throughout Europe and the United States. The potatoes are considered a gourmet variety and are appreciated for their versatility in cooked culinary preparations.
Nutritional Value
French Fingerling potatoes are a source of potassium to balance fluid levels within the body, fiber to regulate the digestive tract, and vitamin C to strengthen the immune system while reducing inflammation. The tubers also provide vitamin A to maintain healthy organ functioning, vitamin K to assist in faster wound healing, calcium to build strong bones and teeth, and other nutrients, including folate, phosphorus, thiamin, riboflavin, and iron.
Applications
French Fingerling potatoes have an earthy and subtly nutty taste suited for cooked preparations such as roasting, baking, and boiling. The variety's thin skin is edible and does not need to be removed prior to eating, and the potatoes will hold their shape well when cooked. French Fingerling potatoes are perfectly sized for roasting whole, or they can be halved and covered in fresh herbs and dry spices. The tubers can also be incorporated into casseroles and gratins, tossed into soups and stews, or browned in a skillet and then slow braised in broth to finish. The firm, sturdy nature of French Fingerlings lends the variety well to boiling and serving in various potato-salad recipes, and the potatoes can also be shredded or sliced into hash browns and French fries. In France, French Fingerling potatoes are popularly served with fish main courses or raclette, a cooked potato dish smothered in melted cheese. French Fingerling potatoes pair well with aromatics such as garlic, shallots, and onions, tomatoes, cucumbers, leeks, fresh herbs, including cilantro, chives, and sage, dried spices such as chervil, rosemary, and thyme, fennel, and meats such as poultry, pork, and wild game. Whole, unwashed tubers will keep for 3 to 5 weeks when stored in a cool, dry, and dark place.
Ethnic/Cultural Info
Cheese and potatoes are a favored, traditional après ski meal to warm skiers from the icy chill of the slopes in the French Alps. In the department of Savoie, France, sometimes spelled Savoy, French Fingerling potatoes have become a choice variety for tartiflette, a famous onion and potato dish smothered in Reblochon cheese. Despite its prominence and positioning as a customary mountain dish along with raclette and fondue, tartiflette is a relatively new dish created in the 1980s. The name tartiflette is thought to have been derived from tartifles, the Savoyard word for "potatoes." The story of tartiflette began in the 13th century when farmers in the Thones Valley were being taxed on the amount of milk their cows produced per day. When the landowner arrived to check the quantities of milk for tax purposes, farmers would cleverly milk the cows only halfway to reduce the tax amount. After the inspector left, the remaining milk was retrieved and used to make cheese and butter, untaxable goods. The cheese created from these cows became known as Reblochon, a name meaning "to pinch a cow's udder again." The name was also taken from the slang word "reblessa," meaning "to steal" among locals in the Thones Valley. Reblochon cheese became the region's signature product and was heavily guarded to protect its quality. Later in the 1980s, Le Syndicat Interprofessionnel du Reblochon, or the Syndicate of Reblochon producers, were suddenly faced with an over-production of the cheese and were seeking solutions to remedy the excess supply. It was decided that a new culinary dish would be created from the classic dish of potatoes and onions known as pela, but the altered recipe would include a slathering of warm Reblochon cheese. When the dish was released, it was met with immediate success throughout the French Alps. A restaurant owner named La Clusaz later named the dish Tartiflette, derived from the Savoyard term for "potato." Since its release in the 1980s, French families throughout the Alps have adopted Tartiflette as a staple meal during the winter, and French Fingerlings are a favored variety for their sturdy nature and moderate size.
Geography/History
French Fingerling potatoes are native to France and were developed in the mid-20th century. The variety is also known as Roseval and was created from a cross between Rosa and Vale potatoes in Brittany, France. In the 1950s, French Fingerling potatoes were released through SICA Bretagne Plants, an organization that connects potato growers, breeders, and distributors for commercial trade. The variety saw initial success in the gourmet culinary market in France for its unique size and ease of preparation. In the mid to late 20th century, French Fingerling potatoes were spread across Europe, where they were planted and adopted as a favored variety in home gardens in the United Kingdom. French Fingerling potatoes were also introduced to the United States and were once nicknamed Nosebag, a curious moniker derived from a local legend. Agricultural educator, farmer, and consultant Mark Fulford shared that he allegedly had a friend who traveled to France to purchase a racehorse. During his meeting with the racehorse owner, he was invited to lunch on the farm, where he encountered fingerling potatoes. The friend shared his enthusiasm for the potato variety, and the farm owners graciously offered to have him take some potatoes home. The friend said he could not bring them home due to the strict agricultural laws of carrying produce into the United States. After the meeting, the friend purchased the racehorse, and when the horse arrived, a single tuber was discovered in the bottom of the horse's feedbag. This surprising discovery led the fingerling variety to be originally called Nosebag. As growers throughout Maine began planting the variety, the name was changed to French Fingerling for increased marketing appeal. French Fingerling potatoes were slow to achieve commercial success in the United States as they were considered impractical to produce on a large scale. Their small size fell through the harvesting machines used at that time, making it almost impossible to collect the tubers without gathering them by hand. Later in history, new machines were invented to account for smaller potato varieties, helping French Fingerlings be grown on a small scale. French Fingerlings also went on to be a parent variety for the notable Pompadour and La Cherie cultivars. Today, French Fingerling potatoes are found in specialty markets, primarily in France, other parts of Europe, and the United States. The variety is also widely grown in home gardens in the United States and Europe for its scab resistance, smooth appearance, and dense flesh.
Recipe Ideas
Recipes that include French Fingerling Potatoes. One

is easiest, three is harder.