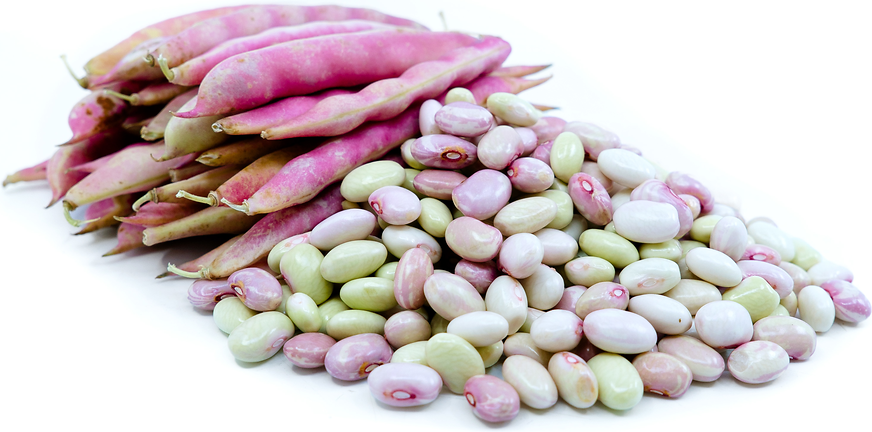 Flor de Mayo Shelling Beans
Inventory, lb : 0
This item was last sold on : 11/05/21
Description/Taste

Flor de Mayo shelling bean pods have a creamy white to yellow exterior with a plump elongated shape. Inside the bean pods are approximately six to ten oval shaped seeds that are cream colored with a soft pink to magenta marbling, which becomes more taupe pink as they dry. Flor de Mayo shelling beans have a smooth texture and rich and starchy bean flavor with smoky notes that become more pronounced when the beans are dried.


Seasons/Availability

Flor de Mayo shelling beans are available early summer through the fall.


Current Facts

Flor de Mayo shelling beans are an heirloom variety of Phaseolus vulgaris or common bean and a member of the Fabaceae family. They may be utilized harvested as a fresh shelling bean, or as a dried legume. A vining type bean the Flor de Mayo is classified as a pink bean variety and along with flor de junio is one of the most popular beans in central and northern Mexico. Flor de Mayo shelling bean has been used recently in breeding trials in effort to create new varieties of beans that are increasingly drought tolerant and resistant to disease.


Nutritional Value

Flor de Mayo shelling beans are high in protein and additionally contain potassium, iron, fiber, zinc, thiamin, magnesium and calcium.


Applications

Flor de Mayo shelling beans can be utilized as a fresh shelling bean or in their dried form, though unlike most beans which when in dried form will last for up to two years the Flor de Mayo has a shorter shelf life and are best consumed within eight months of harvest. Whatever stage the beans are utilized in they should first be cooked prior to eating. If used in their dried form the beans should first be soaked overnight or for at least six hours prior to cooking, a process that will make the beans more easy to digest. Fresh beans do not need to be soaked. Flor de Mayo beans can be simmered, sautéed, roasted and baked. When boiling shelling beans do not add salt to the water as this can impart a tough exterior texture to the beans, rather add salt to taste once the beans have finished boiling. Additionally fresh Flor de Mayo shelling beans freeze well and the shelled beans can be frozen on cookie sheets then stored in freezer proof bags in the freezer for up to eight months. Their flavor pairs well with lard, bacon drippings, onion, cumin, chili powder, epazote, beer, garlic and ground beef. Shell beans such as the Flor de Mayo tend to mold quickly so use caution in keeping them dry and store in a paper bag in the refrigerator, they are best used within three to five days. Dried or frozen shelled beans will keep in a cool dry place for up to eight months.


Ethnic/Cultural Info

Since ancient times beans have been a staple protein in the diet of Mexico. In the south petite black beans are preferred and in northern Mexico pink beans such as the Flor de Mayo are favored above all. One of the most popular preparation methods is a dish called frijoles refritos (fried beans) also known as refried beans in America and is popularly made there with epazote, beer and manteca (pork lard).


Geography/History

Native to Mexico the Flor de Mayo shelling bean is an heirloom, pink bean. In central and northern Mexico it is one of the most in demand beans commercially. Adaptability issues have prevented the Flor de Mayo shelling bean from having commercial success in the United States. Recently expanding Hispanic markets in the United States have created a demand for pink beans such as Flor de Mayo. As a result plant breeders have worked to create new beans which use the Flor de Mayo as a parent and breed in disease resistance and drought tolerance to create similar bean varieties which are able to better thrive in the growing conditions of the United States. One such bean created is the gypsy rose which was bread to be adaptive to the growing climate of Michigan.