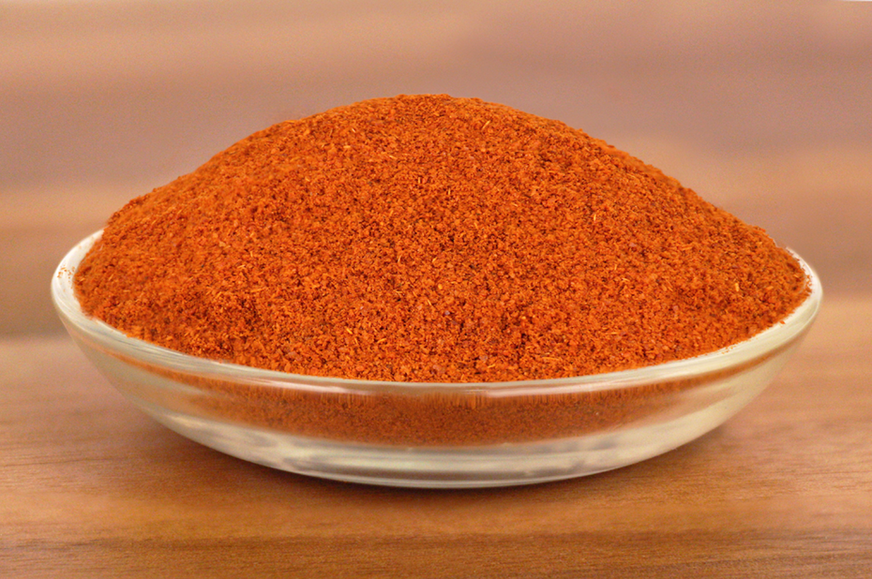 Cayenne Pepper Powder
Inventory, 20 oz : 7.00
This item was last sold on : 09/24/22
Description/Taste
Cayenne pepper is a finely ground powder with burnt orange and brick red hues, flecked with darker black and red specks. The spice has a pungent aroma that smells sweet and slightly smokey. Ground Cayenne pepper has a strong picante bite with medium heat, ranging from 30,000 to 50,000 SHU on the Scoville scale. The powder is slightly sweet with a subtle smokiness and fresh red pepper flavor.
Seasons/Availability
Ground Cayenne pepper is available year-round.
Current Facts
Ground Cayenne pepper is made from the fruits of the chile pepper plant, Capsicum annuum, a species that belongs to the nightshade family. Cayenne peppers are long and thin, measuring between 5 to 12 centimeters in length, and are harvested when the pods transform from green to orange or red, a sign of maturity and optimum flavor. The spicy powder can be made in two different ways. The pods can be dried whole and then ground, or they can be made into pulp that is baked in a cake form and then ground into a powder. No matter which technique is used to produce the powder, the flesh and seeds of the fruit are both used to create intense heat and full-bodied flavor. Cayenne peppers are native to the Cayenne region of French Guiana, for which it is named. Cayenne peppers are also used to produce red chile flakes, another common spice used to add heat and texture to various cuisines.
Nutritional Value
Ground Cayenne pepper is a significant source of a variety of vitamins, including vitamin A, vitamin C, and vitamin E. The pepper also includes substantial levels of manganese, potassium, and riboflavin, three nutrients that can aid the body in digestioand blood pressure regulation. The high levels of capsaicin in Cayenne pepper, the chemical responsible for the spice level in peppers, also has metabolism-boosting properties by reducing hunger and by raising the body's temperature through a proceslled diet-induced thermogenesis. Studies have also shown that Cayenne pepper may help boost the stomach's defense against infections by increasing the production of digestive fluids and helping to deliver enzymes to the stomach. Native American's have been using Cayenne peppers as a treatment for stomach aches, cramps, and gas for over 9,000 years.
Applications
Ground Cayenne pepper is regularly used in many different cuisines to add bold red pepper spiciness to any recipe. Cayenne pepper is commonly used in chile powder blends to add heat, combined with other spices and aromatics like onion, garlic, paprika, and herbs. The powder can be added to spice rubs for meat, poultry, and pork, or added to soups and stews. Combine cayenne pepper with mayonnaise for a spicy spread that can be used in sandwiches, wraps, as a dip, or spread on grilled corn. Cayenne pepper is a staple spice in Creole and Cajun food and is added freely to sauces, gumbos, and blackened dishes. The spice is also popular in Mexican food, where it is added to marinades, birria, and other traditional recipes. Cayenne pepper pairs well with garlic, onions, lemon, lime, and fresh herbs like oregano and cilantro. It is important to note that the flavor and spice level of Cayenne pepper intensifies when cooked, so it is best to start by lightly seasoning the dish and taste throughout cooking to achieve the desired spice level. Cayenne pepper should be stored in an air-tight container away from heat and light sources and used within six months for optimal freshness.
Ethnic/Cultural Info
Cayenne pepper powder is graded by Scoville Scale Unit, which is listed as STU or SHU on the package of the spice. The Scoville Scale Unit is used to measure the level of capsaicin in a pepper, which is the main chemical responsible for the spiciness he pepper. To do this, an alcohol extract of capsaicin is obtained from the dried pepper and then diluted with different levels of sugar water to create tasters. The Scoville Heat Unit is assigned with respect to the dilution required for the "burn" to be entirely subdued by the sugar water. Cayenne peppers have a Scoville Heat Unit range of 30,000 to 50,000 which means the oil obtained from the pepper must be diluted up 50,000 times before the spice is no longer detectable. When shopping for Cayenne pepper, it is important to check the level of STU or SHU listed on the packaging to get the desired level of heat.
Geography/History
Capsicum annuum peppers are native to Central and South America and have been cultivated by indigenous peoples for over 7,000 years. Cayenne peppers originated in French Guiana, north of Brazil, and are named after the native Tupi word for the chile. Thpeppers were discovered by Spanish explorers in the 15th century and were brought back to Europe with Christopher Columbus when he returned from his voyage to the Americas. The seed's long viability quickly spread throughout the tropics and subtropics by Spanish and Portuguese explorers. The spice was introduced to England from India, and by the 1500s, Cayenne pepper was highly prized globally, rivaling the peppercorn. Today, Cayenne pepper powder is widespread throughout the Americas and Europe, especially in Spanish, Portuguese, and Mediterranean cuisines. Cayenne peppers are primarily grown in India, East Africa, Mexico, and the United States, however, most of the Cayenne powder supply for the United States is imported from India and Africa. Cayenne pepper can be found in the spice aisle of most grocery stores and specialty markets with a focus on Latin cuisines.
Featured Restaurants
Restaurants currently purchasing this product as an ingredient for their menu.
Recipe Ideas
Recipes that include Cayenne Pepper Powder. One

is easiest, three is harder.