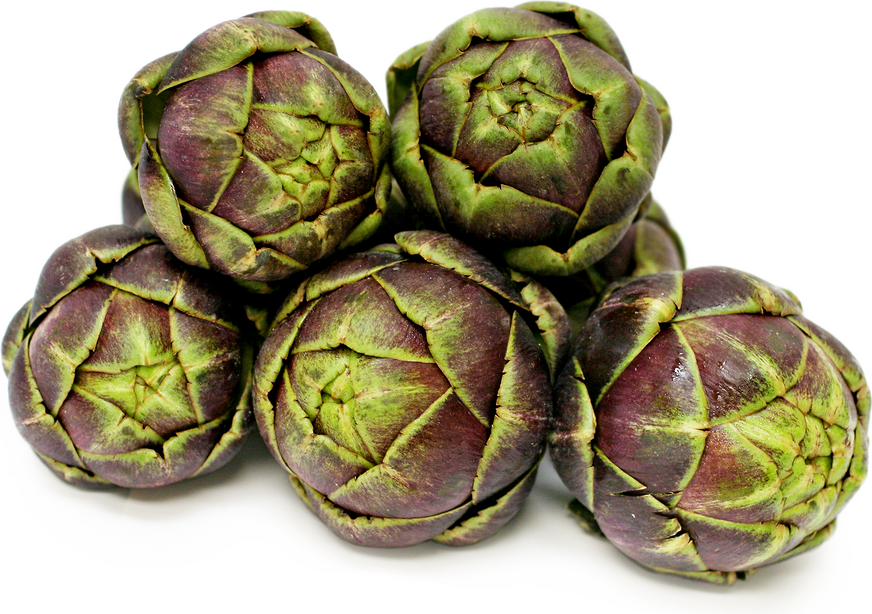 Omaha Artichokes
Inventory, lb : 0
Description/Taste
Omaha artichokes are a medium to large varietal, averaging 10 to 15 centimeters in diameter, and have a globular, bulbous shape. The heads are comprised of tightly layered bracts, and the outer bracts showcase an oval to triangular appearance with small, sharp spines on the tip of each bract. The bracts have a broad, smooth, and textured feel with a slightly curved nature, gently hugging the interior leaves, following the soft curve of the vegetable's globular nature. Omaha artichokes also display variegated hues with a bright green base covered in a dark purple, violet, to burgundy overlay. Each bract will vary in coloring depending on its growing environment, and the bracts have a thick, dense, and fleshy nature. As each layer is peeled away, the color of the bracts transforms from variegated to green or pale yellow, and the bracts grow smaller and smaller towards the interior, revealing a central heart surrounded by immature florets known as the choke. The choke is inedible and should be discarded before consumption. The lower, fleshy base of the bracts and the heart are the only portions consumed. Look for Omaha artichokes that feel heavy for their size and have a dense quality. When cooked, Omaha artichokes have a tender, meaty, and succulent consistency and a nutty, subtly sweet, earthy, and vegetal flavor with asparagus, chestnut, and buttery undertones. The variety is also known for its lack of bitter and tannic flavors compared to other commercial artichokes.
Seasons/Availability
Omaha artichokes are available year-round, with a peak season in the spring.
Current Facts
Omaha artichokes, botanically classified as Cynara scolymus, are a variety of globe artichoke belonging to the Asteraceae family. The large artichokes grow on bushy plants reaching 1 to 5 meters in height and develop on thick, upright stalks. Omaha artichokes are the immature flower heads of an herbaceous perennial thistle that is harvested before reaching maturity as a culinary ingredient. If the heads are left on the plant to bloom, they produce bright purple, showy flowers spanning 15 to 17 centimeters in diameter. These flowers are beneficial to home garden blooms, attracting pollinators, and are also used in floral bouquets to add color, texture, and visual interest. Beyond ornamental use, Omaha artichokes are favored by chefs for their variegated coloring, dense nature, and savory, vegetal flavor. The variety is frequently listed as a popular commercial cultivar in research documents studying artichokes and is also mentioned among home gardening websites and blogs. When in season, Omaha artichokes are a labor-intensive crop, as they must be harvested by hand. The artichoke heads also mature at different times, leading growers to monitor the plants daily to gather multiple harvests. Omaha artichokes have a less bitter taste than other varieties and are typically utilized in lightly cooked preparations to soften their dense, fleshy nature.
Nutritional Value
Omaha artichokes have yet to be studied for their nutritional properties. Like other variegated artichokes, the variety is a source of vitamin C to strengthen the immune system while reducing inflammation, fiber to regulate the digestive tract, and potassium to balance fluid levels within the body. The variety also provides calcium to build strong bones and teeth, vitamin K to assist in faster wound healing, magnesium to control optimal nerve functioning, and other nutrients, including manganese, vitamin A, folate, iron, and B vitamins. Throughout history, artichokes, in general, have been utilized in natural medicines as an antibacterial, anticarcinogenic, and antioxidative ingredient. Artichokes were also often consumed, especially in Europe, to aid in digestion and reduce symptoms associated with bloating, nausea, and constipation.
Applications
Omaha artichokes have a mild, subtly grassy, sweet, and nutty taste suited for raw and cooked preparations. When the variety is small, young, and freshly harvested, they can be consumed raw, chopped in salads, shredded into side dishes, used as a garnish, or sliced and served in various appetizers. Most Omaha artichokes are sold when they are large and mature, requiring the buds to be steamed, baked, braised, boiled, or grilled before consumption. The spines should be removed from each bract before cooking, and the top and bottom of the head should be trimmed to allow the interior leaves to be heated. It is also recommended to keep the heads in a mixture of water, sea salt, and lemon while preparing to prevent the leaves from discoloring. Once prepped, Omaha artichokes can be cooked whole or sliced in half and cooked with lemon juice for a splash of acidity and brightness. The most traditional preparation is steaming the heads whole and removing the fleshy bracts one by one. Steamed artichokes are often served with dipping sauces, and herb butter, mayonnaise, hollandaise, aioli, yogurt, Dijon mustard, vinaigrettes, and balsamic vinegar are popular choices. Lightly steamed artichokes can also be halved and grilled for a smoky flavor, stuffed with a combination of breadcrumbs, cheeses, herbs, and meat, or roasted with fresh herbs. In addition to using the whole artichoke head, Omaha artichokes can be cooked and utilized solely for their meat-dense hearts. Once cooked, the hearts can be extracted and mashed into dips, combined with herbs, and spread on toast, layered into sandwiches, or combined into a tapenade. Artichoke hearts can also be pureed into soups, mixed into pasta, used as a pizza topping, added to stir-fries, served in salads, stuffed into empanadas, or incorporated into egg-based dishes. Omaha artichokes pair well with cheeses such as gorgonzola, parmesan, feta, and chevre, mushrooms, potatoes, nuts including pumpkin, pistachio, pine, and almonds, and herbs such as marjoram, parsley, rosemary, and thyme. Whole, unwashed Omaha artichokes will keep for 1 to 2 weeks when stored in a plastic bag in the refrigerator. The heads can also be trimmed and stored in a sealed container filled with lemon water for 1 to 2 days. For extended use, blanch and freeze artichokes in smaller segments and keep them in the freezer in a sealed container for up to three months.
Ethnic/Cultural Info
Artichokes were named California's official state vegetable on April 10th, 2013. The Golden State produces over 99% of the domestic, commercially grown artichokes in the United States, and cultivation occurs in nine counties in Central and Southern California. Within these counties: Monterey, Imperial, Santa Barbara, Ventura, San Mateo, Orange, San Benito, Santa Cruz, and Sutter, Monterey is responsible for 75% of the state's total artichoke acreage. Monterey county has been cultivating artichokes since the early 19th century, and the Board of Supervisors for the county valued the immature flower heads so much that they made it the Official Vegetable of Monterey in 1986. The California Artichoke Advisory Board was also established in 1960 to promote the varieties grown in California, including Omaha, and continue research in artichoke breeding to prevent disease and pest outbreaks. In the early 21st century, artichoke enthusiasts partnered with KGO Morning News, a radio station in San Francisco, to advocate for artichokes as the official state vegetable. Artichokes were the most voted-for item on a Facebook poll, and while Governor Jerry Brown was on a trade mission to China, Lieutenant Governor Gavin Newsom named artichokes the official vegetable as his first official act in 2013.
Geography/History
Omaha artichokes are descendants of varieties native to the Mediterranean. Modern artichokes are believed by experts to have been created from a wild cardoon, a thistle-like plant consumed as a delicacy in the Ancient Greek and Roman Empires. Artichokes were mentioned in several Greek and Roman writings in the late BCE eras and the 1st century CE. Around 800 CE, artichokes were introduced into North Africa and Spain, where the plant became domesticated as a food source. Globe-type artichokes were commercially cultivated as early as the 12th century in Spain and Italy, and the plants were spread across Southern Europe into France, eventually making their way into England. Artichokes were also carried to the United States through French and Spanish immigrants in the 19th century and were planted throughout Louisiana and coastal California. The history and site of origination of Omaha artichokes are unknown, and little information is available in regard to its development and spread. Today Omaha artichokes thrive in regions with temperate climates, having cool, mild winters and warm summers, and are primarily grown in California and parts of the Mediterranean in Europe. Once harvested, the globular heads are sold in local markets, grocers, and through select distributors.
Recipe Ideas
Recipes that include Omaha Artichokes. One

is easiest, three is harder.