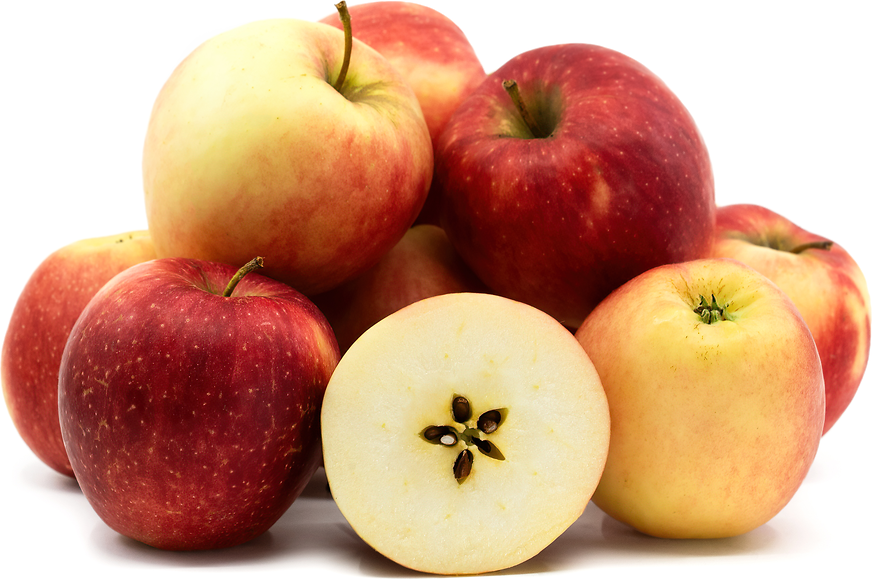 Arlet Apples
Inventory, lb : 0
Description/Taste
Arlet apples are a medium to large varietal with a uniform, round to conical shape. The fruits have flat, sloping shoulders tapering slightly to a narrow base, and the skin is smooth, semi-thick, tough, and bruise resistant, developing a waxy, greasy feel with extended storage. The skin also has a bright to golden yellow coloring, covered in patches of bright red-pink blush and dark red striping. The blush will vary in transparency, depending on sun exposure during cultivation, and prominent lenticels are scattered across the surface. In the stem cavity, there is some brown russeting, and underneath the surface, the flesh is white to ivory, firm, dense, and aqueous with a crisp and crunchy consistency. The flesh also encases a small central core filled with tiny black-brown seeds. Arlet apples release an aromatic, perfumed scent and contain around 12.5 Brix, a measurement of sugar in the flesh. This moderate sugar level contributes to a sweet-tart taste with initially sharp flavors followed by a honeyed sweetness. Depending on the season, some consumers also note a subtle hint of melons, berries, and cane sugar.
Seasons/Availability
Arlet apples are available in the fall, with a peak season in September through early October.
Current Facts
Arlet apples, botanically classified as Malus domestica, are a European variety belonging to the Rosaceae family. The mid-season cultivar was developed in the late 20th century in Switzerland and was selected for its complex flavoring, bright coloring, and extended storage capabilities. The name Arlet has French and Spanish origins, roughly derived from the word Arlette meaning "eagle." This moniker is used to convey something reaching for the sky, similar to how Arlet apples were created from a Swiss breeder's dream of creating an improved apple variety. Arlet apples are also known as Swiss Gourmet in the United States, and growers favor the variety for its cold tolerance, hardiness, and high yields. Arlet apples were once commercially produced on a small scale in the late 20th century, but over time, they have faded into a relatively obscure variety, grown by select farms and specialty orchards in the United States and Europe.
Nutritional Value
Arlet apples are a source of potassium to balance fluid levels within the body, fiber to regulate the digestive tract, vitamin A to maintain healthy organ functioning, and vitamin C to strengthen the immune system. The apples also provide calcium to build strong bones and teeth, antioxidants to protect the cells against the damage caused by free radicals and oxidative stress, folate to develop genetic material such as DNA and RNA, and other nutrients, including vitamin E, phosphorus, magnesium, copper, manganese, and zinc.
Applications
Arlet apples have a sweet-tart flavor suited for fresh and cooked preparations. The variety can be consumed straight out of hand and is savored for its firm, crunchy flesh. Arlet apples can be sliced and served with creamy dips, chocolate, or caramel, chopped and tossed into salads, or shredded into slaws. The apples can also be layered into sandwiches, placed on top of toast, added into parfaits, or used as a fresh topping over breakfast dishes. In addition to fresh preparations, Arlet apples can be simmered into applesauce and apple butter or cooked into jams, jellies, and chutney. The apples hold their shape well when baked, allowing the flesh to be used in pies, tarts, bread, scones, and muffins. In Switzerland, Arlet apples are filled with almonds, raisins, or marzipan and are wrapped in dough as a baked puff pastry called apel im schlafrock, translating to mean "apple in a dressing gown." The variety is also used in thurgauer apelkuchen, a cake filled with apple slices, apfelkuchlein, or apple fritters, and apfelrosti, which is apple slices fried in butter with cinnamon and bread to create a soft, rich, and decadent dessert. Beyond culinary preparations, Arlet apples are occasionally blended into smoothies, pressed into juice for ciders and smoothies, or sliced and placed on the edge of a glass as a cocktail garnish. Arlet apples pair well with spices such as cinnamon, cloves, ginger, and nutmeg, herbs including sage, rosemary, basil, and mint, dark leafy greens, and nuts such as almonds, pistachios, walnuts, and pecans. Whole, unwashed Arlet apples will keep for 2 to 3 months when stored in the refrigerator's crisper drawer or in a cold cellar.
Ethnic/Cultural Info
Apples in Switzerland are most famously represented in the story of William Tell. Legend has it that in 1307, William Tell, a local farmer and hunter in Altdorf, was visiting the town's main square when he became involved in a disagreement with Bailiff Gessler. During the early 14th century, the Hapsburg Dynasty of Austria claimed control of small towns and villages to expand their reign. Bailiff Gessler was the appointed Hapsburg representative in Altdorf. When Tell entered the village square with his son, Gessler had placed a Hapsburg hat on a pole and required all passing residents to remove their hats as a symbol of respect to the Austrian Dynasty. Tell refused to remove his hat, and Gessler became infuriated. Gessler forced Tell to shoot an apple off his son's head using a bow and arrow from 120 paces away. If Tell missed, Gessler would kill both him and his son. Tell counted 120 paces and turned around, successfully shooting the apple off his son's head. In his victory, another arrow fell from his jacket pocket, and Gessler inquisitively asked Tell what the second arrow was for. Tell explained that the second arrow would be used to kill Gessler in case Tell missed his first shot. Gessler was shocked and angered by Tell's reply, arresting Tell and sending him aboard a boat across Lake Lucerne to the dungeon at Castle Kussnacht. The apple being shot from Tell's son's head was only the beginning of Tell's story, and in the rest of the tale, William Tell went on to lead a revolution that led to the establishment of Switzerland. Historians heavily debate whether Tell was a real person or a fictional hero, with most leaning towards the latter explanation. Despite conjecture, there is no proof for whether a man named William Tell did actually exist or was made up, and Tell's story lives on in the hearts of Swiss residents as a symbol of freedom and bravery.
Geography/History
Arlet apples were developed by Bernhard Krapf at the Swiss Federal Government's Agroscope Research Station in Wadenswill, Switzerland, in 1958. The variety was created from a cross using traditional breeding techniques between Idared and Golden Delicious apples. The first fruits from the cross were harvested in 1968, and in 1972, the variety was propagated and released commercially in Europe. Arlet apples were later introduced to Orando, Washington, and Woodburn, Oregon, in 1984 and 1985 and were planted in several orchards for experimental purposes. The apple variety thrived in the Pacific Northwest climate, eventually becoming a commercial cultivar in the United States in the fall of 1986. Arlet apples also received a United States Plant Patent under US PP#6689 and were renamed Swiss Gourmet in the United States to attract a broader consumer base. Arlet apples were commercially produced on a small scale throughout the late 20th century, but the introduction of modern apple cultivars largely overshadowed the variety in the early 21st century with improved flavoring, storage, and disease resistance. Today Arlet apples are primarily grown in specialty orchards and home gardens in Europe and the United States. When in season, the apples can be found direct from growers, farmer's markets, or through select distributors.
Recipe Ideas
Recipes that include Arlet Apples. One

is easiest, three is harder.