Produce Briefs...

Black Mission Figs
When Black Mission Figs are blended with savory ingredients, such as salt, cocoa and spices, figs can produce a "meaty" flavor that has a smoky, almost steak-like aroma and taste.

Rambutan
Rambutan is best eaten fresh. To prepare, cut or tear base of fruit; press out the translucent pulpy flesh.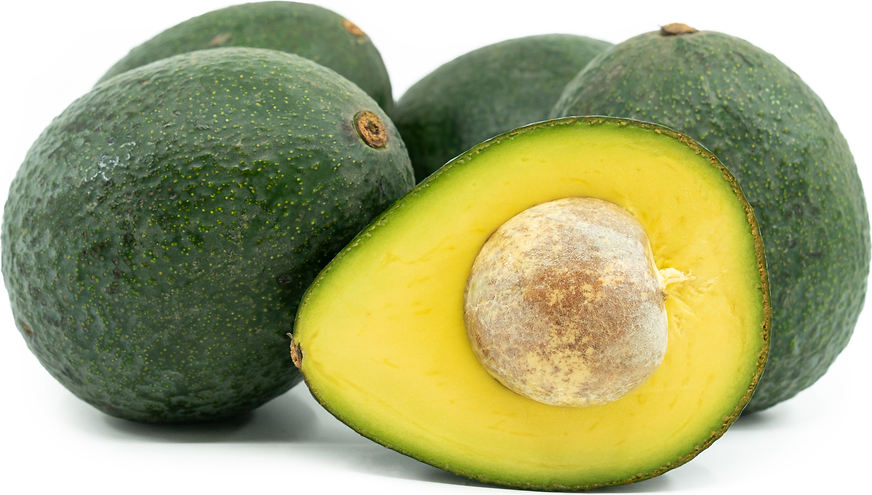 Reed Avocados
Inventory, ea : 0
Grower
Seasons/Availability
Reed avocados are available at some farmers markets in early fall until early winter.
Current Facts
Avocados are members of the family Lauraceae, which includes the plants that produce edible cinnamon, camphor, sassafras and the herb laurel (bay leaf). Avocado varieties are identified as being either Type A or Type B. The Reed avocado is an A variety. It is also known as a green-skinned variety along with Zutano and Fuerte avocados. These varieties maintain their green colouring when ripe and are thinner skinned, which naturally makes them more susceptible to diseases.
Description/Taste
The Reed avocado's most distinguishing characteristic is also an obvious one. It is the largest of all known avocado varieties. Its thin green peel contains a hefty fruit that can easily weigh a pound or more. Its flesh is a pale golden yellow, its weight clinging to its fragile shell. It has a relatively large seed and seed cavity, but its robust size allows it to still carry a substantial amount of edible flesh. Its flavor and texture are both superior in quality. The texture is buttery, almost maintaining a melting quality. Its flavor, bold, rich, nutty and even buttery. Regardless of its obscure commercial availability, it is perhaps the best tasting avocado and considered so among avocado growers.
Applications
Reed avocados actually have a good storing quality, once cut and kept in the refrigerator.
Geography/History
Avocados evolved as a species from animals eating the fruit and "distributing" the seeds. Avocados have been growing wild for at least 13,000 years though they have been cultivated by humans for about 9,000 years. There are three races of avocados: Guatemalan, Mexican and West Indian. While each has distinctive features, cross-pollination permits the development of unlimited varieties. The Reed avocado was developed in 1978 by James Reed in Carlsbad, CA.
Recipe Ideas
Recipes that include Reed Avocados. One

is easiest, three is harder.
Recently Spotted
People have spotted Reed Avocados using the Specialty Produce app for
iPhone
and
Android
.
Produce Spotting allows you to share your produce discoveries with your neighbors and the world! Is your market carrying green dragon apples? Is a chef doing things with shaved fennel that are out of this world? Pinpoint your location annonymously through the Specialty Produce App and let others know about unique flavors that are around them.
Little Italy Mercato

Heritage Family Farms
Heritage Family Farm
760-741-8471


Near

San Diego

, California, United States
About 17 days ago, 6/13/15
Spotter's comments : Reed Avocados spotted at Little Italy Mercato.



sprouts east lake

Near

Chula Vista

, California, United States
About 265 days ago, 10/08/14
Spotter's comments : Reed Avocados spotted at sprouts east lake.



Stehly Farms Market

Stehly Farms Market

1231 Morena Blvd, San Diego 92210

619-276-4985

(619) 276-4985

Near

San Diego

, CA, United States
About 270 days ago, 10/03/14
Spotter's comments : Reed Avocados spotted at Stehly Farms Market .



Poway Farmers Market

Near

Poway

, California, United States
About 311 days ago, 8/23/14
Spotter's comments : Reed Avocados spotted at Poway Farmers Market. 3 for 7



The Little Italy Mercato

Bob Polito
Polito Family Farm
11920 Betsworth Rd, Valley Center 92082
760-802-2175

Near

San Diego

, California, United States
About 332 days ago, 8/02/14
Spotter's comments : Reed Avocados spotted at The Little Italy Mercato.



Little Italy Mercato

Heritage Family Farms
Heritage Family Farm
760-741-8471


Near

San Diego

, California, United States
About 346 days ago, 7/19/14
Spotter's comments : Reed Avocados spotted at Little Italy Mercato.



???? | GL Japan Plaza

Near

Shanghai

, Shanghai, China
About 367 days ago, 6/28/14
Spotter's comments : Reed Avocados spotted at ???? | GL Japan Plaza.



???? | GL Japan Plaza

Near

Shanghai

, Shanghai, China
About 367 days ago, 6/28/14
Spotter's comments : Reed Avocados spotted at ???? | GL Japan Plaza.



???? | GL Japan Plaza

Near

Shanghai

, Shanghai, China
About 367 days ago, 6/28/14
Spotter's comments : Reed Avocados spotted at ???? | GL Japan Plaza.



???? | GL Japan Plaza

Near

Shanghai

, Shanghai, China
About 367 days ago, 6/28/14
Spotter's comments : Reed Avocados spotted at ???? | GL Japan Plaza.



???? | GL Japan Plaza

Near

Shanghai

, Shanghai, China
About 367 days ago, 6/28/14
Spotter's comments : Reed Avocados spotted at ???? | GL Japan Plaza.



???? | GL Japan Plaza

Near

Shanghai

, Shanghai, China
About 367 days ago, 6/28/14
Spotter's comments : Reed Avocados spotted at ???? | GL Japan Plaza.



???? | GL Japan Plaza

Near

Shanghai

, Shanghai, China
About 367 days ago, 6/28/14
Spotter's comments : Reed Avocados spotted at ???? | GL Japan Plaza.



???? | GL Japan Plaza

Near

Shanghai

, Shanghai, China
About 367 days ago, 6/28/14
Spotter's comments : Reed Avocados spotted at ???? | GL Japan Plaza.



???? | GL Japan Plaza

Near

Shanghai

, Shanghai, China
About 367 days ago, 6/28/14
Spotter's comments : Reed Avocados spotted at ???? | GL Japan Plaza.



???? | GL Japan Plaza

Near

Shanghai

, Shanghai, China
About 367 days ago, 6/28/14
Spotter's comments : Reed Avocados spotted at ???? | GL Japan Plaza.



???? | GL Japan Plaza

Near

Shanghai

, Shanghai, China
About 367 days ago, 6/28/14
Spotter's comments : Reed Avocados spotted at ???? | GL Japan Plaza.



???? | GL Japan Plaza

Near

Shanghai

, Shanghai, China
About 367 days ago, 6/28/14
Spotter's comments : Reed Avocados spotted at ???? | GL Japan Plaza.



???? | GL Japan Plaza

Near

Shanghai

, Shanghai, China
About 367 days ago, 6/28/14
Spotter's comments : Reed Avocados spotted at ???? | GL Japan Plaza.



???? | GL Japan Plaza

Near

Shanghai

, Shanghai, China
About 367 days ago, 6/28/14
Spotter's comments : Reed Avocados spotted at ???? | GL Japan Plaza.



???? | GL Japan Plaza

Near

Shanghai

, Shanghai, China
About 367 days ago, 6/28/14
Spotter's comments : Reed Avocados spotted at ???? | GL Japan Plaza.



???? | GL Japan Plaza

Near

Shanghai

, Shanghai, China
About 367 days ago, 6/28/14
Spotter's comments : Reed Avocados spotted at ???? | GL Japan Plaza.



???? | GL Japan Plaza

Near

Shanghai

, Shanghai, China
About 367 days ago, 6/28/14
Spotter's comments : Reed Avocados spotted at ???? | GL Japan Plaza.



???? | GL Japan Plaza

Near

Shanghai

, Shanghai, China
About 367 days ago, 6/28/14
Spotter's comments : Reed Avocados spotted at ???? | GL Japan Plaza.



???? | GL Japan Plaza

Near

Shanghai

, Shanghai, China
About 367 days ago, 6/28/14
Spotter's comments : Reed Avocados spotted at ???? | GL Japan Plaza.



???? | GL Japan Plaza

Near

Shanghai

, Shanghai, China
About 367 days ago, 6/28/14
Spotter's comments : Reed Avocados spotted at ???? | GL Japan Plaza.



???? | GL Japan Plaza

Near

Shanghai

, Shanghai, China
About 367 days ago, 6/28/14
Spotter's comments : Reed Avocados spotted at ???? | GL Japan Plaza.



???? | GL Japan Plaza

Near

Shanghai

, Shanghai, China
About 367 days ago, 6/28/14
Spotter's comments : Reed Avocados spotted at ???? | GL Japan Plaza.



???? | GL Japan Plaza

Near

Shanghai

, Shanghai, China
About 367 days ago, 6/28/14
Spotter's comments : Reed Avocados spotted at ???? | GL Japan Plaza.



???? | GL Japan Plaza

Near

Shanghai

, Shanghai, China
About 367 days ago, 6/28/14
Spotter's comments : Reed Avocados spotted at ???? | GL Japan Plaza.



???? | GL Japan Plaza

Near

Shanghai

, Shanghai, China
About 367 days ago, 6/28/14
Spotter's comments : Reed Avocados spotted at ???? | GL Japan Plaza.



???? | GL Japan Plaza

Near

Shanghai

, Shanghai, China
About 367 days ago, 6/28/14
Spotter's comments : Reed Avocados spotted at ???? | GL Japan Plaza.



???? | GL Japan Plaza

Near

Shanghai

, Shanghai, China
About 367 days ago, 6/28/14
Spotter's comments : Reed Avocados spotted at ???? | GL Japan Plaza.



???? | GL Japan Plaza

Near

Shanghai

, Shanghai, China
About 367 days ago, 6/28/14
Spotter's comments : Reed Avocados spotted at ???? | GL Japan Plaza.



???? | GL Japan Plaza

Near

Shanghai

, Shanghai, China
About 367 days ago, 6/28/14
Spotter's comments : Reed Avocados spotted at ???? | GL Japan Plaza.



???? | GL Japan Plaza

Near

Shanghai

, Shanghai, China
About 367 days ago, 6/28/14
Spotter's comments : Reed Avocados spotted at ???? | GL Japan Plaza.



???? | GL Japan Plaza

Near

Shanghai

, Shanghai, China
About 367 days ago, 6/28/14
Spotter's comments : Reed Avocados spotted at ???? | GL Japan Plaza.



???? | GL Japan Plaza

Near

Shanghai

, Shanghai, China
About 367 days ago, 6/28/14
Spotter's comments : Reed Avocados spotted at ???? | GL Japan Plaza.



???? | GL Japan Plaza

Near

Shanghai

, Shanghai, China
About 367 days ago, 6/28/14
Spotter's comments : Reed Avocados spotted at ???? | GL Japan Plaza.



???? | GL Japan Plaza

Near

Shanghai

, Shanghai, China
About 367 days ago, 6/28/14
Spotter's comments : Reed Avocados spotted at ???? | GL Japan Plaza.



???? | GL Japan Plaza

Near

Shanghai

, Shanghai, China
About 367 days ago, 6/28/14
Spotter's comments : Reed Avocados spotted at ???? | GL Japan Plaza.



???? | GL Japan Plaza

Near

Shanghai

, Shanghai, China
About 367 days ago, 6/28/14
Spotter's comments : Reed Avocados spotted at ???? | GL Japan Plaza.



???? | GL Japan Plaza

Near

Shanghai

, Shanghai, China
About 367 days ago, 6/28/14
Spotter's comments : Reed Avocados spotted at ???? | GL Japan Plaza.



???? | GL Japan Plaza

Near

Shanghai

, Shanghai, China
About 367 days ago, 6/28/14
Spotter's comments : Reed Avocados spotted at ???? | GL Japan Plaza.



???? | GL Japan Plaza

Near

Shanghai

, Shanghai, China
About 367 days ago, 6/28/14
Spotter's comments : Reed Avocados spotted at ???? | GL Japan Plaza.



???? | GL Japan Plaza

Near

Shanghai

, Shanghai, China
About 367 days ago, 6/28/14
Spotter's comments : Reed Avocados spotted at ???? | GL Japan Plaza.



???? | GL Japan Plaza

Near

Shanghai

, Shanghai, China
About 367 days ago, 6/28/14
Spotter's comments : Reed Avocados spotted at ???? | GL Japan Plaza.



???? | GL Japan Plaza

Near

Shanghai

, Shanghai, China
About 367 days ago, 6/28/14
Spotter's comments : Reed Avocados spotted at ???? | GL Japan Plaza.



???? | GL Japan Plaza

Near

Shanghai

, Shanghai, China
About 367 days ago, 6/28/14
Spotter's comments : Reed Avocados spotted at ???? | GL Japan Plaza.



???? | GL Japan Plaza

Near

Shanghai

, Shanghai, China
About 367 days ago, 6/28/14
Spotter's comments : Reed Avocados spotted at ???? | GL Japan Plaza.



???? | GL Japan Plaza

Near

Shanghai

, Shanghai, China
About 367 days ago, 6/28/14
Spotter's comments : Reed Avocados spotted at ???? | GL Japan Plaza.



???? | GL Japan Plaza

Near

Shanghai

, Shanghai, China
About 367 days ago, 6/28/14
Spotter's comments : Reed Avocados spotted at ???? | GL Japan Plaza.



???? | GL Japan Plaza

Near

Shanghai

, Shanghai, China
About 367 days ago, 6/28/14
Spotter's comments : Reed Avocados spotted at ???? | GL Japan Plaza.



???? | GL Japan Plaza

Near

Shanghai

, Shanghai, China
About 367 days ago, 6/28/14
Spotter's comments : Reed Avocados spotted at ???? | GL Japan Plaza.



???? | GL Japan Plaza

Near

Shanghai

, Shanghai, China
About 367 days ago, 6/28/14
Spotter's comments : Reed Avocados spotted at ???? | GL Japan Plaza.



???? | GL Japan Plaza

Near

Shanghai

, Shanghai, China
About 367 days ago, 6/28/14
Spotter's comments : Reed Avocados spotted at ???? | GL Japan Plaza.



???? | GL Japan Plaza

Near

Shanghai

, Shanghai, China
About 367 days ago, 6/28/14
Spotter's comments : Reed Avocados spotted at ???? | GL Japan Plaza.



???? | GL Japan Plaza

Near

Shanghai

, Shanghai, China
About 367 days ago, 6/28/14
Spotter's comments : Reed Avocados spotted at ???? | GL Japan Plaza.



???? | GL Japan Plaza

Near

Shanghai

, Shanghai, China
About 367 days ago, 6/28/14
Spotter's comments : Reed Avocados spotted at ???? | GL Japan Plaza.



???? | GL Japan Plaza

Near

Shanghai

, Shanghai, China
About 367 days ago, 6/28/14
Spotter's comments : Reed Avocados spotted at ???? | GL Japan Plaza.



Jacinto Farms, barton road, redlands, ca 92373

Near

Redlands

, California, United States
About 605 days ago, 11/02/13
Spotter's comments : I spotted Reed Avocados at Jacinto Farms, barton road, redlands, ca 92373 Produce Clerk says they will only remain in season for about a week, and then they will be gone fast! 1.18/lb.



Ocean Beach Farmers Market

Near

Coronado

, California, United States
About 608 days ago, 10/30/13
Spotter's comments : Reed Avocados spotted at Ocean Beach Farmers Market. Heritage Family Farms. Buttery and rich.



Whole Foods Market

Near

Seattle

, Washington, United States
About 640 days ago, 9/28/13
Spotter's comments : Reed Avocados spotted at Whole Foods Market. Buttery & creamy...YUM!



Little Italy Mercato

Near

San Diego

, California, United States
About 647 days ago, 9/21/13
Spotter's comments : Reed Avocados spotted at Little Italy Mercato. Heritage Family Farms 760 741 8471



North Park Farmers Market

Near

San Diego

, California, United States
About 663 days ago, 9/05/13
Spotter's comments : Reed Avocados spotted at North Park Farmers Market. Reed avocados for sale today. Nice sizes with buttery texture.



Ocean Beach Farmers Market

Near

Coronado

, California, United States
About 678 days ago, 8/21/13
Spotter's comments : Reed Avocados spotted at Ocean Beach Farmers Market. Green Reed avocados