Produce Briefs...

Peaches
Yellow peaches are the quintessential peach. They are distinguished by their fuzzy thin skin with hues of red, pink and gold blushing throughout. The flesh is aromatic, juicy when ripe

Red Fresno Chile Peppers
Finely chopped, red Fresnos make an attractive piquant garnish. Sprinkle on hot marinated vegetables, pair with malangas, yucas, plantains or yams. Roast and add to sauces. Fresno chiles makes a beautiful ornamental plant.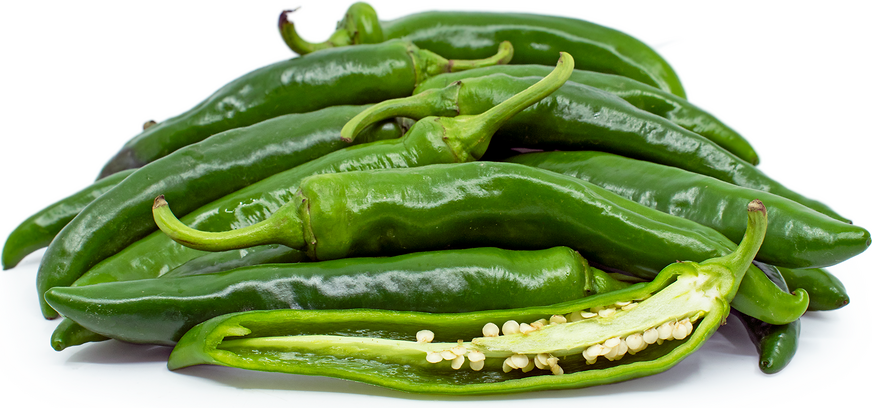 Green Finger Hot Chile Pepper
Inventory, 8 lbs : 0
Seasons/Availability

Green finger hot chile peppers are typically available May to September.


Description/Taste

The immature stage of the red finger hot chile, the green finger hot adds a sizzling flavor. Also known as Jwala, it is thin and grows to four inches in length. Scoville units: 6-8 (5,000-50,000)


Nutritional Value

Chiles are cholesterol-free, saturated fat-free, low calorie and high in fiber. Capsicums contain more vitamin A than any other food plant. Chiles provide an excellent source of vitamin C and the B vitamins, plus significant amounts of iron, thiamine, niacin, magnesium and riboflavin. Capsicums increase the metabolic rate and are excellent for the weight-conscious. The thermic effect of chiles requires six grams of chiles to burn off an average of 45 calories in three hours.


Applications

Fry or saute finger hot peppers. Use raw on relish platters, in salads and sandwiches. Stuff them. Pickle them. Include in hot enchilada sauce. Perk up salsas, sauces, relishes, appetizers, hors d'oeuvres and dips. Make a spunky chutney to accompany meat entrees.


Geography/History

The finger hot pepper, also know as Jwala, is the most popular hot chile grown and used for spicy dishes in India.