Produce recently spotted at The Market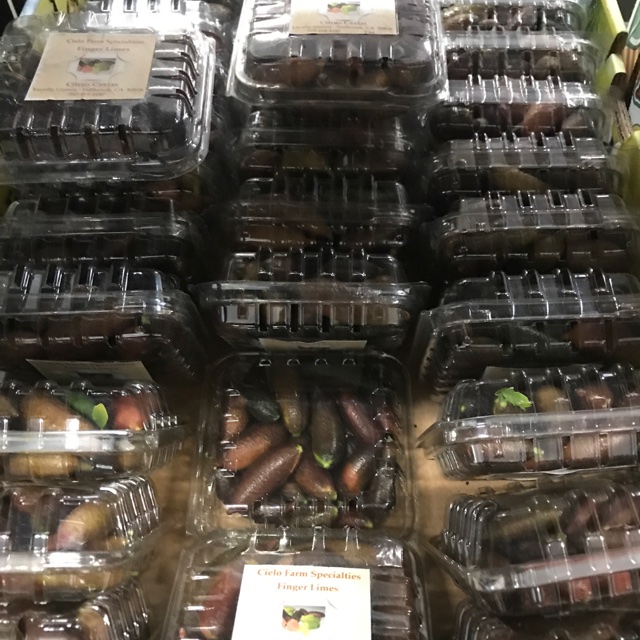 Produce Briefs...

Roselle Flowers
Roselle may be used raw, dried or juiced. The fruit's tart flavor requires a sweetener of some kind, and it is successfully used like a cranberry in recipes for jam, jelly, chutney and even wine.

Barrel Cactus Fruit
The fruit of the Barrel cactus is best prepared in sweet applications, since its natural tartness lends itself well to a hint of sugar. Cook the fruit down with agave syrup to make a jam, jelly or a sweet and sour chutney.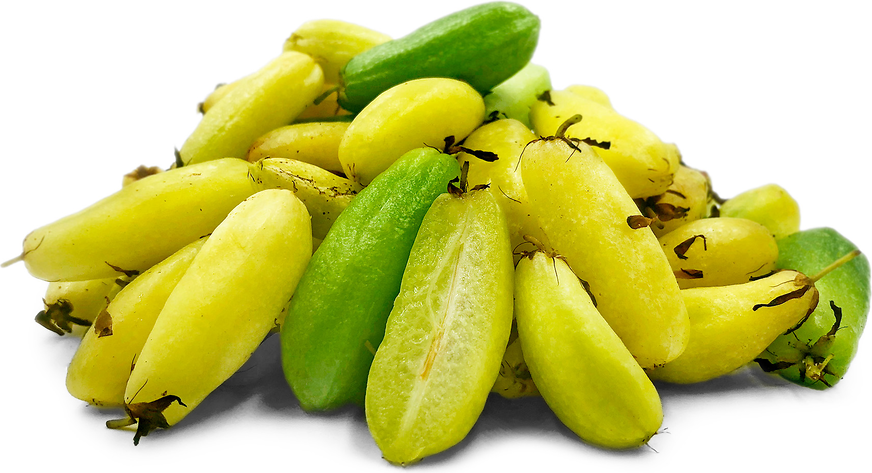 Bilimbi Fruit
Inventory, lb : 0
Description/Taste

Bilimbi fruit are extremely sour, yellow-green fruit with crunchy, juicy flesh and a thin, soft skin. The oblong-shaped fruit have five discernible ribs, and are from to 5 centimeters to 7 centimeters in length. The fruit resemble smooth-skinned gherkins. They grow in clusters on bushy trees with green leaves and attractive red-purple flowers. There may be several pale, small, flat seeds embedded in each fruit. The juice of the Bilimbi is very acidic, while its tart, tangy flesh is used as a souring agent in dishes such as curries.


Seasons/Availability

Bilimbi fruit are available year-round.


Current Facts

Bilimbi fruit are a tropical fruit, botanically classified as Averhhoa bilimbi. The Bilimbi is closely related to the starfruit, and is a domesticated species. Bilimbi fruit are also referred to as Tree Cucumbers and Belimbing, and are known for their tart-tangy flesh that is used as a souring agent in curries. The juice of the Bilimbi fruit contains high amounts of oxalate, an organic acid found in plants. Oxalate, or oxalic acid, is what gives the Bilimbi fruit its characteristically sour taste. But if consumed in excess, oxalate can lead to an increased risk of kidney stones and even kidney failure. Bilimbi fruit trees are small, growing to around 15 meters in height. Each tree is able to bear hundreds of fruit, with yields of around 50 kilograms per year.


Nutritional Value

Bilimbi fruit are rich in vitamins A and C, and potassium. Studies have also found that the fruit possesses strong antioxidative, anti-inflammatory and antimicrobrial properties. This means that Bilimbi fruit may potentially be useful in the treatment or prevention of heart disease, diabetes, stroke, cancer and liver damage.


Applications

Bilimbi fruit may be processed into pickles, relishes, chutney and preserves. The fruit may be used to add a sour taste to sambal (a Southeast Asian chili paste), curries and soups. Bilimbi fruit pairs well with fish, shrimp and heavy meats such as pork. In rural parts of the Philippines and in Maharashtra and Goa in India, the fruits are eaten raw – they may be enjoyed alone, or dipped in rock salt. BIlimbi is sometimes used in modern cuisine. Chris Salans, a Bali-based chef-author, made a confit of water, sugar, cassia bark, star anise, orange and lemon zest, mint and Bilimbi fruit. He used the confit in a dish with pan-seared fois gras. Bilimbi fruit may be stored for up to one week in the refrigerator.


Ethnic/Cultural Info

Bilimbi fruit features widely in traditional folk medicine around the world. In Malaysia, a concoction of the leaves and fruit were used to treat syphilis, while a drink made from the boiled leaves, fruit and flowers was used to help cure coughs. The juice of the Bilimbi fruit was used as an eye wash, and to help treat pimples. The acidic juice of the Bilimbi was also a household cleaning substance – in the Philippines and Malaysia, it was used to remove stains from dirty laundry. The Malay people also found the juice to be effective in removing rust from their traditional keris dagger blades.


Geography/History

The Bilimbi tree is found in tropical countries throughout the world. It is thought to have originated in Indonesia or Malaysia. Bilimbi trees can be commonly found growing in home gardens throughout Southeast Asia. It is also cultivated in many parts of the Caribbean and central and southern America, where it is known as mimbro. It is also commercially grown in Australia. Bilimbi fruit have been traditionally used for therapeutic purposes, such as for the treatment of diabetes and hypertension. The oldest record of the plant was found in an Egyptian papyrus dating back to the 14th century. The Bilimbi tree grows best in warm, sunny climates, where temperatures are within the range of 23 to 30 degrees Celcius. It prefers well-drained, sandy soil.